Volunteering for the cats of Best Friends
Image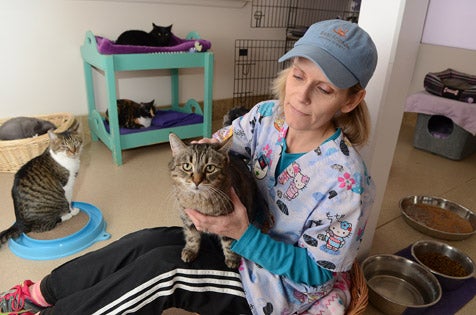 Volunteer from Calgary, Alberta, in Canada, is a true and committed friend to the cats at Best Friends Animal Sanctuary. Her love knows no bounds.
By David Dickson
The cats in Peepers' Platoon at the Colonel's Barracks, one of the buildings in Cat World at Best Friends Animal Sanctuary, have found themselves a friend anybody would be lucky to have — the kind of friend who stuffs a hockey bag to the brim with presents and then hops on a plane to spend more than a week handing them out.
"This is my fourth trip in 10 months," said Crystal Hall during her most recent visit to Best Friends. Considering she's traveling from Calgary, Alberta, in Canada, that's some serious dedication.
Volunteering with cats
Dedicated volunteer, Crystal Hall
Crystal first heard about Best Friends while volunteering in New Orleans in early 2006, after Hurricane Katrina. Later that year, she came to the Sanctuary. Over the years, she has volunteered in multiple places around the Sanctuary. That all changed, however, once she met the cats in Peepers' Platoon, room 3 of the Colonel's Barracks.
There was something about these cats that captured her heart. These days, when she visits, Crystal spends all her time with them. We're talking about 10 days at a stretch, eight hours a day; she even eats her lunch in the room.
"I can't get enough," she says. Crystal knows every cat in there as if he or she were her own.
Committed friends to the cats
Last December, Violet, one of the cats from Peepers' Platoon was adopted by a woman in New Jersey. Crystal knew Violet well from her trips over the years. Even though Violet has a shy streak, Crystal won her over with all the time she spent. She has fond memories of Violet nuzzling into her neck for affection.
Once Crystal learned Violet had found a home, she offered to personally fly her out and deliver her to her new home. That meant first flying into Las Vegas from Calgary, then picking up Violet, and then taking a long flight together to the East Coast.
When she met Violet's new mom, Crystal even offered to take her to a New York Jets game the next day. Talk about the royal treatment! But hey, any friend of Violet's is a friend of Crystal's. "She was one of my favorite cats," says Crystal.
Lest you suspect Crystal is independently wealthy with all the spare time in the world, think again. She has a full-time job, and uses up nearly every drop of her vacation time to be with these cats, not to mention saving for travel costs and buying piles of treats and gifts to bring along with her. For Crystal, though, the cats are worth every effort. "There's nothing I'd rather do," she says.
Volunteering at the Sanctuary
If you'd like to meet the cats in Peepers' Platoon — or any of the other animals at Best Friends — consider coming out for a volunteer vacation.
Photos by Gary Kalpakoff