When older is better: 20-year-old cat adopted
Deserving super-senior 20-year-old cat is adopted into a family with two young boys. Geriatric feline is over-the-top happy and affectionate.
By Christelle L. Del Prete
When the Williams family decided to open their home to a cat in need, they had plenty of choices. One was a young, healthy cat with striking caramel-colored eyes. Jill Williams, Web content manager for Best Friends, noticed her right away. With a family that includes two young children and three dogs, she was looking for a friendly, tolerant cat who could acclimate easily to their busy household.
Super-senior cat just as deserving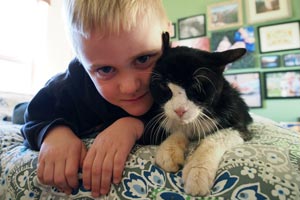 Several other young cats also fit the bill, but Jill couldn't ignore the cat who was weaving in and out of her feet, meowing loudly and insistently. His name was Dexter. He was 20 years old, underweight and a bit rough around the edges from a combination of age and poor nutrition. He also has a pretty significant heart murmur. "What about him?" Jill asked.
Of course, she didn't know how her husband, Steve, and two boys — Harry, seven, and JJ, five (who has been wanting a cat for as long as he can remember) — would feel about a super-senior cat. And she wasn't sure if Dexter would take to two lively little boys, especially with his fragile health. But she knew the young cats would get adopted quickly, and that Dexter was just as deserving and capable of giving love. But no one expected just how much love he had.
Cat is an instant fit
Jill explained to the children that Dexter would be coming home with them, but that they needed to be calm, gentle and patient with him. She needn't have worried. From the moment Dexter arrived at their home, all he wants is to nuzzle and cuddle with the boys. And they couldn't be happier. Dexter now spends his days hanging out with his new best friends, especially JJ, who helps feed him. Even when the children are actively playing, Dexter doesn't shy away. He's right there in the center of it all. He'll lie on the floor beside them, his tail wagging like a dog. Or, he'll sit with his head on the boys' laps while they play with Legos and matchbox cars.
Snuggle time for super-affectionate cat is all the time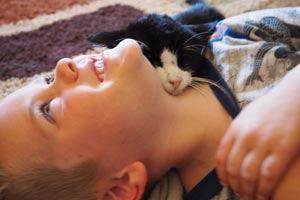 But everyone's favorite time is snuggle time. Dexter is hyper-affectionate and can't seem to get close enough to his people. He'll burrow into the crooks of their arms, or rub his head and whole body up against them for hours. He's never happier than when he's being held and snuggled, and he's become the belly-rub king.
Jill says, "I love this cat so much; I've never had a cat who was this friendly." And Dexter? He's finally getting the family he always deserved and is proving that older pets are often the very best pets of all.
Watch an extreme cuddle session here.
Learn more about Best Friends' Love Is Ageless adoption promotion, and find a loving senior pet of your own.
Photos by Jill Williams