When pigs fly?
Two pigs get to their happy ending in style.
By Best Friends Animal Society
By David Dickson
To all the people who have made silly bets on doing something or other "when pigs fly," it's time to pay up. Potbellied pigs Lenny and Squiggy just flew across the wide blue yonder to their very own home thanks to a pilot with a big heart and a small airplane.
When Best Friends horse manager Jen Reid researched a road trip from the Sanctuary to the pigs' new home in California, she was discouraged over the time it would take. Nearly 14 hours would be hard on the pigs. As luck would have it, though, a friend of Jen's heard about the situation and offered to donate his time and expertise as a pilot. "They made it there in just under two hours, " Jen says.
In the nick of time
Their personal journey, however, began long before it was time to load up for the take-off. And for them, it's a journey that came full circle.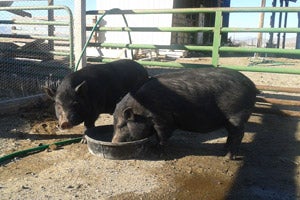 Happy at home
Barbara Pierson of Standish, California, was visiting a shelter in Pahrump, Nevada, to rescue two dogs and a parrot. While there, she met pigs Lenny and Squiggy, who were both running out of time in the kill shelter. She put out the word to help these pigs, who were only babies at the time.
Word reached Best Friends about the two piglets. As chance would have it, there was room at the Sanctuary. Squiggy and Lenny moved to Best Friends.
This all happened last summer. Since then, Barbara has stayed in touch regarding the two pigs. She couldn't stop thinking about them. In the end, she decided to fill out an adoption application. Everybody at Best Friends was ecstatic for Lenny and Squiggy.
Meanwhile, back home in California, there was quite the stir of excitement from Barbara's friends and coworkers about the pigs. Quite a few even traveled to the airport to meet them. "They were celebrities," Barbara says.
Settling in
If Barbara ever had a moment's worry about Lenny and Squiggy adjusting to their new life, it didn't last long. By the time she came home from dropping Jen back off at the airport, Squiggy and Lenny were sprawled out, relaxed as could be, snoozing in the sun. "They couldn't have cared less that neither one of us was there," Barbara says.
Lenny and Squiggy have continued making themselves right at home. A home, as it turns out, that includes two cows, five horses and 14 cats. "I'm an animal lover," Barbara says. Lenny and Squiggy also have 20 acres to explore with their new family.
They've adjusted extremely well, and continue to charm Barbara a bit more each day. Lenny loves belly rubs, and Squiggy gives out kisses. "They're just adorable," Barbara says. "They're really a wonderful addition to the family."
So wonderful, in fact, that Barbara, the director of mental health for her county, has plans to use them as therapy pigs in the near future. "They're just a hoot," Barbara says.
Hey, if these pigs can fly, therapy should be a cakewalk.
Piggy Paradise
Watch a short video to get acquainted with the area of the Sanctuary where pigs live.