White wine celebrates former Michael Vick dogs
Image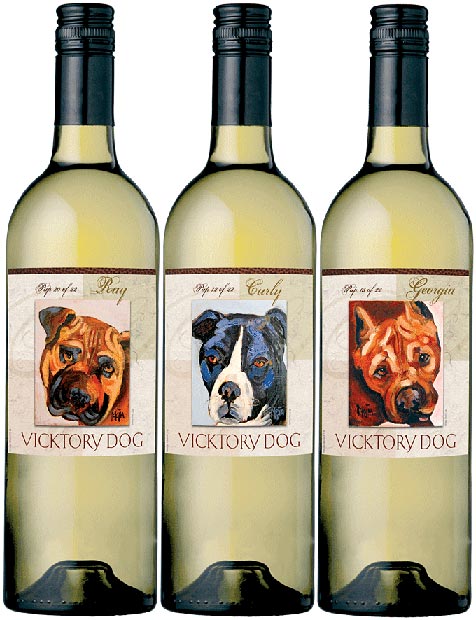 Carivintâs Winery now has both a red and white wine dedicated to the Vicktory dogs (former Michael Vick fighting dogs).
By Amy Abern
Last year, Carivintâs Winery partnered with Best Friends to celebrate the lives of the Vicktory dogs (former NFL player Michael Vick's fighting dogs) living at Best Friends with the Vicktory Dog wine club. And boy, did people celebrate — more than 4,000 bottles of red wine were sold over the last holiday season.
Carivintâs Winery Vicktory dog red and white wines
We're guessing those numbers will be going up this year, because for the first time, Carivintâs Winery is offering a white wine option for the Vicktory Dog wine club — and for all their wine clubs.
Winery owners Matt Hahn and Fleet Hamilton had been receiving rave reviews on their custom medium blends of red wine since they opened for business four years ago. But …what about a white wine? So many requests came in for a white wine, Carivintâs wine maker Hamilton spent this past year coming up with a few white wines to sell along side their signature custom reds. Hahn says those who enjoy chenin blanc and chardonnay will be very pleased with the new Carivintâs white.
"Not only did we receive queries from people who purchased our red wines, but we also received several e-mails from people who can't drink red wines," explains Hahn. "They said they wanted us to offer a white wine so they could participate in our programs. And of course, we were happy to give our customers what they want."
Read about the former Michael Vick dogs
Winery's philanthropy
The popularity of the Carivintâs wine clubs lies not just in their superior product line, but also in the built-in philanthropic component to the business. With every product sold through Carivintâs winery — wines, art work, books and more — proceeds from each sale will benefit one of many non-profit organizations partnering with the winery, including Best Friends. So whether people purchase a case of wine for their own use, or art prints or decorative tiles for a holiday gift for a loved one, they are also giving a gift of money to help worthy causes.
Hahn and Hamilton also understand that this past year was a tough one for everyone. And to that end, they've lowered their prices on many of their items, including wine.
"We've all had it rough," says Hahn. "And we know with the holidays coming up, people may be struggling financially and need to cut down on spending. It's hard all over. And it's particularly hard on those people who want to not only give to their friends and family, but also hope to make a difference on a larger scale. We wanted to make it easier for these people to make their dollars go further, so we lowered our prices."
In some cases, not only have prices been reduced, but the percentage of proceeds to participating non-profits has increased. For instance, 25 percent of all proceeds of from the purchase of a full 24-bottle Vicktory Dog Wine Collection will benefit Best Friends; the white, $542, the red collection goes for $612. Best Friends will receive 15 percent of the sales from individual bottles or cases of Vicktory Dog Wines.
Between now and December 20, Carivintâs will also host a daily Vicktory Dog Holiday Special with a different Vicktory dog featured. Purchase the Wine of the Day at a discounted rate and Best Friends will receive 25 percent of the proceeds.
To order wine or other Carivintâs offerings, log onto www.dogloverswineclub.com.
Photo courtesy of Carivintâs Winery