Working together: Overstock and Best Friends parternship
Image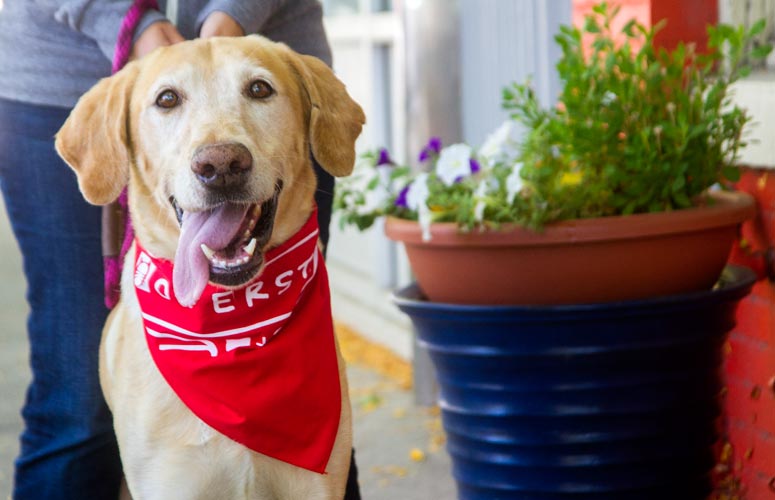 Best Friends partners with Overstock to help adoptable animals Browse Overstock for adoptable dogs, cats, birds, reptiles, horses and other animals.
By  Best Friends staff
Online shopping just got a whole lot fuzzier (as in warm and fuzzy). Through the years, Best Friends has partnered with many different companies to support the mission to end the killing of pets in America's shelters. This year, however, Best Friends began a partnership with a company similar to us in a number of ways.
Online shopping giant Overstock came into existence because the company's founder, Patrick Byrne, saw value in distressed inventory. Likewise, Best Friends was founded on the principle that the life of every homeless or displaced pet is valuable and worth saving. Like Best Friends, Overstock is based in Utah, and among the company's employees are many animal lovers.
It's one of those no-brainer partnerships. With more than 20 million visitors to Overstock's website each month, there's huge potential to save animals' lives through adoption and by donating to Best Friends. With the partnership, Overstock customers can do both.
Overstock pets
Stormy Simon, Overstock president and board member, says: "Our CEO is an animal lover. I'm an animal lover. My whole family was raised with dogs and cats. We picked them up off the street as strays and made the best of it."
Management decided the company's success could potentially help pets, so, as a public service, they created pets.overstock.com, an online database for pet adoptions.
Visitors can browse the site for adoptable dogs, cats, birds, reptiles, horses, guinea pigs, rabbits and other animals. "We hope to reduce the number of animals that are euthanized, and increase awareness of adoption," says Stormy. "We want to get these little faces in front of people and hopefully find them homes."
Since the site launched in April 2014, there have been more than 26,000 connections — people inquiring about or requesting to adopt a pet.
Benefiting Best Friends and the animals
But the company wanted to do even more than help pets get adopted, and that's where Best Friends comes in. Every pets.overstock.com shopper is prompted at checkout with the option to donate to Best Friends or learn more about Best Friends programs and how to get involved.
Since May 1, shopper donations have averaged $10,000 per month, totaling more than $50,000 through September.
"The awareness and support Overstock brings to this partnership are huge," says Trish Conklin, corporate relations manager at Best Friends. "Beyond the donations, there are so many ways we can educate people on how to help, whether it's volunteering or fostering — all those different things that go into our mission. With an estimated 9,000 pets dying in shelters every day in America, basic awareness about adoption, as well as how people can help, is crucial to reducing that number to zero."
The partnership has been truly successful. Behind every pets.overstock.com connection, donation to Best Friends, or visit to the website for information, there is a person who took action to help pets. And that's what it takes to save more lives — people deciding to do something about homeless animals.
"It will pay off if we all get together and do something," says Stormy. "It will take care of the problem."
Learn more at pets.overstock.com.
Learn more about Best Friends corporate partners.
Photos by Sarah Ause-Kichas