Yorkie mix learns agility sport skills from the ground up
Image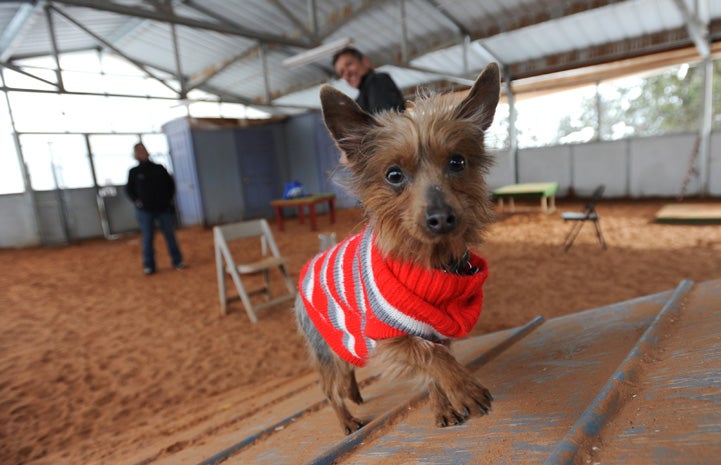 Basic obedience training lays the groundwork for fun, games and (eventually) a home for Yorkie.
By Christelle L. Del Prete
Milky Way the Yorkshire terrier can barely contain his excitement when his caregiver carries him up the snowy path and into Dogtown's training and agility building. His tiny feet barely touch the ground again before the Yorkie mix, clad in the colorful sweater he got for Christmas, starts bouncing around on his back legs like a kangaroo. "Let's go, let's go," he seems to say.
Having just celebrated his first birthday, Milky Way is still a young dog. And he's eager to make up for lost time because, for several months, he didn't get to act his age. Milky Way came to Best Friends from a rescue group in Maryland that suspected the little pup had some serious health issues. They didn't know how much exercise his body could handle, and they didn't know if they could find him a forever home.
Getting the green light after heartworm treatment
By the time Milky Way arrived at the Sanctuary, he was nine months old and raring to go. But first, the Best Friends veterinary team had to figure out his health status and how much physical activity his body could safely handle. So, while the vets ran the tests, Milky Way's caregivers had to keep his play sessions pretty low-key.
But that didn't last long, because the news was good. Except for heartworm disease (which, fortunately, was caught early enough to be easily treated) and a slight heart defect that shouldn't cause him any problems at this point in his life, Milky Way is a normal, healthy dog.
As soon as he finished treatment for the heartworm disease, Milky Way got the green light to run around as much as he wants. And not only does he want to, but he also needs to. The cute little terrier tends to get up to mischief if he doesn't stay busy enough throughout the day.
Yorkie agility course training
Dogtown caregivers started taking him to the Sanctuary's dog agility course so he could run off excess energy and have some fun. Delighted to be in an exciting new place, the active little pup began racing around and checking out the agility equipment. But before he could sail over the jumps, shimmy through the tunnels or fly up the A-frame, Milky Way needed to do some "groundwork." That meant that he had to master some basic training on the ground before he could show his stuff on the agility equipment.
For example, although Milky Way sits right away when asked, his hind end pops off the ground again almost immediately. It must be hard to sit when you feel like you've got springs in your legs. But following through with training cues and exercising self-control are important building block skills. It's like completing preschool or kindergarten before moving on through elementary school.
Bright, quick and ambitious small dog
Luckily, Milky Way is bright, quick and ambitious — especially when it comes to treats and squeaky toys. Hide some treats in a stuffy toy and Milky Way will do whatever he has to do to get it. That means sitting still for more than a few seconds and coming when called. But it also includes more exciting things, like trotting up and down the A-frame.
Milky Way sure seems proud of himself when he's done something well enough to earn a treat or a toss of his little stuffed pig. And from the way he prances with lightning speed across the raised dog walk, he seems primed to become a rising star in agility.
Dog having a blast
Even if his success in the sport is modest, he'll be getting some great benefits. "We aren't preparing dogs for competition here," explains Dogtown trainer Glenn Pierce. "We are leveraging different aspects of agility for each dog so that he or she can get the most out of it."
While "getting the most out of it" can mean different things for different dogs (for example, a confidence boost or some exercise), Glenn says the most important thing for the dogs at the Sanctuary is "about having some fun."
Now that he's gotten the green light to run and play to his heart's content, the young terrier is certainly having a blast. Milky Way demonstrates that when — at the end of a recent agility session — he leaps easily over a low jump bar and chases down a squeaky toy before collecting his tasty treat. But the best part is that with his new skills and his sweet face, it shouldn't be too long before Milky Way leaps into someone's heart and lands himself a new home.
Give more dogs like Milky Way the green light in life. Here's how:
To bring hope and healing to more animals like these, support our work.
Learn all about Dogtown at Best Friends, where all dogs are unique.
Photos by Molly Wald