Yorkie911 goes further to save lives — just ask Oscar
No More Homeless Pets Network partner gains greater tools to do more.
By Best Friends Animal Society
By Denise LeBeau
The image of Oscar, a well-groomed and adorable Maltese, snuggling on his oversized dog bed with his doggie brother, Max, belies his unthinkable past. His puppy mill days are a distant memory — one his new mom, Susan Green, hopes will continue to fade. Oscar now knows he's in a safe place, with good food and a loving touch.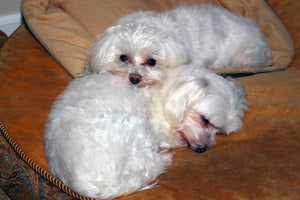 Oscar and Max
Oscar — who was gathered up along with other former puppy mill breeding dogs, pups too old for sale, and other castoffs — is one of thousands of dogs who have been transported out of the Midwest to the Northeast, where loving rescues have received them with open arms. Called Pup My Ride, this puppy mill transport program from Best Friends has been a game-changer for many dogs, the animal organizations that receive them, and the people who ultimately love them as one of their own family members.
Joining forces
Yorkie911 took in Oscar from a Pup My Ride transport.
Heidi Walker founded Yorkie911, a Pup My Ride receiving group and Best Friends' No More Homeless Pets Network partner, in July 2010. The rescue's goal is to save as many Yorkshire terriers and other small-breed dogs as possible and educate the public about puppy mills. Their rescue method is simple and effective: Get dogs into foster homes for rehabilitation and adopted out. Some of their dogs come from shelters, owners who have surrendered them, and, for the last two years, the Pup My Ride program.
Heidi, along with the amazing volunteers of Yorkie911, has been able to do even more for the dogs the group rescues thanks to Best Friends.
"Since we've joined the No More Homeless Pets Network from Best Friends, our lifesaving work has increased," says Heidi. "It's just been a wonderful experience. We participate in the Tri-State Pet Super Adoptions, where we get to network with other groups and people, in addition to adopting out dogs. Then there's the Strut Your Mutt event, which enables us to raise a substantial amount of money. One of the most important aspects of being a partner is really the exposure; we're able to expand our reach by gaining new fosters, adopters and volunteers."
A forever home for Oscar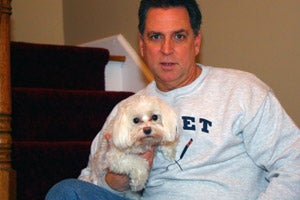 Oscar with new dad, Rich
That expanded reach is what landed Oscar in his home. Yorkie911 has been able to increase their adoption radius by using Best Friends volunteers to do adoption home checks. Now great families that aren't in the immediate Long Island area also have the chance to adopt from Yorkie911. Like the Greens.
Susan and Richard Green live in Connecticut. They were looking for another Maltese to round out their family. Their new charge was to be as much a companion to their other dog, Max, as he was to be to them. The family had recently lost their longtime companion, rescue dog Poppy.
When Susan saw Oscar on Petfinder.com, she knew he was the one. Fortunately, Yorkie911 had one of their volunteers close enough to do the home check. Tammy Heeber, a Best Friends staffer, also volunteers for the No More Homeless Pets Network partners. Tammy checked out the Greens' home, and it was great.
"Since Oscar is a puppy mill survivor, he has had a lot of trust issues," shares Susan. "I had a long conversation with his Yorkie911 foster mom, and she gave me information on his background and tips for gaining his trust. He was so frightened at first; it was so sad to see him like that. But he's improving every day. Now he gives kisses and even greets us at the door, with Max by his side. It's so rewarding."
More information
For more info about Yorkie911, visit their website.
If you work or volunteer at a rescue organization, find out what joining the
can do to aid your lifesaving work.