Young cat with pelvic fracture recovers
What Bristol the cat needed wasn't surgery for a fractured pelvis, but a little rest and relaxation.
By Christelle L. Del Prete
If Bristol hadn't been so badly injured, she'd probably still be living in Florida as a stray cat, or community cat as we like to call them. But when she was eight months old, she was found under a parked car in obvious pain and distress.
The caregiver of the community cat colony rushed the young brown tabby to the vet, but the news was grim. Though no one knew for sure how it happened, Bristol had a broken pelvis. Surgery would not only cost thousands of dollars, but there was also no guarantee it would fix the problem.
Saving a cat from euthanasia
Neither the community cat caregiver, nor any of the local rescue groups had the resources to help Bristol. With nowhere to go and no way she could return to the colony with her injuries, her options were limited to the extent that she faced certain death. With the clock ticking, Bristol's caregiver was determined to save the sweet cat from euthanasia.
Luckily, there was an option for the tabby cat: Best Friends. Soon, Bristol found herself on her way to the Sanctuary, where she'd not only be safe, but she could also receive all the medical care she needed.
Healing a pelvic fracture without surgery
While at first it seemed that surgery would be necessary, after the Best Friends veterinary team carefully reviewed Bristol's X-rays, it seemed she might stand a better chance of making a full recovery on her own.
Dr. Susan Konecny, Best Friends' medical director, explains that, when considering surgery for pelvic fractures like Bristol's, the veterinary team tries to determine whether or not the cat can heal on her own. In certain cases, surgery may be a better option. But in others, the trauma of the operation may do more harm than good, so vets sometimes prefer a less-is-more approach.
And Bristol was young and otherwise healthy. So, although the accident had initially left her incontinent, Bristol was prescribed cage rest instead of surgery.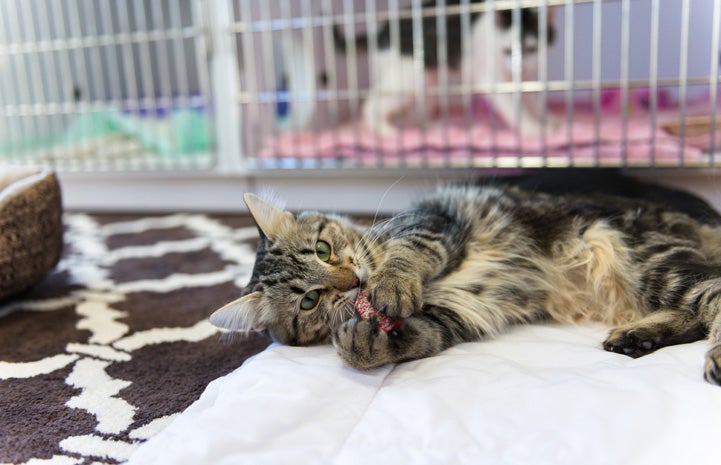 Getting some exercise
Bristol had the perfect place to rest quietly and heal — in Cat World's medical building, where she would get plenty of attention from caregivers and the veterinary staff. Though she couldn't move around like she used to, she seemed relieved to be in a safe, supportive place. She snuggled up in her warm fleece blankets and got some much needed sleep.
But it's hard for a young, healthy cat to stay cooped up for a long time. After several weeks of rest, Bristol was eager to come out of her room and investigate. By then, she was healed enough to have some "out time." That meant she could walk around the building for short periods of time to get the exercise she needed to start rebuilding her strength. It also gave her the chance to satisfy the kitten-like curiosity that had returned when she began feeling better.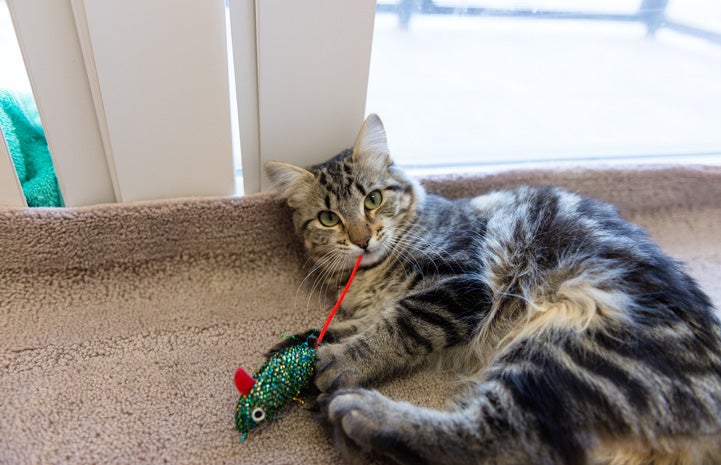 Cat with a bright future
Though Bristol uses her out time to explore and to socialize, she seems to understand that she's still healing. She is careful and doesn't try to jump up on anything. Six weeks after arriving at the Sanctuary, she's doing great. She can use the litter box on her own, and she's walking around without so much as a limp.
As she gets stronger, Bristol will get more and more time to explore and just be a young, happy cat. And because she's expected to make a full recovery, she'll soon have no restrictions at all. So, although she won't be going back to the Sunshine State (unless she happens to find a forever home there), Bristol's future is beautifully bright.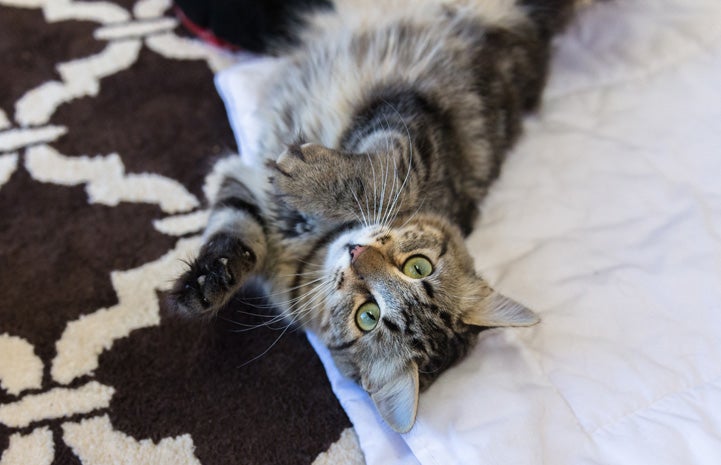 Help more cats like Bristol rest, recover and reclaim their lives. Here's how:
Photos by Kurt Budde