Your stories: Senior pets
We're sharing some of our favorite stories about what makes senior dogs and cats the best.
By Kelli Harmon
We asked, you answered. In celebration of Adopt a Senior Pet Month this November, we asked people to share their stories about adopting a special senior pet. We knew at least some people would respond (after all, we're in on the secret that older pets are awesome), but the deluge of stories and photos that came pouring in was nothing short of amazing.
They came by the hundreds and made for entertaining, sometimes tearful, and ultimately inspiring reading.
Here are just a few of the many stories people shared about falling in love with an older pet. Think of them next time you come across a graying furry face or slightly creaky "meow," and learn how you can find one of your own, too.
Choli's story, told by Deb Vanneman of Palmyra, New Jersey
We had just lost our 18-year-old dog Bernie, and agreed to wait a while before getting another dog. I was approaching my last year of teaching, and my husband and I wanted to concentrate on traveling more. This lasted two days, because when I came home from work, he presented me with a Petfinder.com list of small dogs needing homes. We found Choli, who, according to her short bio, loved to travel, too.
I flew from New Jersey to Texas to get her. We'd been told she was five pounds (she was seven). We'd been told she was five years old (she was 10). We knew she was missing an eye and some teeth (but not that her jaw had been broken and healed crooked so her tongue hung out most of the time). I noticed she walked fine, ran fine, but had a rear-leg hop at a trot (X-rays later showed a BB in that leg). She also had a slight heart murmur. In short, it was love at first sight for both of us.
In the four years since Choli came into our lives, she has accompanied us on trips throughout the United States and to France. As we have aged, we are in need of more meds and attention to keep ourselves going. Arthritis and progressive heart disease have meant that Choli slowed down a little, but great meds, veterinarians and a new doggie brother have put a renewed spring in her step — as well as the fact that she is loved to the moon and back!
Fuzzy's story, told by Wendy Gordon of Portland, Oregon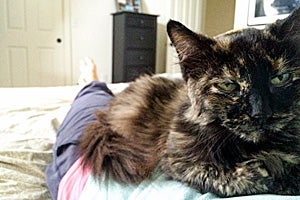 Fuzzy joined our family in July of this year. Most days during lunch I walk around the neighborhood near my work, and over the past four years, I've gotten to know many of the local cats. Fuzzy has always had a special place in my heart. She was scrawny, flea-bitten and full of personality. She lived under a house and was being fed by the homeowner, but I've wanted to be her mama for quite some time.
When my elderly cat Gabby died in March of this year, I wrestled with asking the homeowner if I could adopt Fuzzy. One day this summer, I just knew I had to have her. She came trotting out from under the house like she did every day, completely filthy but oh, so sweet. I couldn't let her live under that house any longer. Fuzzy's caretaker was happy that I wanted to bring her into my home.
She is 11 years old and has kidney disease. She isn't crazy about her feline siblings and she is brimming with "tortitude." She isn't great with the litter box and is picky about her food. She's kind of a pain, really, but I'm completely in love with all eight pounds of her. She loves to snuggle and craves attention. She has never once shown a hint of interest in going outside. I'm so happy that I get to be her mama and give her a comfortable, love-filled life for the rest of her days.
Bea's story, told by Scott Richards of Fleming Island, Florida (Bea is pictured in the main photo above)
We adopted Bea two years ago. It took years to get over our last dog and we were not looking for an old dog, but circumstances interfered and we met Bea. We have always had small dogs and Bea, a Rottweiler and shepherd mix, is definitely not that. But she is the nicest dog and just plain gentle. Now at about 11 years old she has started to limp a little, but that doesn't stop her from being happy all the time.
I pray that she will be with us for years to come, but when the day arrives for another companion, I will be looking past all those rambunctious puppies to the old dog calmly sitting there looking for a good home.
Jaime's story, told by Ellen Paul of Spring Hill, Florida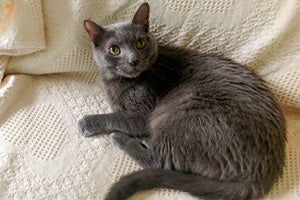 My beloved Jaime is 20 years old. I rescued him from the shelter when he was about two, and he has run my household ever since. A working cat, he has nursed a husband with a broken leg, encouraging him that he could indeed climb the stairs to go to bed.
Jaime has ensured that Purrcy, a feral kitten who joined us when he was three months old and is now 16 years old, was safe from Jakki (Just a Kitty Kat), who thought that we didn't need another cat. And when the pups joined us two years ago, Jaime was the one who showed them who was boss.
He hasn't slowed down much, though he is skinny now. He's had kidney failure (I gave him dialysis) and pancreatitis (I gave him pain meds), but he is still very much the boss.
He swats dogs and cats who don't behave "properly," sleeps with me every night, reminds me when it is time for dinner or to scratch his chin. He keeps me company as I watch TV or play Scrabble, asking only for love, warmth and chopped chicken breast. We should all ask for so little and give so much in return.
Delilah's story, told by Emily Tacheny of Farmington, Utah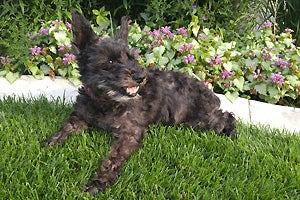 We have been fostering homeless pets for a short time now and found that seniors (especially seniors with disabilities) will always have a place in our home when needed.
This spring, a 15-year-old deaf mini-schnauzer was posted in a local networking group and we knew she needed to come to our home. She was in poor condition with her hair completely matted and her skin and teeth in terrible shape. She also walked with a slight hitch in her giddyup. We were looking through her paperwork from the shelter and read her former family's reason for surrendering her after 15 years: "Moving. Don't want the dog." It broke our hearts.
After a nice shave, medicated baths to help her skin, a dental, and figuring out why her walk was so funny (the poor lady has some BB bullets in her that are causing arthritis in her back), she was good as new. She is very spry for her age and few people believe she is actually 15. She loves her evening walks and, within a few months, she became fit enough to go on hikes with us and our younger pups. After fostering her for most of the summer, we decided that we loved her far too much to adopt her out.
Between the wild sounds she makes when we come home from work to the way she lies at our feet in the kitchen while we cook, we can't imagine our lives without her. We know her time with us may not be as long as if we had opted for a puppy, so we make sure to spoil her every day and never take her cuddling for granted. When we tell people we adopted a 15-year-old dog, we do get a few funny looks now and again, but we wouldn't trade her for anything.
Fall in love with your own senior pet
Looking to add a senior pet to your family? Find one at the Sanctuary, one of Best Friends' pet adoption centers, or a No More Homeless Pets Network partner near you, where you can take advantage of our Love Is Ageless adoption promotion. Click here to find your next pet.
Photos provided by the animals' people