The matchmaker and the cat with FIV
As pet adoption goes virtual, watch how a New York City cat gets matched up with his new family via a video meet-and-greet.
By Lindsay Hutton
Levi is a friendly, outgoing kitty who happens to have the feline immunodeficiency virus (FIV)). Those three letters often make it harder for cats to get adopted, but in Levi's case, the fact that he has it was a selling point to his new family.
Levi was brought to Best Friends in New York after losing his home, and when the lifesaving center there was forced to close temporarily due to the pandemic, he was soon on his way to a foster home. His foster notes described him as loving, affectionate and one who meows when left alone for too long.
Even though most other things in the city had come to a screeching halt along with the adoption center, in this case Levi didn't have to wait to meet potential adopters. In place of the usual in-person meet-and-greet, people could get to know him via a video call.
Remson Omotayo is one of four Best Friends adoption specialists in New York who have handled more than 2,000 adoption applications in just over a month. The shift to a video and electronic adoption process (instead of in person) has been incredibly successful: Remson says about seven of 10 virtual meet-and-greets result in adoption.
He describes the virtual adoption process as a duck in water: Everything floats smoothly on the surface while energetic paddling goes on below. Once people fill out an adoption survey, the matchmakers (aka adoption specialists) go to work.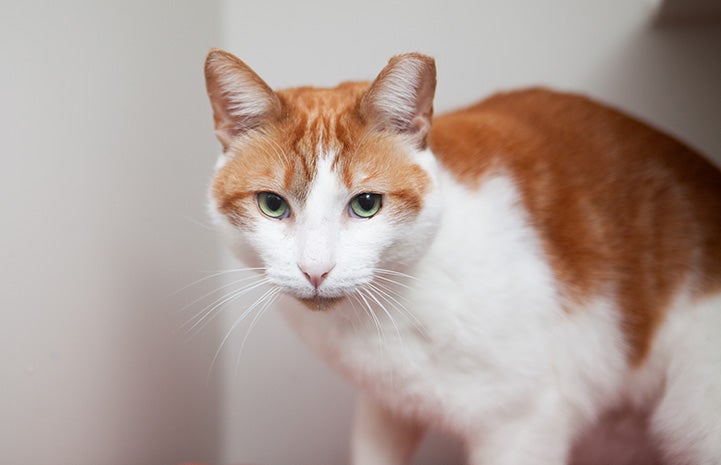 Seeking buddy for cat with FIV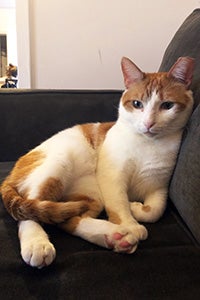 Rachel and Jake hoped to adopt a cat who would normally get overlooked and who would be a good buddy for their moody, sweet cat Hank. The other note on their adoption survey was that they'd prefer to adopt a cat with FIV. Hank has it, and that fact has made them advocates for kitties with FIV. They post about it on social media to let people know that cats with FIV (and senior cats, too) are great adoption choices.
"If it's a cat you like and get along with, FIV isn't really a hinderance," says Jake.
Remson says that matching up FIV cats with adopters comes down to "the luck of the draw." People either understand that FIV plays only a small role in the cat's overall life, or they're reluctant to take on a cat with any illness.
Rachel and Jake's survey caught Remson's eye. It sounded like Levi could be a great fit in their home and vice versa, so Remson set up the video meet-and-greet.
Pet adoption via video
MaKenna, a foster volunteer looking after Levi, started off the meeting by describing the cat's affectionate nature. "If you are sitting, he will be on top of you," she said. Proving her point almost immediately, Levi settled onto her leg. His bright green eyes closed in bliss as the fingers of her right hand gently scratched his ear. He rested his soft white paw on the cupped fingers of her left hand and pressed his cheek to her palm.
An in-person first meeting wasn't necessary. Rachel and Jake could see everything they needed to on their laptop screen. They were won over by Levi's relaxed and sweet personality. "He's a friendly guy. He's not catfishing us," Jake said. With that, they'd made their decision. Levi could come and live with them and Hank had a new buddy.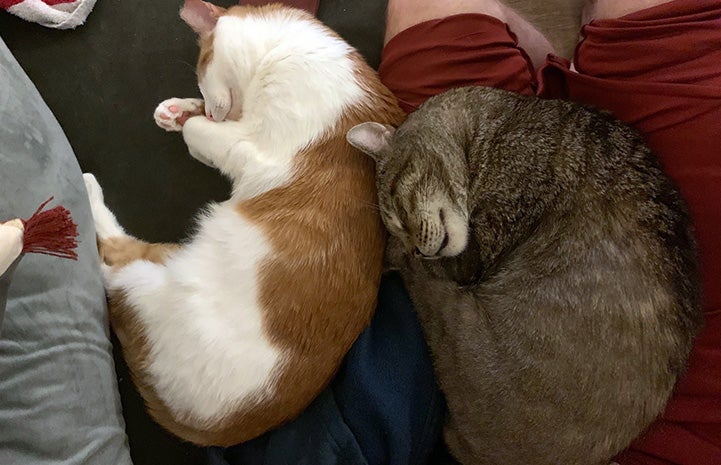 Good match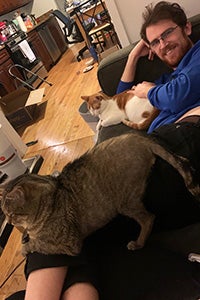 While Hank is moody, Levi is happy-go-lucky and wants to be Hank's best friend. Though he's getting over some jealousy, Hank is warming up. He and Levi sleep in bed together and take turns goofing off. One goofs while the other watches and then they switch.
Levi looks like he's smiling all the time and he's happy to play, but Rachel says he quickly "comes back down to zero" and knows how to be chill. "We're calm people," Rachel says with a smile. Obviously, Levi fits in perfectly.
They found the ease of the virtual adoption process a relief. Remson and the Best Friends team made it incredibly smooth. Like a duck coolly skimming over the water, Levi was transported from his foster home to Rachel, Jake and Hank. You could say that he got lucky. But luck didn't have as much to do with it because of the fact that matchmakers and those looking to make a match came together to help animals in need.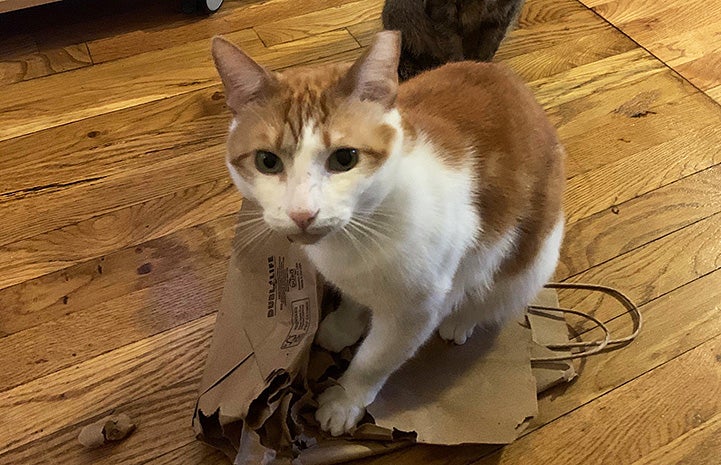 Best Friends in New York works collaboratively with city shelters, local animal welfare organizations and individuals to save the lives of pets in shelters in New York City and the surrounding tri-state area. As part of this work, Best Friends has a national lifesaving concept space and pet adoption center in SoHo, hosts adoption and fundraising events, and runs a foster program in partnership with Animal Care Centers of New York City. Together, we will Save Them All.
Photos courtesy of R. Weinick and by Robert Stoetzel