Jane Jetabut
Employee Engagement Manager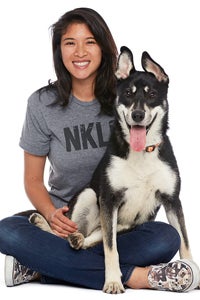 Jane Jetabut is an employee engagement manager based in the Los Angeles area. Her role is focused on supporting and empowering staff at Best Friends to live their healthiest and happiest lives, so that they can continue to do incredible lifesaving work every single day. She has two permanent foster failures at home — a dog named Ranger and his cat, Riley.
Q: Tell us where you live, what you do and how long you've been with Best Friends.
A: I have been with Best Friends for five years now, I live in L.A. and I do workplace giving.
Q: You've had a lot of different roles here at Best Friends, so tell us about some of the jobs you've done.
A: I started out on the events team, managing all of our L.A. events. I did that for about three years and then I moved to account management for our corporate relations team. Over the past year, I've been managing all of our workplace giving partners.
Q: Why are you interested in DEI? You've got a full plate, so why do you want to volunteer to do this as well?
A: Best Friends' guiding principles really, really resonate with me — not just professionally but because that's how I would like to live my life personally. That's how I hope to move through my life. One of the first conversations I had with José was about this: How do we make everyone's day-to-day experience better? How do we build that culture from the ground up?
If we can really merge our guiding principles into our culture for everyone personally and professionally, I feel like we can do this incredible work for animals. And we have the opportunity to make Best Friends such an incredibly healthy and happy place for people to work.
Q: What is the one thing that Best Friends can do to help be that agent of change?
A: We have so many employees who aren't always able to really participate and actively reap the benefits of some of the incredible options that we have to support our employees and to build that culture. And so that's a priority for me. How do we find ways to permeate all levels of this organization and to be effective for everyone?