Five years after rescue from Michael Vick's dog fighting operation, 'Vicktory Dogs' triumphant in Best Friends Animal Society reunion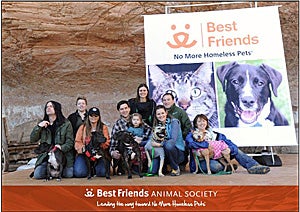 ​Kanab, UT - Six families who adopted dogs rescued from Michael Vick's dog fighting operation and then transferred to Best Friends Animal Society's sanctuary for special care, were reunited Monday, March 11, for a special reunion at the same place of refuge where the dogs received a new lease on life.
Twenty-two of the 47 dogs rescued from Vick's Bad Newz Kennels were sent by the courts to Best Friends' sanctuary near Kanab, Utah, in the late fall of 2007, and were introduced to the public in January of 2008. It was the first time the courts had ever allowed dogs confiscated from a fight ring to not only be evaluated individually, but also to undergo rehabilitation and eventually be eligible for adoption. During the past five years, 10 of those 22 have been adopted.
Cherry, Handsome Dan, Halle, Little Red, Mel, Oscar and their families gathered at the sanctuary with staff, volunteers and visitors for a real "family" reunion, with approximately 150 human onlookers. (A special video look at the reunion).
"We had a fantastic experience being with the families who traveled here with their dogs and children," said Judah Battista, Best Friends' director of animal care.
Adoptive families have proudly proclaimed that these special dogs have changed their lives as profoundly as the dogs' own lives changed.
Richard, who adopted Mel, has become a very outspoken advocate of pit bulls. Handsome Dan's family has a rescue group named after him, and have helped save many more dogs, based in part on the public's interest in Dan.
One by one, each of the adoptive families took the stage and shared some of the stories of their dogs. Over and over, they spoke about how the dogs have come out of their shells. How they have changed from the shy and shutdown dogs they once were.
Cherry joined his "parents", Paul and Melissa, onstage completely relaxed in a "laid back" position. Little Red played with the other dogs and enjoyed belly rubs from her former caregivers. Handsome Dan, who has a harder time in a crowd, sat in his doggie stroller, his three-year-old human 'sister' sitting close by.
Oscar, still shy in a public setting, didn't join his "mom", Rachel, on stage. But Rachel said that being connected to all of the other families and seeing how far their dogs have progressed provided her with a glimpse of the dog that Oscar may be one day.
"It was great for everyone to see how well the dogs are doing," said Michelle Besmehn, manager of Dogtown, the dogs' former residence. "It was a wonderful reminder of what we are all working for."
John Garcia, who was co-manager of Dogtown when the dogs arrived,, said: "The Vicktory Dogs have gone on to be amazing ambassadors for this breed and are helping save even more lives, which of course is why we are all here."
Battista summed up the proceedings when he said: "It was clear that the audience felt privileged to be able to meet the dogs and their families. I know that I did."
About Best Friends Animal Society®
Best Friends Animal Society is a national animal welfare organization building no-kill programs and partnerships that will bring about a day when there are No More Homeless Pets® . The society's leading initiatives in animal care and community programs are coordinated from its Kanab, Utah headquarters, the country's largest no-kill sanctuary. This work is made possible by the personal and financial support of a grassroots network of supporters and community partners across the nation.
To become a fan of Best Friends Animal Society on Facebook go to: //www.facebook.com/bestfriendsanimalsociety
Follow Best Friends on Twitter: //twitter.com/bestfriends
###