The Best Friends Pet Resource Center is open!
Located in the heart of Bentonville, Arkansas, the Best Friends Pet Resource Center is a first-of-its-kind, fully modernized facility that reinvents how dogs, cats, and even humans experience animal sheltering.
Our animal companions are an integral part of our family, and the new pet resource center was designed with that in mind. It's a place for the entire community to connect with pets — a place to adopt your next dog or cat, explore resources for guidance or support with current pets, or simply to gather with and enjoy family and friends.
Connecting pets and people of Northwest Arkansas
The new Best Friends Pet Resource Center is more than just a place to adopt a pet. It is a first-of-its-kind, fully reimagined shelter that offers resources and services for both people and pets.
It's a place where people can spend time with adoptable animals, take a loving dog out to explore Bentonville for the day, stop into our volunteer space to make toys for pets, find a pet to foster, and so much more.
We'll also be providing vital veterinary care to these adoptable animals and to pets at our community partner organizations, to community cats, and to qualifying families in need.
Meet awesome pets, find your people
Don't miss these great events.
Peek inside the Best Friends Pet Resource Center
The space features open areas perfect for getting to know adoptable dogs and cats, fun activities for humans of all ages, a DIY dog-bathing center, a café where guests can hang out with cats and kittens, a pet food and supplies pantry, and much more.
Sheltering without kennels: The model of the future
There are no kennels or cages at the pet resource center, just one of the ways we're redefining what it means to care for homeless dogs and cats.
Bright skies for homeless pets, thanks to caring donors
Contributors to our pet resource center aren't simply animal lovers or donors — they're life changers and history makers.
We offer our most profound gratitude to every individual, foundation and company for your gift to the center and for your shared vision that together, we can Save Them All.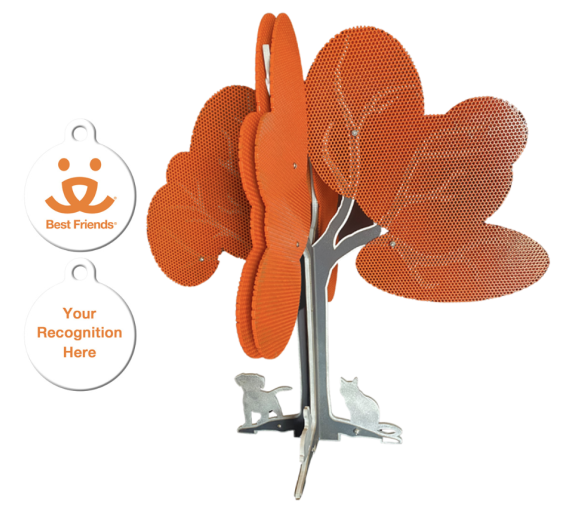 Our community giving tree
Created by a local artist, the 6-foot-tall tree features a shimmering canopy of inscribed pet tags as its leaves — each one a symbol of generosity, compassion and kindness to the animals.
Be part of the future of animal sheltering
The Best Friends Pet Resource Center is open! Check out all the ways to get involved and help save the lives of homeless pets in Northwest Arkansas.
Visit us! 
The new Best Friends Pet Resource Center is open.
Location and parking  
1312 Melissa Drive    
Bentonville, AR 72712
The pet resource center is in the heart of the Bentonville greenspace that will become the 8th Street Gateway Park. Parking is available at the center.  
Pet resource center hours    
Monday - Friday: 10 a.m. – 6 p.m.    
Saturday and Sunday: 10 a.m. – 4 p.m.
Phone
479-310-8569