10th anniversary of volunteering with animals
Image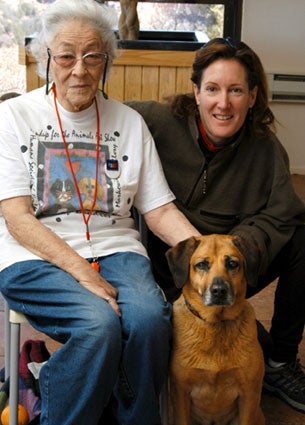 Two friends find happiness volunteering at Best Friends with all the animals. This is their 10th anniversary of volunteering!
By Best Friends staff
It's Thelma the dog's 10th anniversary visiting Best Friends Animal Sanctuary in Kanab, Utah. She's a devoted member who never fails to renew, and loves to come check up on the work we're doing. At least, that's the story from the two people she brings along with her, Keli Dowler and Sue Hough.
Two friends volunteer for 10th time at Best Friends
Keli and Sue met when they were both living in Colorado, a decade or so ago. They were neighbors, and learned they had both graduated from Smith College (Keli in 1991, Sue in 1942). A definite bond! So when Keli moved away to the Salt Lake City area of Utah, the former neighbors decided coming to Best Friends together would be the perfect way to reunite on a regular basis. And so this is their 10th time!
Not to mention, it's the 10th visit for Keli's dog, Thelma.
Fond memories of volunteering
The women have a lot of memories of their visits to Best Friends over the years. There was the time Sue got talked into adopting "the all-wrong dog" (not the color she wanted, not the size she wanted) who is now the love of her life. There was the time they found out Thelma's favorite cottage had been turned into an office, and they had to sleep in a different one. What a shame! But they're adjusting to the new one, too.
Waggin' Tail Dog Training in Utah
Back home, Keli runs Waggin' Tail Dog Training in Bountiful, Utah. And Sue still works part-time at the Boulder Public Library, auditing university classes in her spare time on subjects like Japan.
How much longer do they and Thelma plan on coming back? On this, they were very clear. "We thought if we came for 20 years, maybe we can be in the magazine!" they laughed.