At 13 years young, senior pittie finds his perfect person
Luck just wasn't on Johnny Houla's side until he met his new mom, who adopted him even though she had to move to make it happen.
By Ana Merkulova
Johnny Houla's 90 pounds of doggy bulk belies his true nature ― an I-just-met-you-and-I-love-you cuddle bug who at a moment's notice will grace you with his signature pittie grin. The handsome hunk with the gorgeous, stippled coat and a penchant for hugs never had a shortage of fans among staff and volunteers at Best Friends in Los Angeles, and in his younger days he had very little trouble getting noticed by visitors.
Johnny came to Best Friends in 2011 (you read that right) from a Los Angeles city shelter. Though he got adopted, things didn't work out and he was returned to Best Friends. Being returned eventually became a familiar, repeating tune, though it wasn't Johnny's fault. Sometimes things just didn't work out, like when his family moved and couldn't take him with them.
Each time he came back to Best Friends, the staff became even more determined to find a home that would stick. Spoiler alert: They found just that home. And while his new family may not have moved mountains to adopt him, they did choose to move.
[Once overlooked and out of time, senior pit bull terrier is now happy at home]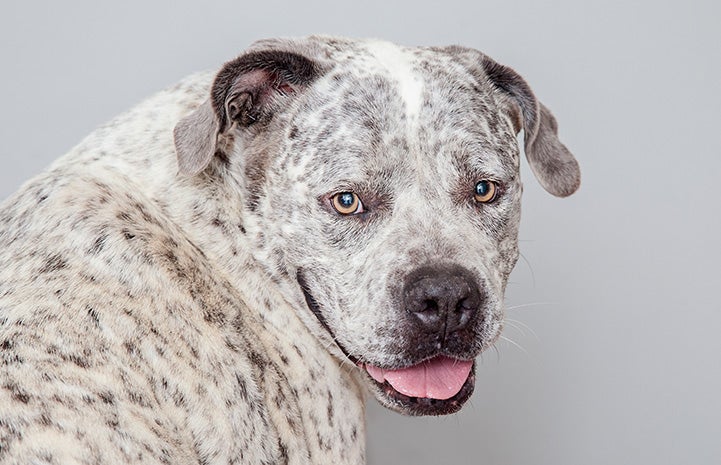 A snuggle bug who can't catch a break
The last time Johnny came back to Best Friends was in December 2019, and yet another search for a new family began anew. A word of explanation: Johnny is an utter cuddle bug with a killer personality who loves every man, woman and child he meets. But despite all that, he doesn't care for the company of other pets. Plus, he's a hunky, big 13-year-old boy with a skin condition that requires a special diet and medicated baths.
It was his age and medical needs that caused most adopters to move along and look at other pets, but he remained a favorite among staff and volunteers. Ariel Dengrove, adoption specialist at the center, describes him as a big cuddly guy, always ready for a snuggle and a nap on your lap. (Though Johnny's sheer size would make a nap on your lap appear as though he was using you as a body pillow.)
Clearly, something good had to happen for Johnny. A Best Friends veterinarian (and by all accounts, a huge fan of Johnny's) recommended him to a friend as a foster candidate. That turned out to be just the lucky break Johnny needed.
[Dog named Bear is just right for his new home]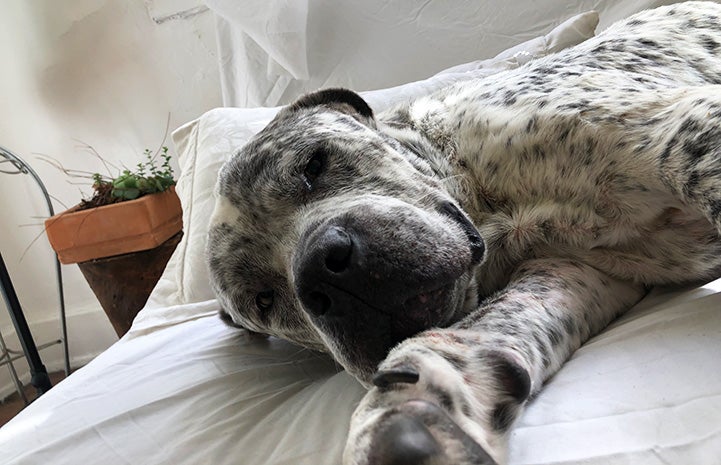 Adopter changes a dog's luck for good
Monique Laborde needed a friend to make quarantine more bearable. She thought that taking in a foster pup (just for a little while) would help her through a dark time. She was right about that, but she was wrong about Johnny staying just for a little while.
Once he settled in, picked his napping spot and determined a favorite walking route in the neighborhood (cruising speed only, please), Johnny had no plans to leave and Monique didn't want him to. "Just a week of time with him brought me so much joy," she says.
Bringing Johnny back to Best Friends was no longer an option, so when Monique's landlord told her she couldn't keep him, she took the next logical step and decided to move. (The lease at her place was up anyway, but hey, moving in with the 90-pound, four-pawed love of your life is always a big deal.) Monique also made sure the owners at the new apartment met Johnny and gave him a universal thumbs-up.
Monique says she doesn't care how old Johnny is. She simply loves him now and feels lucky for every day she gets with him. Speaking with me on the phone, she talks to Johnny, too, and we both get to hear his story. Of course, he knows his story already but never tires of hearing how cute he is. After 10 years of pining for a forever home, to be loved every day is exactly what Johnny deserves.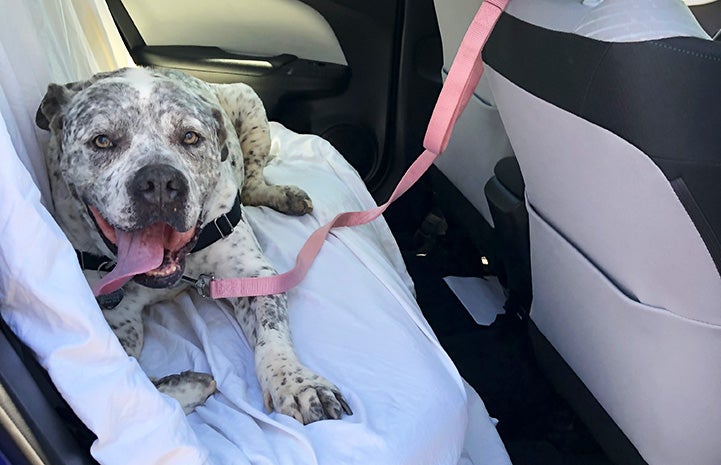 Can a senior pet be your perfect match?
Senior pets are big on cuddles and never short on love. Can a senior pet be right for you?
Read more
A hound dog with no manners, no skills, no problem
Volunteering helps teen's confidence bloom
Photos courtesy of Monique Laborde and Lori Fusaro