15 Sanctuary pets in the spooky spirit
With the pets at Best Friends Animal Sanctuary getting dressed up for the spooky season, here are some of our favorite costumes.
By Sarah Thornton
The spooky season is upon us and Halloween is right around the corner (definitely not waiting to pop out and shout "boo" as you pass by). Here at the Sanctuary, we're getting excited for treats and tricks galore, and it's not just the people, either.
Pets of all shapes and sizes are donning their creepiest and kookiest costumes to get into the spooky spirit. Cats, dogs and even guinea pigs are ready to start yowling, howling and wheeking for people to fill up their treat buckets. For the pets who are comfortable with a bit of ghoulish fun (not everyone wants to wear a costume and that's OK, too), it's truly a fright to behold. Check out the following as we share some of our favorite costumes with you.
Evergreen the zombie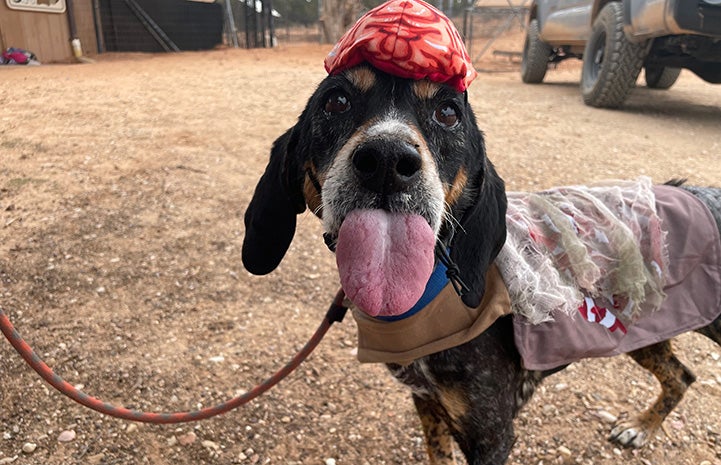 Let's start off with a zombie so cute we might just lose our minds (if not our brains). Evergreen is looking delightfully frightful in this spirited getup.
Wordsworth the firetruck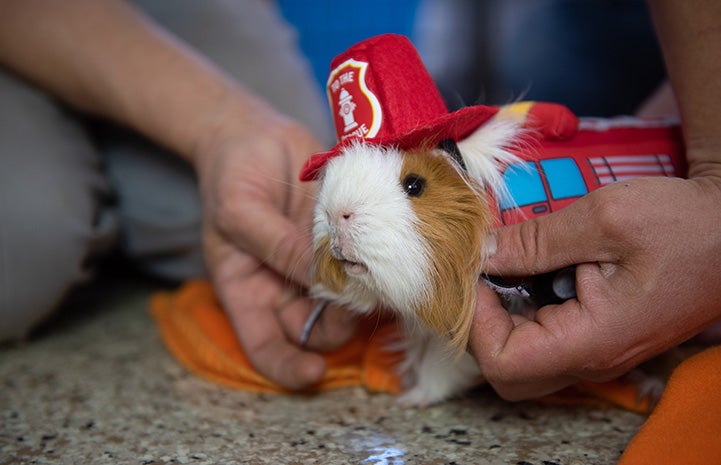 "Wheek-woo, wheek-woo, wheek-woo," goes Wordsworth's little guinea pig alarm when he's on his way to "rescue" a delicious-looking snack from someone's hands. Thankfully, no fire needs to be involved.
Woodrow the pirate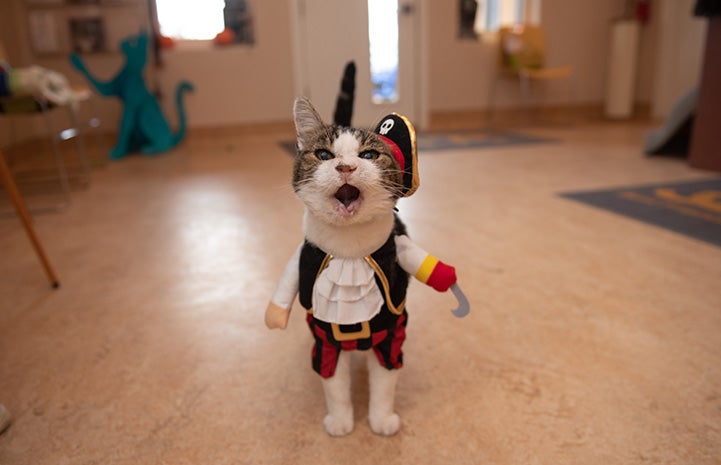 Yarr, maties! Avast! Woodrow demands a booty of wet food and crunchy treats, or ye'll have to walk the plank. Just don't cause too big of a splash. He doesn't want to get wet.
Lincoln the pirate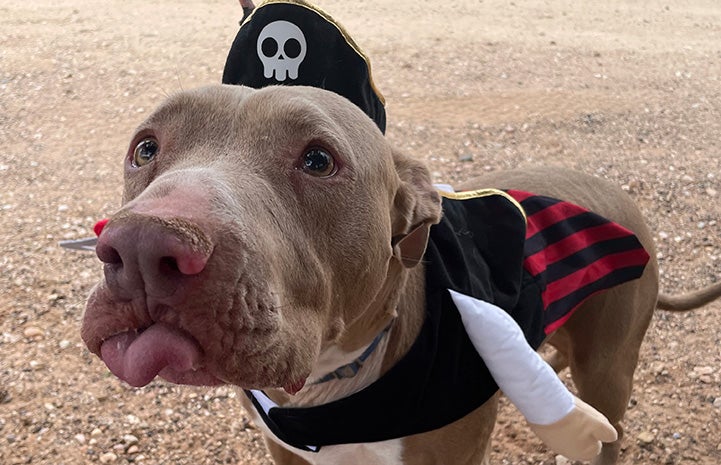 Every good pirate is part of a crew, and it looks like ours is coming along nicely. Lincoln is as loyal as they come, and he can certainly help sniff out and dig up some buried treasure.
Lizzie the shark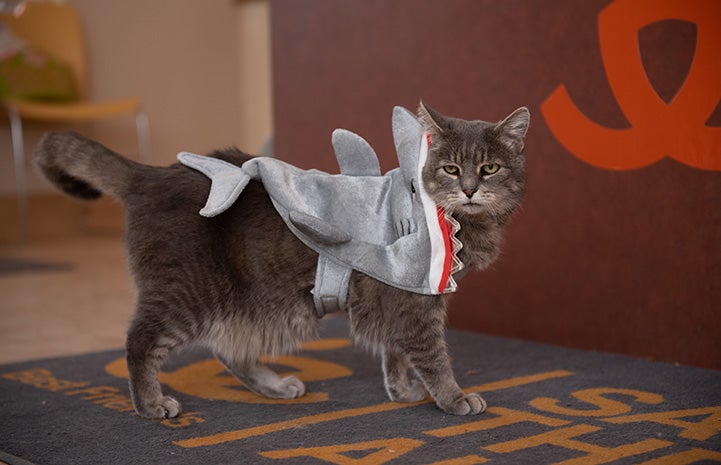 Uh-oh, it looks like our pirates have some company. Lizzie has come looking for any tasty morsels that get tossed overboard (preferably some yummy Temptations).
Milton the inmate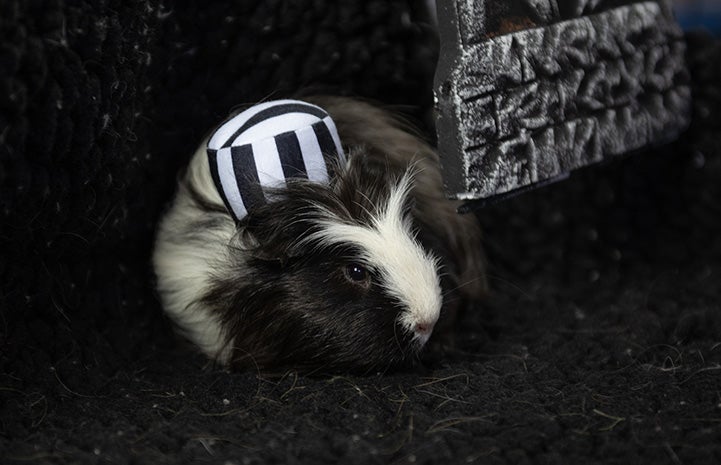 Look out! Milton's making a break for it, and he's gonna swipe all the treats on his way out. If you catch him, you should really think about just adopting him.
Emmalee the dancer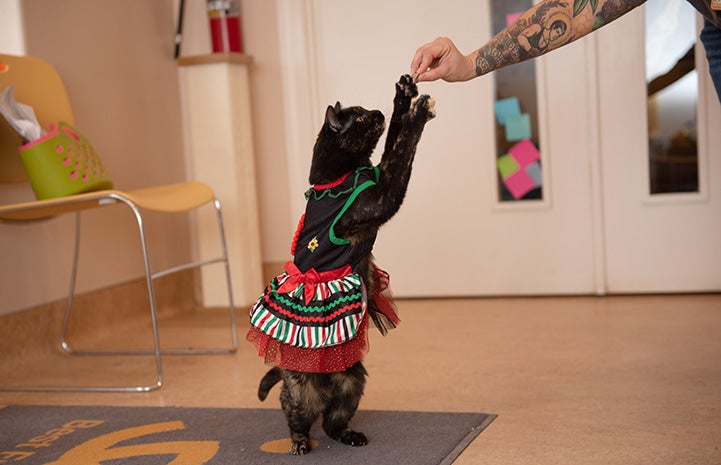 Full of energy and able to leap high into the air in sweeping arcs and tricky twists, Emmalee's dancing dress is just right for the little tortie. Hold the roses, though. At the end of her purrformance, she'd rather be showered in catnip.
Maxx the hot dog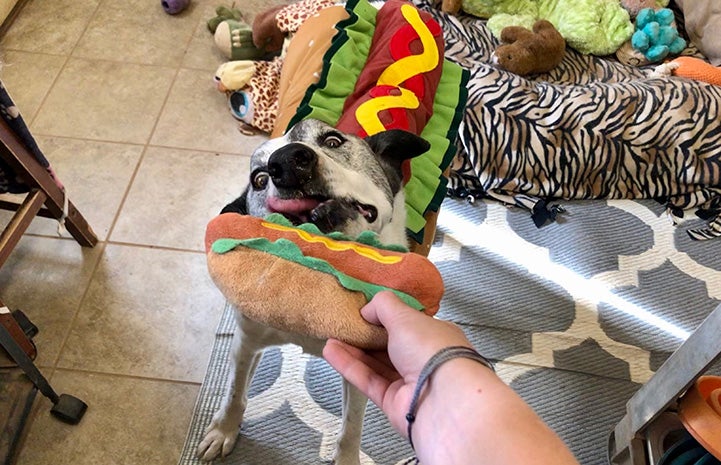 Maxx is taking "you are what you eat" very seriously. This hot dog-loving hot dog wants to make sure everyone knows exactly what he's expecting in his trick-or-treat bowl.
Keats the (smaller) hot dog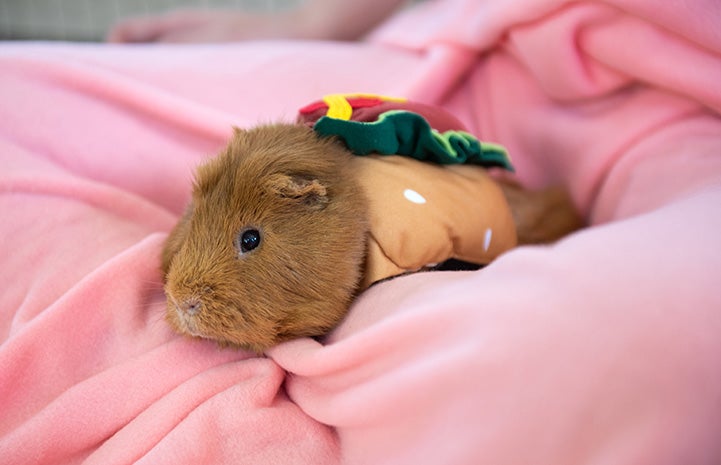 He might never have tried one before. (He's an herbivore, after all.) But Keats didn't want to miss out on the bun fun, either. Plus, it's a nice, "toasty" costume for a cold October night.
MooMoo the pig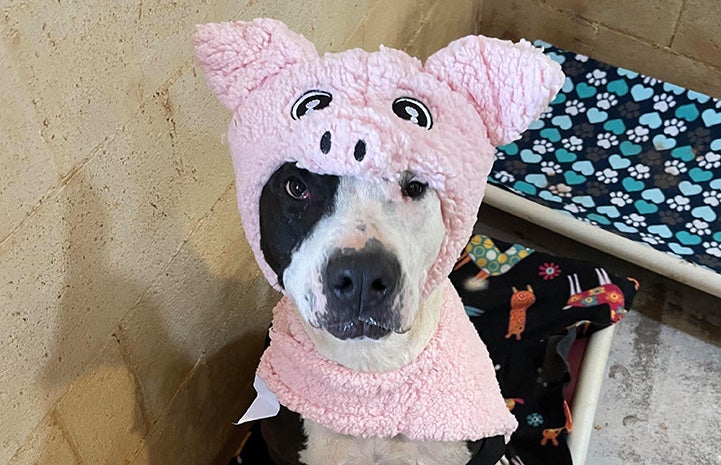 It seems like MooMoo might be a little confused about where his name came from, or maybe he's just being silly. A barking pig named MooMoo? That's worth some treats, surely.
Bryce the cow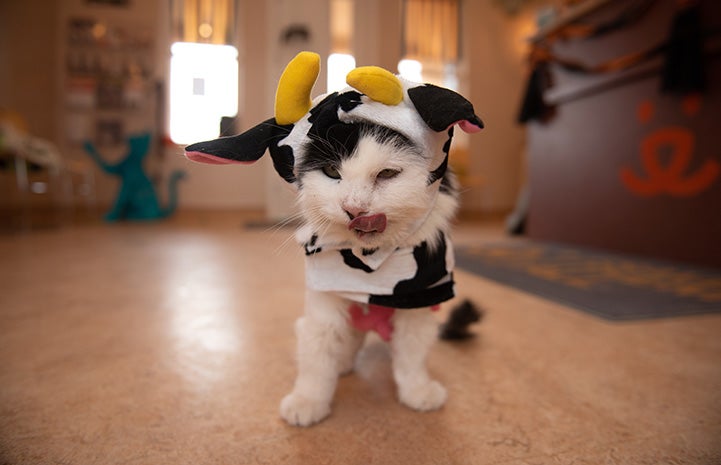 Oh, there's MooMoo's problem: The cow costume is cat-sized. It fits Bryce perfectly, though, and even matches his everyday look. He probably wouldn't say no to some cat grass to chew on, either.
Frost the bumblebee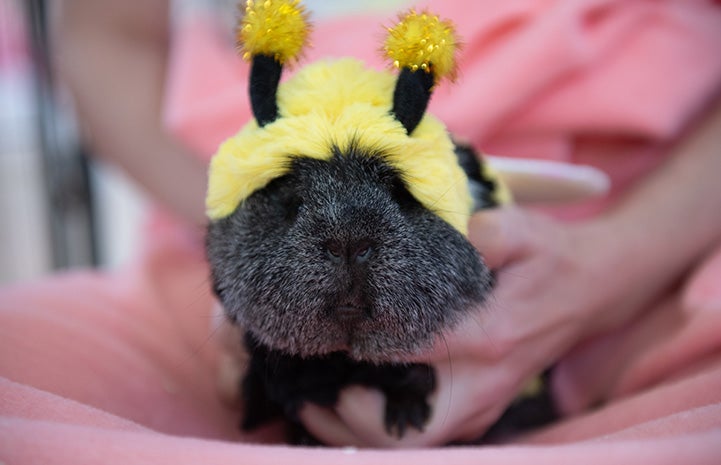 Frost will be busy as a bee come Halloween: waddling this way and that, greeting human friends and visitors, and very politely asking for his treat (no tricks, here).
Pancake the spider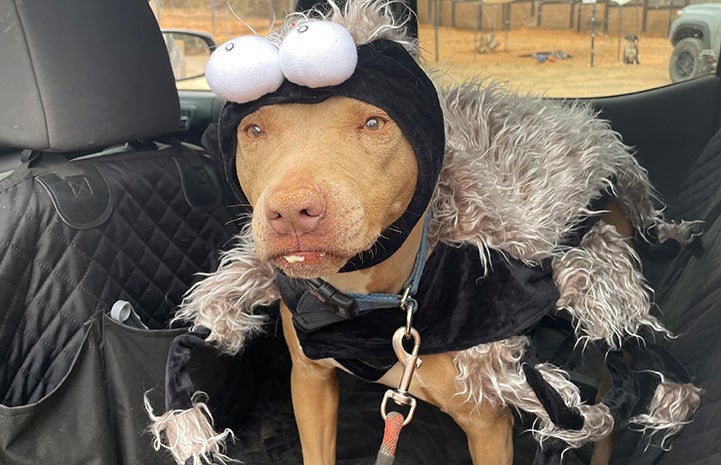 There's not much that's scarier than finding a giant spider in your car. But we'd be OK if that spider was Pancake. She's almost cute enough to make a person forget about arachnophobia (almost).
Thoreau the poet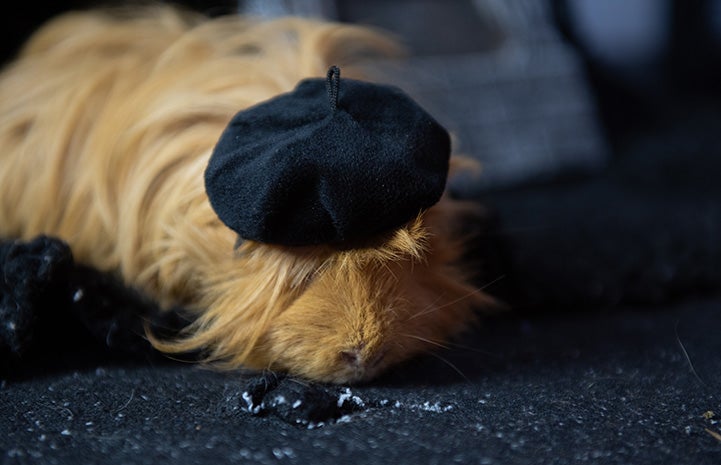 Wait, wait, hold on! We're not sure whether Thoreau is in his Halloween costume or he just dresses like this all the time. His room is called The Poet's Corner, after all.
Jako, the spirit of Halloween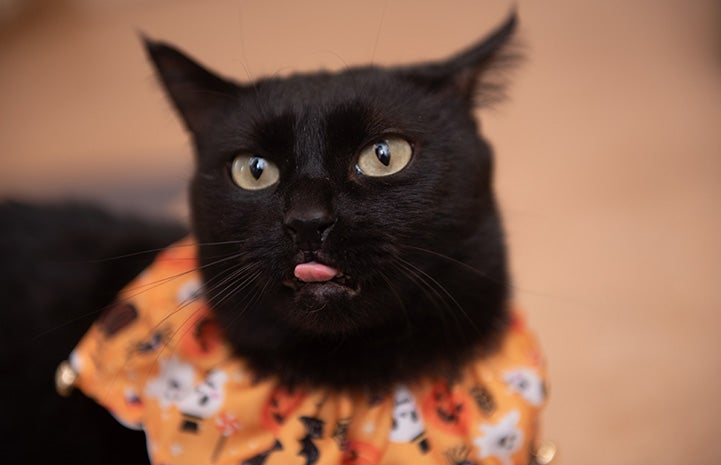 Jako's costume may be simple, but it's right there in his name: Jako(lantern). This little guy was practically born for Halloween.
Adopt a frightfully cute friend
Rather than going from door to door trick-or-treating, these pets and many more would be happy with just one door — yours.
Read more: 
8 ways to make Halloween scary good for pets
8 "spooky" animals at Best Friends Animal Sanctuary