8 ways to make Halloween scary good for pets
From pet fostering to puppy play dates, here are some easy and fun ways to celebrate Halloween with pets.
By Nicole Hamilton
Halloween is just around the corner, but if you haven't given much thought to how you and your pet will be celebrating this year yet, have no fear. We've got you covered.
From Halloween-themed puppy play dates to DIY cat haunted houses, this year we've come up with eight simple ways to make Halloween bewitching and "spooktacular" (sorry, couldn't resist) for the pets you live with and pets at the shelter, too.
1. Get in the costume game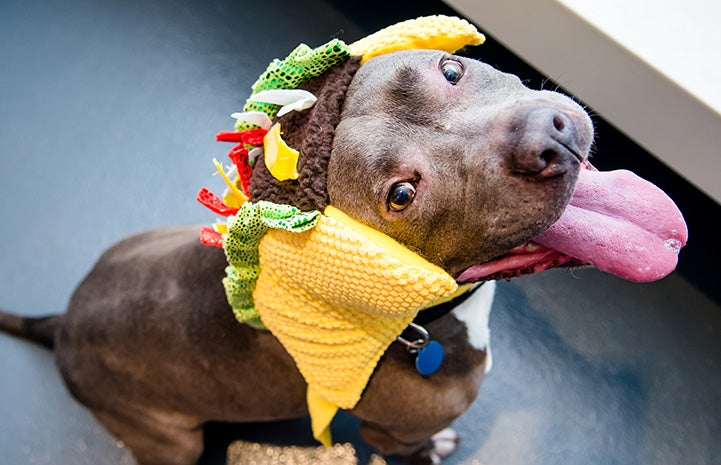 Halloween is, hands down, the ultimate day to costume your pet. But allow us to give you a word of advice: Keeping it simple will help your pet feel more comfortable wearing a fun get-up and make it less stressful for you when it comes time to put it on.
Lori Fusaro, a Best Friends photographer in Los Angeles who often takes photos of pets in costume, recommends dressing them up in easy-to-find items, such as T-shirts, bandanas and wigs. It's also important to make sure that the costume you choose fits well and allows your pet to move about freely and safely. And remember: If your pet is not comfortable wearing a costume, toss the plan out. Instead, keep reading for more (and equally fun) ways to get into the Halloween spirit.
2. Bake some delicious pet treats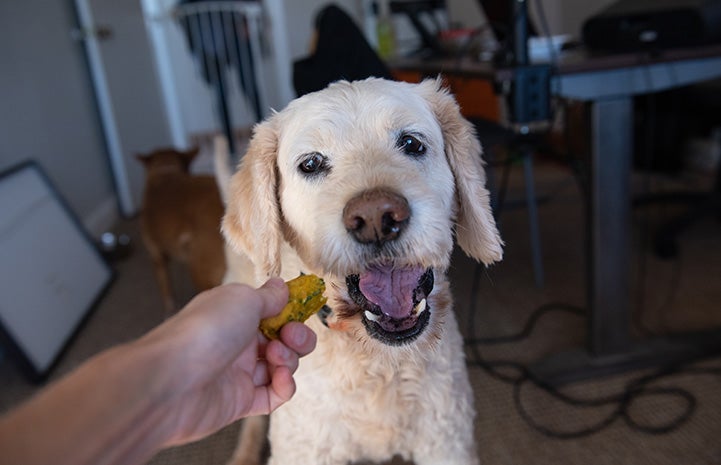 It's easy to bake your pup some nutritious and tasty treats using just a few ingredients that you may already have on hand. Take a look at these recipes for minipumpkin pie dog treats and "pupcakes." You could also visit your local pet supply store for Halloween-themed cat and dog treats, and maybe also pick up a fun toy or two.
3. Throw a Halloween-inspired puppy party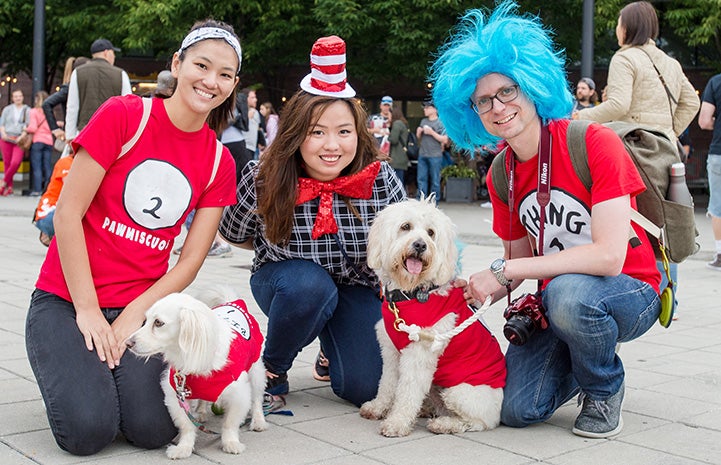 Invite your friends and neighbors with dogs over for some Halloween playtime. Have dog and people treats on hand and encourage everyone to dress up their pups in fun costumes. Be sure to have your camera or smartphone on hand: This is cuteness you'll want to capture.
4. Hand out pet treats along with candy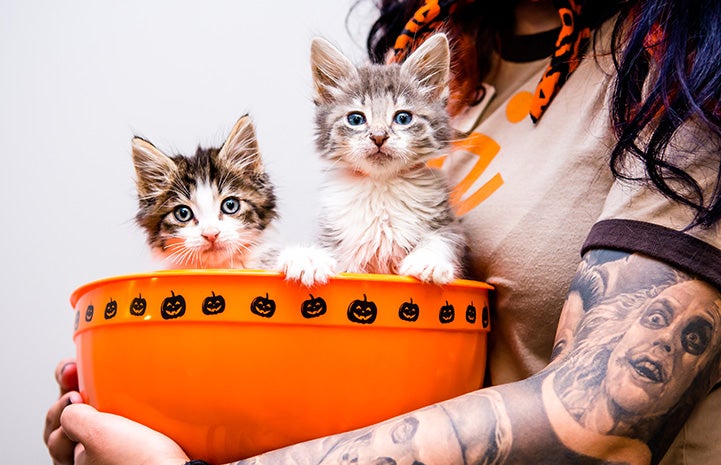 If you're passing out treats to all your little human neighbors, toss a small bag of dog or cat treats in trick-or-treaters' sacks as well (if you know they have pets at home). Just remember to first get the green light from the pet's person because treats can be off-limits to pets on special diets.
5. Organize a Halloween treat and toy drive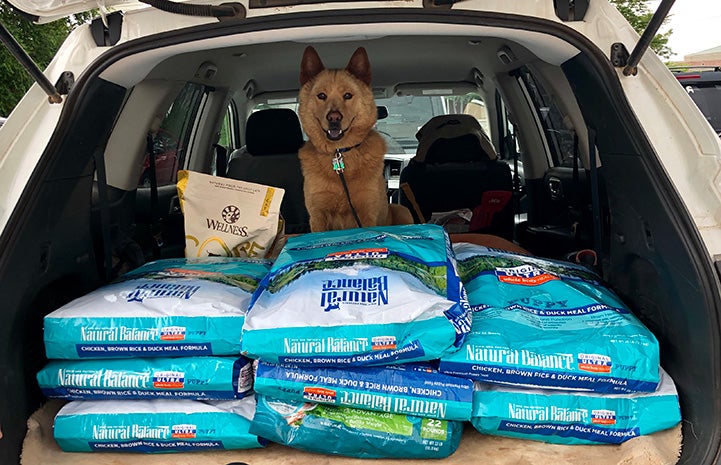 Ask people to donate treats and toys that you can take to your local animal shelter on Halloween, so that pets waiting for homes can celebrate the day, too. Don't have time to organize a drive? Simply visit your local pet supply store, stock up on nutritious treats and toys, and deliver them to the shelter. Note: Before you get the wheels in motion, contact the shelter and ask what kinds of toys you're allowed to donate.
6. Make your cat a haunted house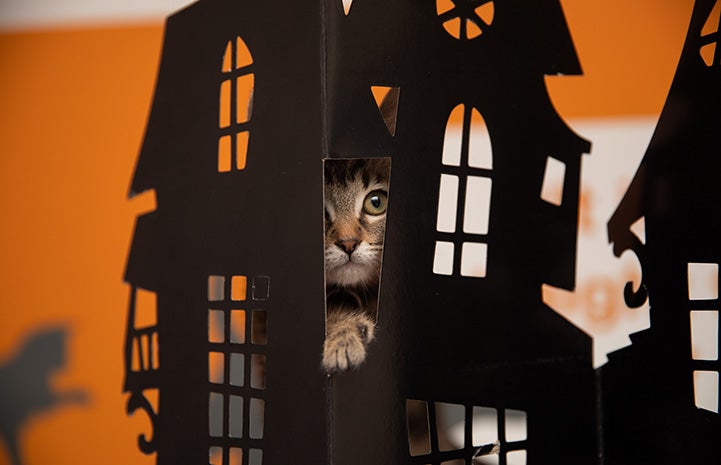 You know that cardboard box you've been keeping forever? Now is your chance to put it to good use. It's easy to craft a haunted house for your cat out of a cardboard box. All you need is a little paint, a pair of scissors and a dash of creativity.
7. Foster a pet on Halloween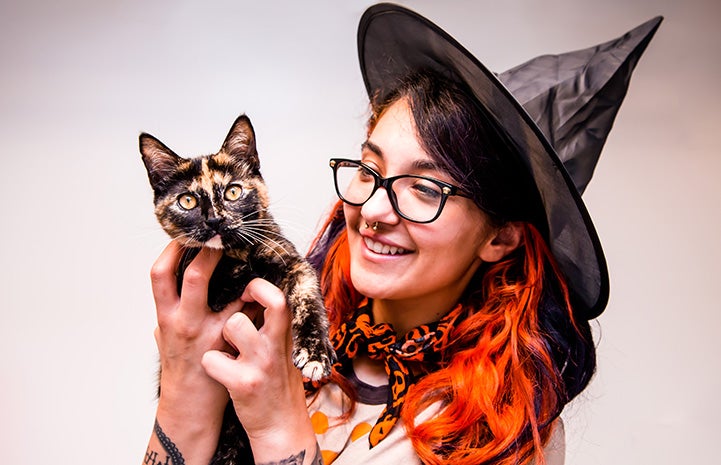 Shelters can be particularly scary for some cats and dogs. Pet fostering, whether it's for a day or a week, can help stressed-out cats and dogs feel better, which in turn, could help them have an easier time getting adopted.
8. Surprise the shelter staff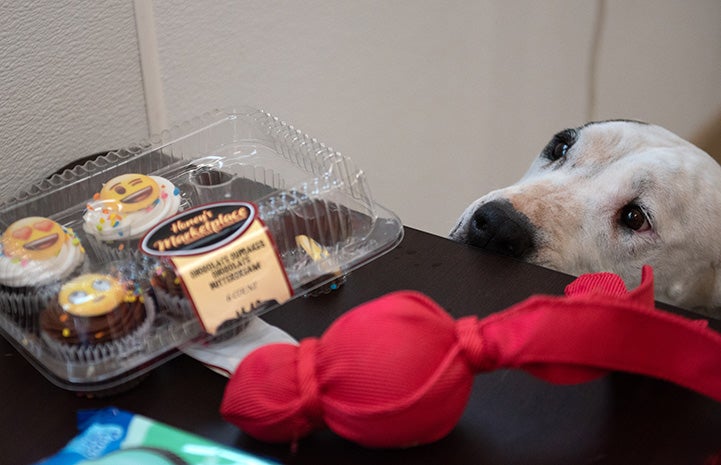 This Halloween, show your support and give thanks to the staff and volunteers at your local shelter by stopping in with delicious treats — just for them. Whether you bring bagels in the morning, treat them to a pizza lunch or bake them something sweet, it will brighten their day.
Adopt a pet on October 31
Visit your local shelter and make Halloween a ghoulishly great Gotcha Day for a cat or dog.
Read more
Kids have the time of their lives fostering kittens
New foster volunteer discovers purring, love of cats