Homemade dog treat recipes for the holidays
Recipes for homemade mini-pumpkin pie dog treats, peanut butter "pupcakes" and spinach-carrot-zucchini dog treats
By Christelle L. Del Prete
It's that time of year when the aromas of holiday feasts and delicious baked goodies fill our kitchens and warm our hearts. This season, why not show your best furry friends a little extra love and include them in the feast?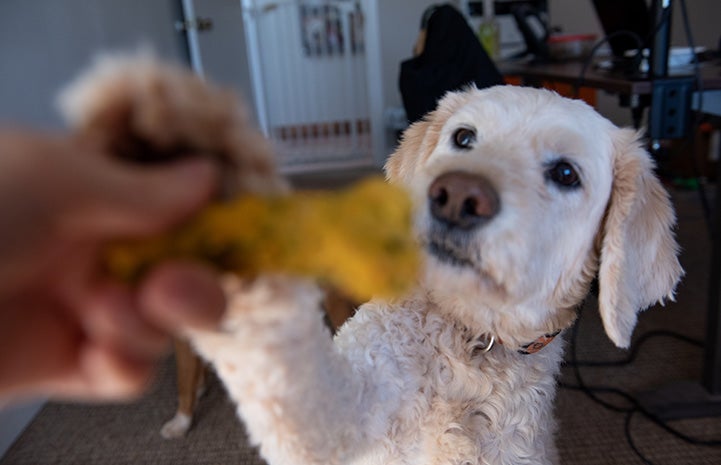 Advice from veterinarians about holiday dog treats
A quick internet search for healthy dog treat recipes reveals hundreds of choices (including vegan options). So, how do you pick one? Before making or serving any treat, Best Friends veterinarians recommend that pet parents consult with their vets on such pet issues as diabetes, weight management, food allergies or questions about noncommercial dog treat recipes.
While it's tempting to spoil Fido during the holidays, keep in mind that dog treats are an addition to and not a substitute for a well-balanced diet. Best Friends veterinarians caution pet parents to make sure they avoid things that are toxic to pets, including xylitol (a common sugar substitute). Common ingredients in human holiday treats such as chocolate, raisins, some types of nuts and alcohol are toxic to pets, so double check recipes to ensure they don't include anything that could make your pet sick.
Recipes Fido will love
Armed with this knowledge, we are ready to don our aprons and baker's hats to make Fido's taste buds sing. Here is a recipe that BriAnne Figgins, manager of the Best Friends Angel Village café and Canyon Grill, whipped up in the village kitchen using chicken and carrot flavor Wellness CORE Bestie Bars. The treats have adorable sayings on them, such as "U + me," "Love" and "BFF," but for our recipe, we're going to crush them up to make a drool-worthy pie crust.
Mini-pumpkin pie dog treats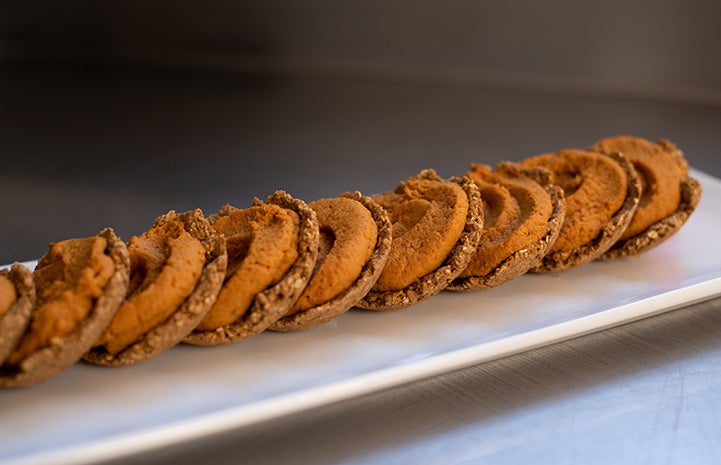 Prep and assembly time: Seven minutes
Cook time: Eight minutes
Total time: 15 minutes
Yield: 24 small pies for 1-24 very happy dogs
Crust ingredients
One bag (eight ounces) of Wellness CORE Bestie Bars, chicken and carrots flavor
½ cup oats
½ to 1 cup unsweetened applesauce
Directions
Preheat oven to 350 degrees.
Place Wellness CORE Bestie Bars in a food processor or blender and pulse until very crumbly.
Add in the oats and enough applesauce to make the mixture slightly moist.
Mold the pie crust mixture into a nonstick (or lightly greased) muffin tin. (Depending on the size of the muffin tin, the recipe can make up to 24 mini-pies.) 
Bake at 350 degrees for eight minutes.
Remove from the oven and allow to cool.
Ingredients for the filling
Two cups canned pumpkin (This should be plain pumpkin puree, not sweetened or spiced.)
½ cup peanut butter (creamy or chunky)
Directions
Mix pumpkin and peanut butter together until smooth.  
Scoop into cooled pie crusts with a spoon or spatula.
Serve and watch Fido and his friends enjoy.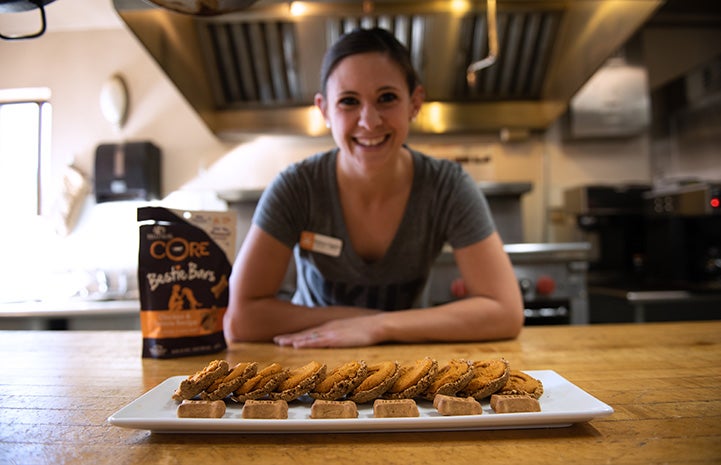 How did the dogs like them? A few lucky office dogs at the Sanctuary, who served as taste testers, sampled several treats and gave their approvals with lots of tail-wags. "I gave one to each of my dogs and they loved them," says BriAnne. "This recipe is really quick, easy and worth every minute to have the entire family together for pumpkin pie." 
The fun didn't end there. Next up in the Angel Village café kitchen: peanut butter cupcakes, adapted from this recipe from "the fitchen".
Peanut butter "pupcakes"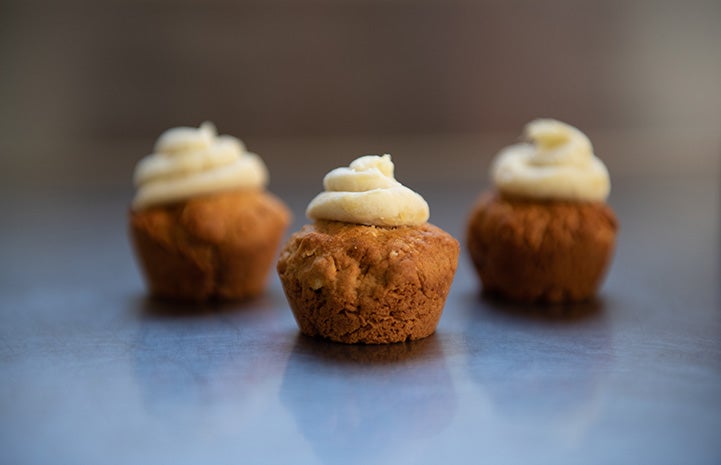 Prep and assembly time: 15 minutes
Cook time: 40 minutes
Total time: 55 minutes
Yield: 24 very cute "pupcakes" using a mini-muffin tin
Ingredients for the cake base
1 cup oat flour
1/2 cup quick oats
1/4 cup agave syrup
1/4 cup peanut butter (Make sure you choose xylitol-free peanut butter.)
1/4 cup unsweetened apple sauce
1 teaspoon baking soda
1/4 teaspoon cinnamon
Directions
Preheat oven to 350 degrees and lightly grease muffin tin.
In a large bowl, whisk together dry ingredients.
Add agave, peanut butter and apple sauce, and stir until well-combined.
Fill the muffin tin three-quarters full, bake 12-15 minutes and allow to cool.
Frosting ingredients
1 cup sweet potato, boiled
1/2 cup coconut cream
Directions
Peel sweet potato and chop into small cubes.
In a medium pot, bring four cups of water to boil.
Add chopped sweet potato.
Boil 20 minutes or until very tender.
Drain and allow to cool.
In a medium bowl, combine sweet potato and coconut cream and beat until smooth.
Once the pupcakes are cooled, top with the frosting and serve.
After pie and cupcakes, BriAnne wanted to create some more traditional dog treats, so she used this recipe from damndelicious.net.
Spinach, carrot and zucchini dog treats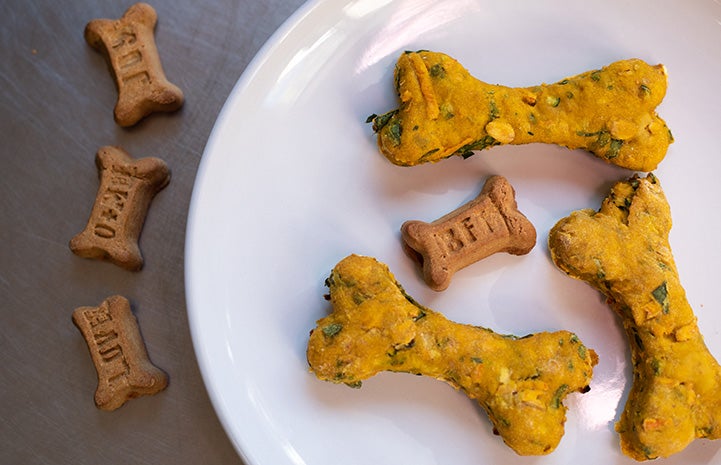 Prep and assembly time: 30 minutes
Cook time: 18-25 minutes (Time will vary based on the size and shape of the treats or how crunchy you'd like them.)
Total time: 55 minutes
Yield: This will depend on how thin or thick you make the cookies and the size and shape of your cookie cutter.
Ingredients
1 cup pumpkin puree
1/4 cup peanut butter
2 large eggs (or egg substitute)
1/2 cup old-fashioned oats
3 cups whole wheat flour (more if needed)
1 carrot, peeled and shredded (Using a food processor to shred and chop the veggies will reduce prep time.)
1 zucchini, shredded
1 cup baby spinach, chopped
Directions
Preheat oven to 350 degrees. Line a baking sheet with parchment paper or lightly grease the cookie sheet.
Use an electric mixer and beat the pumpkin puree, peanut butter and eggs on medium high until well-combined (one to two minutes).
Gradually add oats and 2 1/2 cups flour at low speed, beating just until incorporated. Add additional flour (1/4 cup at a time) just until the dough is no longer sticky. Add carrot, zucchini and spinach, beating just until blended.
Working on a lightly floured surface, knead the dough until it comes together. Using a rolling pin, roll the dough to desired thickness. Using cookie cutters, cut out shapes and place onto the prepared baking sheet.
Place in the oven, bake until edges are golden brown and then allow to cool.
Find Fido (if he's not already in the kitchen eagerly awaiting your latest creation) and reward him for being such a faithful friend. 
"We didn't change anything about this recipe," says BriAnne. "But it can be modified for your dog. You can use different-size cookie cutters, depending on the size of your dog. For more crunch, you can make them thinner or bake them a bit longer. You can also bake for a shorter time if you want them to be softer — say for older dogs with dental problems. It's kind of fun to make them more personal."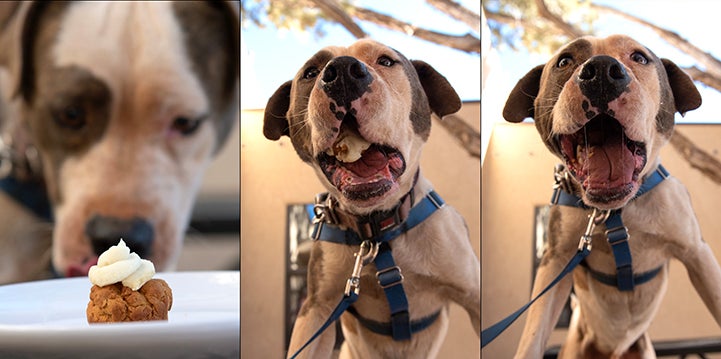 Looking for the perfect gift?
Find a gift for the animal lover in your life and help homeless animals at the same time.
Read more:
Snow day with dogs at Best Friends
Survival guide: pets and New Year's Eve fireworks
Photos by Molly Wald