31-pound cat so cute, he's irresistible like gravity
Image
It's easy to be drawn to Monkey, his round features and sweet personality: Just ask his new family and the two little planets who joined him.
By Sarah Thornton
There's something irresistible about nice, round cats. You can't help but love them and their roly-poly snuggles. Monkey was no exception.
When his 31 pounds of pure adorable arrived at Best Friends Animal Sanctuary, everyone was drawn to him. He was often the center of attention, which was just the way he liked it, never too far from an adoring human friend and a nice back scratch. Of course, too much weight isn't healthy on a cat, so we were ready to help him slim down.
Nothing could stop his irresistible cuteness-charisma. He had a pull so strong that when Jennifer May saw him, she fell in love and traveled more than 300 miles to adopt him. And when he went home with all of that gravity of charm, he even had two little feline "planets" to connect with.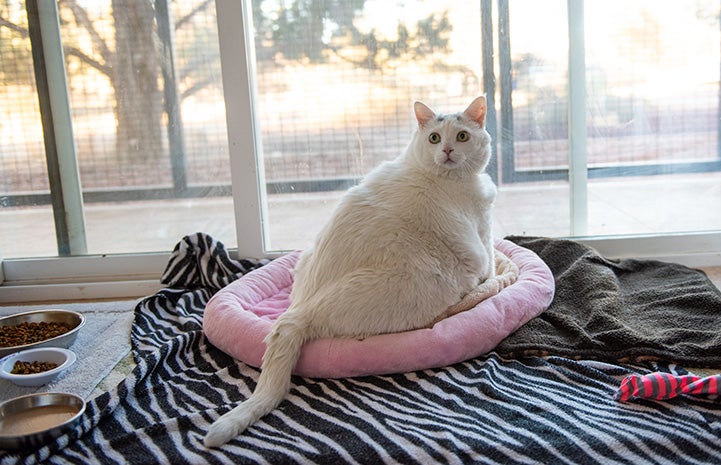 Keeping a healthy balance
Because there was a little too much chunky in his Monkey, the veterinary staff started looking into a healthy diet for him. It turned out, though, that this full-figured feline was rather picky about his food ― so much so that it was common to see him surrounded by several small bowls of food options, most of them completely untouched.
[Total transformation for a declawed, chubby kitty]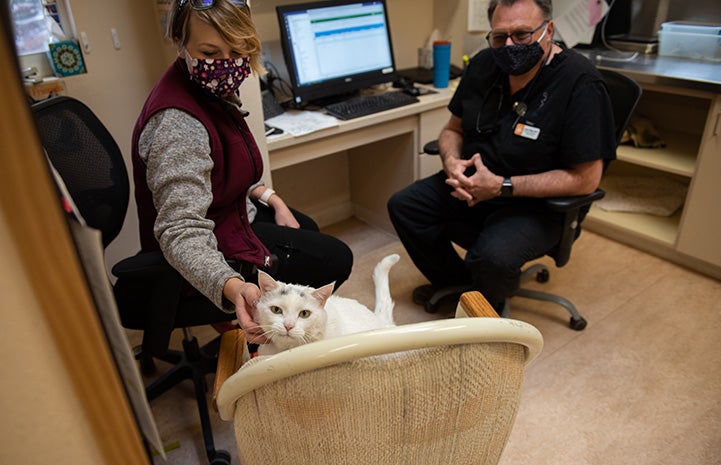 Losing weight too quickly can also be unhealthy for a cat because it compromises the liver, which processes all that fat breaking down so fast. So, in order to keep an eye on him and make sure he was healthy until they found him appropriate food, Monkey stayed in the medical area set up just for cats. That suited him just fine, because he had plenty of laps to sit on and hands to pet him.
Monkey even helped out around the office, supervising the coming and going of staff, as well as looking out for important emails. And when he was making his rounds, there was a special note posted so he wouldn't accidentally slip out the door. It was hard to miss: "Warning: Loose Monkey."
With his sweet face and gentle personality, it wasn't long before someone wanted to adopt him. Once he had someone in his orbit, even a long drive couldn't stop him from going home.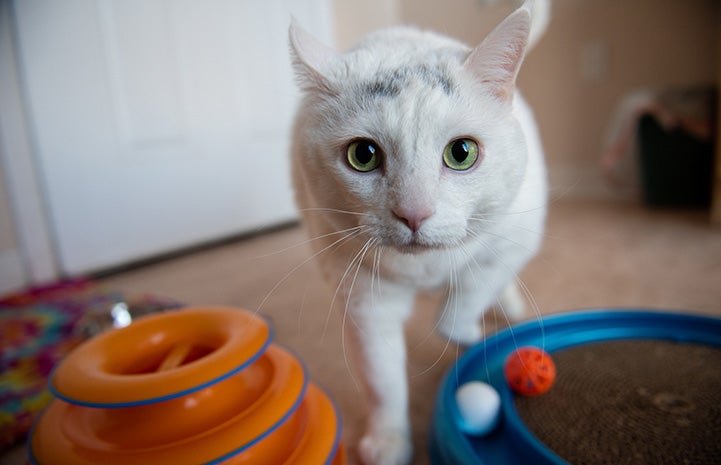 A new family drawn together
Jennifer May saw Monkey while searching through the Best Friends website. Scrolling through the adoptable cats, she saw kittens named Jupiter and Saturn, but kept going, looking instead for an older cat who might have been overlooked. "I came across Monkey's picture looking up at the camera with his gorgeous big green eyes," says Jennifer, who knew he was the one.
[How a shy cat ended up with two feline brothers and a life fit for Instagram]
When she called to ask about adoption, she learned that the cats she was seeing were not at her local lifesaving center but were at the Sanctuary five hours away near Kanab, Utah. Still, she couldn't stop thinking about Monkey and despite the distance, she made plans to drive out and pick him up.
While they finalized Monkey's adoption, Jennifer and her family also met the two kittens she'd seen online ― Jupiter and Saturn. "We found out that they were brothers and had been passed up for adoption many times," says Jennifer. "I couldn't believe it! They were gorgeous and so friendly and loving." With one look at her husband, they knew it wouldn't just be Monkey going home with them.
Having lost their two elderly cats the previous year from old age, Jennifer says they were ready to have a full house again. "We knew we could give them all a good home and that was that."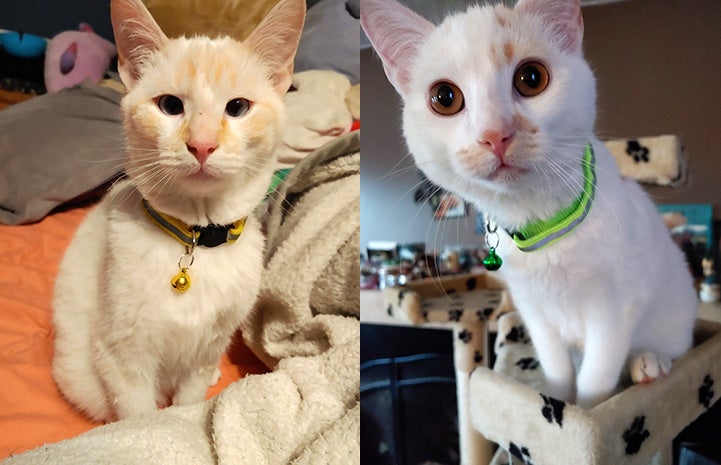 Making himself at home and becoming a big brother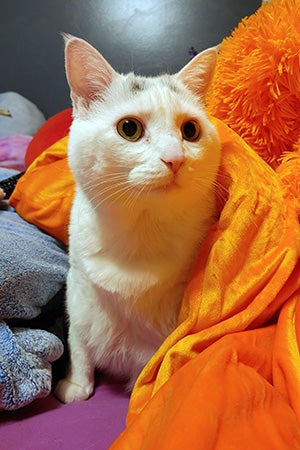 After sleeping the whole ride home, Monkey and his new little brothers settled in quickly. While the kittens immediately set about climbing and exploring their new cat trees and finding all the catnip-filled toys, Monkey was a little more mellow. He found cupboards to nap in and blankets perfect for snuggling under. His new family even built him a special window bed to support his somewhat-larger-than-average size, so he could warm himself up in the sun.
Jennifer says Monkey has both playful and mischievous sides. "He loves playing with toys that aren't really toys, like headphones or pull strings on a hoody or sweatpants."
When it comes to food, Monkey is still a little picky, but he perks up when he hears the bag shaking at mealtime. Jennifer says he seems to strongly prefer wet food and, of course, the occasional treat.
[Two kittens plus three boys equal a house full of love]
Monkey is even starting to enjoy his role as big brother. He'll let Jupiter and Saturn snuggle up to him. Drawn in by his soft warmth they all settle down together at bedtime.
Jennifer says it's not just the four-legged brothers enjoying their new family. "My sons absolutely love all three of them and get so excited when any of them choose to sleep in their bed or sit with them while they do schoolwork."
For Monkey, being the center of attention and showered in love is just what he's always wanted. That his special gravity of cuteness has brought him together with a new family and two little planet brothers is just the cherry on top.
Jennifer says they couldn't be happier. "We are completely smitten with them."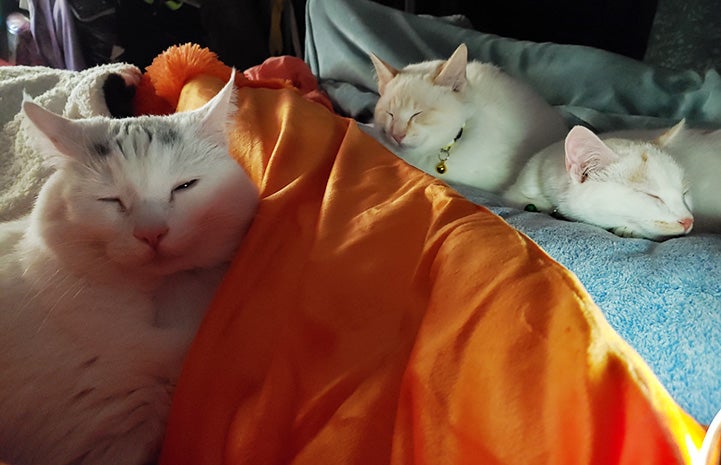 Whose gravity will catch you?
No matter the size, it's easy to get pulled in by the right pet. There's one out there just waiting for you.
Read more:
Survivor cat Poppy has a knack for helping foster other cats
72 kittens adopted at drive-through event
Surrogate momma cat's love helps kitten tackle the world on three legs
Photos by Molly Wald and Jennifer May