6 lessons from a cat with catitude
Image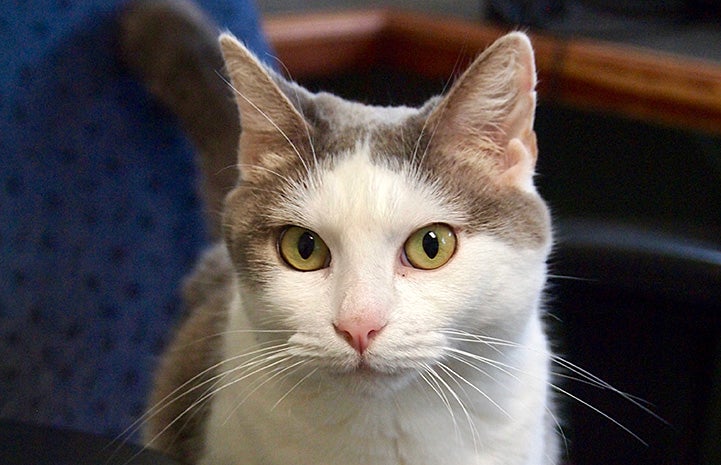 Gertrude ruled the Best Friends Lifesaving Center in Atlanta thanks to her catitude, and today she's doing the same in her new home
By Nicole Hamilton
Editor's note: We know the world is a scary place right now. If you're looking for information on pets and coronavirus, you can find that here. If you're looking for a break from serious news, we hope this brightens your day!
Gertrude had a way of sitting back from the action while simultaneously commanding attention. And when she shared an office space, she claimed every chair in the room ― until she got her very own, which she sat in regally, like a queen on her throne.
What Gertrude has is "catitude." And while it's a difficult thing to describe, you know it when you see it. Often misunderstood, feline catitude is more about being true to yourself than feeling superior.
The feisty kitty came to the Best Friends Lifesaving Center in Atlanta after landing in a nearby shelter, and it wasn't long before she had everyone wrapped around her little paw. But what exactly is catitude? "I'd describe catitude as entitled, flighty, demanding but not necessarily pushy and still charming," says Erin Miner, creative production coordinator and Gertrude's former office mate.
Truth is, Gertrude can be as tough as nails, but she's also quick to turn everyone she meets into a friend. At the center, she could be gentle and gracious ― even when being coaxed off a chair ― while scores of adoring fans admired her moxie. But then, you've got to love someone who embodies the saying, "You do you."
Here's the thing, though. You don't have to be a cat to have catitude. Nope. All you have to do is embrace who you are. After all, there's only one wonderful you. If Gertrude could type, here's the kind of advice we think she'd give.
Gertrude the cat's six expert tips on embracing your catitude
Let go of the past. Before coming to Best Friends, Gertrude found herself at a large municipal shelter in Atlanta surrounded by lots of other adult cats. It was difficult to see her full catitude on display ― that is, until she came to the center, which provided all the space and encouragement she needed to let her catitude shine.
Don't start drama. Gertrude superfan Brianne Sharpe, who volunteers at Best Friends in Atlanta, says Gertrude was always on the watch for drama to unfold. "She didn't cause it," says Brianne. "She kept an eye out from her favorite pillow in the corner, just waiting to jump in on some action or watch from the water cooler while others acted a fool."
Chair? Oh no, that's a throne. After Gertrude moved out of a kitty room into an office, she spent a good deal of the day sitting on a keyboard, scoping out the scene until she spotted an abandoned chair. Then she'd hop up and make herself cozy. When the chair's original occupant wanted it back, well, they were out of luck. Eventually Gertrude laid claim to Erin's favorite cushy chair and would not give it back. "I had to give it to her and get a less comfy one," says Erin. "That, to me, is catitude."
Get a fan club. Staff and volunteers loved Gertrude and so did lots of potential adopters, including a young boy named Max Lopez, who visited the center a few times with his mom and dad. Gertrude was Max's favorite, and after the family left the center without her, his dad, Chris, returned the following day to surprise Max by adopting her.
Embrace change, but always be yourself. Gertrude, who's now known affectionately as Girdie, loves her new family. And Max is over the moon because he got the cat of his dreams. "Girdie has settled in like royalty," says Chris. "She loves finding the new window lookouts, best nap places and ruling over her younger princess-sister if necessary."
Find people who let you do you. Gertrude is still claiming every chair as her own and is a real stickler for meals served on time (no excuses). She's also ferociously loving to her new family, which happily lets her retain her crown and rule the house (or at least let her act like she does).
So, go ahead and take a cue from Gertrude. Be proud of who you are. There's nothing wrong with having a little catitude. Although it's probably best not to steal someone's chair.
Need a feline catitude coach? Adopt a cat near you.
Best Friends in Atlanta works collaboratively with area shelters, animal welfare organizations and individuals to save the lives of pets in shelters in the region. The Best Friends Lifesaving Center is a hub for animals and a base for local programming and coalition-building to help the metro-Atlanta area in its final push to achieve no-kill, while strengthening the movement in the Southeast. Together, we will Save Them All.
Photos courtesy of Chris Lopez