6 pet foster-win stories
Falling in loving with a foster pet and adopting isn't a foster failure, it's a foster win.
By Nicole Hamilton
Whenever you foster a pet it's a win in so many ways. Not only does fostering give pets a break from the shelter, but it can also help them learn skills that set them up for success down the road after they're adopted. But what if you end up falling in love with the pet you're fostering and decide to make him an official part of the family? Don't call that a foster failure. Instead, call it a foster win.
Now that a record-breaking number of pets are in foster homes, it seems like more people than ever are foster-winning. Below are six stories of people who didn't plan on adopting the pet they were fostering. Sometimes plans don't work out ― in the most wonderful of ways. That's love for you.
[Top 10 reasons to foster a pet]
1. Blue, the scared cat
When Blue first arrived at Best Friends in Los Angeles, she refused to eat and even ripped out her feeding tube. On top of that, she wouldn't let anyone get close to her. As the cat behavior team started running out of options to help Blue, they hoped that time in a foster home would help turn things around for her.
Foster volunteers Chris and Cori learned about Blue and really wanted to help. After just two hours with them at home, she began eating. In fact, eventually she began cleaning up the area around her bowl after meals.
Not too long after Blue's big turnaround, she started to enjoy time with her feline housemates and was always nearby when Cori and Chris broke out the guitar and played music, which seemed to really calm her.
Eventually, they decided that Blue should stay, and today it's hard to believe she's the same fearful cat who wouldn't let anyone near her. Chris and Cori showed her that there was nothing to be afraid of and, in the process, fell in love with her.
2. Hugo the goofy dog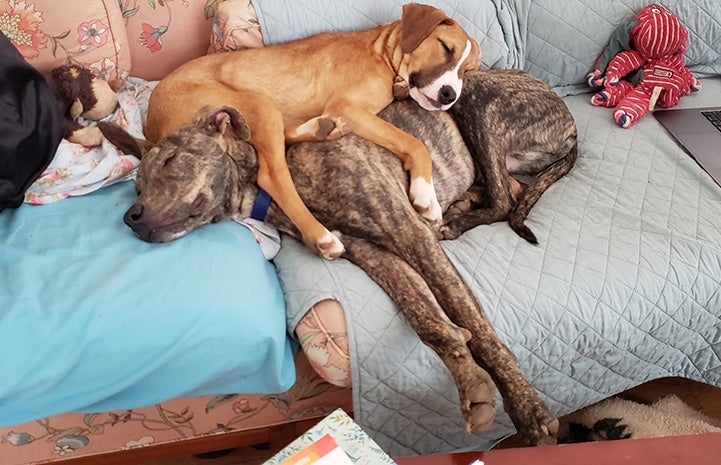 Hugo was the second dog fostered by Jay Hansbrough and his partner through Best Friends. "We were originally only supposed to have him for two weeks, but we were enamored with him immediately," says Jay. "We were charmed by his affable, easygoing demeanor and happy-go-lucky attitude. He could also be endearingly goofy."
Endearingly goofy? How could they not adopt Hugo? Today Jay reports that Hugo has been a wonderful addition to the family and was a great brother when for a few weeks they decided to foster Russ, another dog from Best Friends. (That's Russ in the photo sleeping on Hugo.) Russ was also adopted by a loving family, so this story has not one, but two happy endings.
3. Chimken the cat gets a new name: David Robinson
Soon after Nick started fostering Chimken, a cat with wonderfully big cheeks and fur the color of sand, he knew that saying goodbye was going to be tough. "I would feel bad letting him go and missing him, even though he meows like crazy," says Nick.
Eventually, Nick decided to overlook Chimken's penchant for meowing in favor of the cat's silly, cuddly side. And after a few weeks of fostering, he decided to adopt him. Today Chimken is named David Robinson in honor of Nick's favorite basketball player. (Although the not-very-athletic David the cat prefers to chill on the couch with Nick.)
[Foster win: Puppy inspires adopter to move to the mountains]
4. Cuddly cube, the cat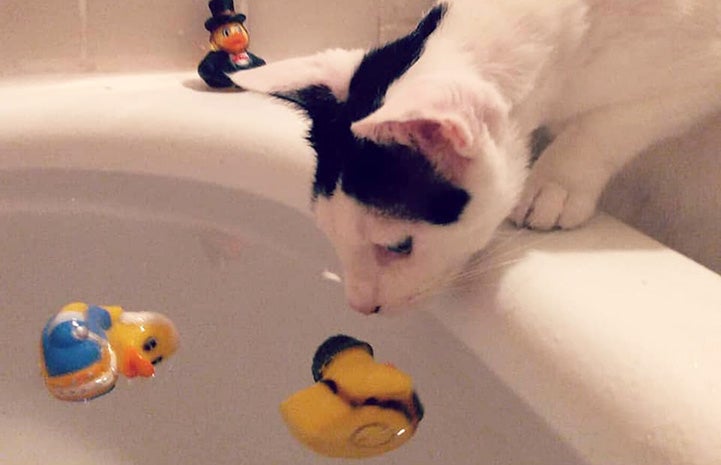 While fostering a cat named Cube in Atlanta and watching him go from shy and reserved to cuddly and loving, Liz Ritterbush started thinking she just might adopt him ― especially when she learned he came from a shelter in New Orleans, her hometown.
Liz was still on the fence about whether to keep Cube until one day when he curled up next to her on the couch and started grooming himself. That's when she decided he wasn't going anywhere.
Today Cube is "just as spoiled as ever and having a blast with it," says Liz, who recently put two new bird feeders outside the windows, which thrills Cube. He's usually either sleeping on his perch or running from window to window "chasing" the birds and squirrels.
Liz says that before Cube, she always thought she'd adopt a more low-key, super affectionate cat, but Cube changed that. "His energy and vivacious spirit have brought me such joy, though, that I can't imagine home without him," she says.
[Foster win: Senior pittie gets a fan club and (finally) a home]
5. Kittens Harry and Pepper
Back when the pandemic began and everyone in Salt Lake City had to quarantine, members of the Robinson family decided that fostering kittens would be a great way to pass the time at home while doing something together as a family. After contacting Best Friends in Utah, they fostered a mom cat, Holly, and her five days-old kittens. As they grew, so did the Robinsons' love for them, and when it was time for the kittens and Holly to go to permanent homes, they decided to adopt two named Harry and Pepper. (They even fostered Holly just a little while longer until she overcame her extreme shyness and was adopted.)
[Foster win: Playful cat with special needs falls in love with his foster sibling]
6. Clover lands her dream home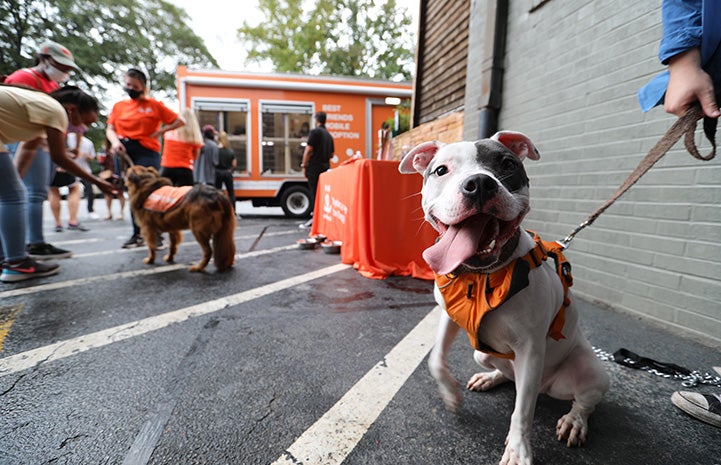 "We didn't go into this thinking we would adopt a dog," says Lindsey Martindale, about Clover. But after bringing her home she just fit. "She was a goof, a hot mess and full of personality, just like my whole family."
Still, Lindsay set her sights on helping Clover get adopted ― that is, until potential adopters started asking about her and she just couldn't bring herself to say goodbye. That's when she knew Clover was already home.
Today Clover often also goes by the name of Wiggle Butt because she can't hide her excitement when someone walks through the front door. "That's when that tail gets to waggin'," says Lindsey. "She's also taken over the couch and is like our shadow. Guess she likes us, too!"
Clover isn't perfect. (She's chewed up Lindsey's exercise balls and her favorite throw pillow.) But to her new family, she's perfect. "I am so happy we took a chance on her," says Lindsey.
Any time you foster, it's a win
No matter if you've got a day, a week or a month, you can foster a pet and make a big difference in a life.
Read more
High-energy cat shows off his soft, klutzy side, gets adopted
Catching up with the poster dog of No-Kill Los Angeles
Best Friends volunteer turns fostering into art
Photos by Molly Wald and courtesy of Jay Hansbrough, Elizabeth Ritterbush and Kristen Sugg