6 super seniors for adopt a senior pet month
Image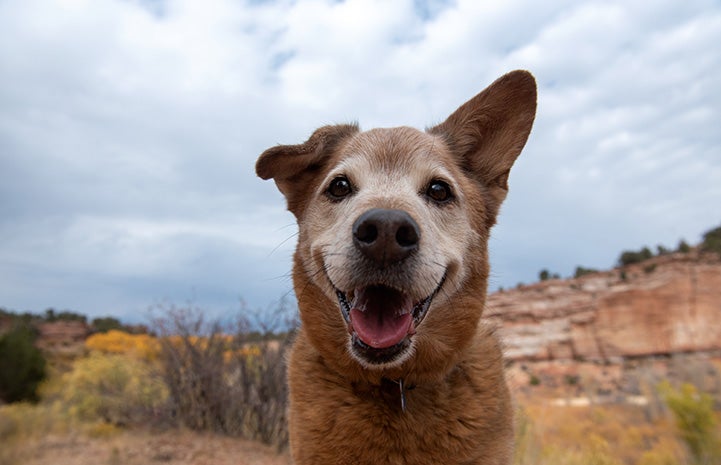 November is adopt a senior pet month, and we're celebrating by sharing some of our favorite stories about older furry friends.
By Sarah Thornton
November is adopt a senior pet month and we're celebrating all month long, because senior pets are some of the best. They may be a little gray around the muzzle and they might not have as much energy as they did when they were little (although some of them could probably still outplay a hyper puppy, kitten or colt). But there's no shortage of love to give.
In honor of our furry old friends, we're sharing with you some super seniors from Best Friends Animal Sanctuary. Some of these animals have already gone home with new families and others are still at the Sanctuary, their home between homes.
1. Quirky dog brings joy to adopter coping with PTSD
Everyone knew that Ralph would make someone a perfect companion, but there was a major obstacle: He needed an only-pet home. It also took him some time to warm up to new people and at 10 years old, he was far from a pup. And for a long time those quirks stood between Ralph and a home ― until Gray Mitchell came along.
For years, Gray has been coping with post-traumatic stress disorder (PTSD), but after finding Ralph she discovered a much-needed new source of light and joy. She hadn't left her home in five years except for essential shopping trips, therapy sessions and visiting nearby family. But for Ralph, she got in her car, drove 11 hours from Colorado to Best Friends in Kanab, Utah, and all the while she was fully prepared for it not to work out.
Of course, when something is meant to be, it's meant to be. Now, with her mind filled with ideas about how to enjoy time with Ralph, the two go on walks five times a day. "My purpose is to take care of this dog … giving an older dog a good last season of life," says Gray. "I don't think I'll ever not get a senior dog again. Period."
2. Senior Hurricane Katrina survivor cat goes home
When Wrinkles was only five months old, he was just one of the hundreds of thousands of lives uprooted in the wake of Hurricane Katrina. Then this year (a week short of the 15-year anniversary of Hurricane Katrina), the senior who is one of the last Katrina survivors at the Sanctuary finally went home. (Well, he was adopted for quite a while, actually, but it didn't worked out for him, poor fellow.) But when Jenny Faber saw a picture her friend had sent her of Wrinkles, she was smitten. "He just looked so cute, and I read about him and I thought about him," she says. And soon she was making a call to the Sanctuary, setting up an online meet-and-greet and adopting her new family member.
Since he went home, he's been following Jenny around and meowing soundlessly at her. His new cat sister, Bunny, hissed a few times when he stole her spot on the couch, but Wrinkles is just going with the flow. And he's very, very loved.
Read Wrinkles' full story here.
3. Oldest cat at the Sanctuary gets adopted
At almost 23 years old, Tudie was the oldest cat at Cat World, the official cat residential area of the Sanctuary. She was brought to Best Friends after her humans died, and she had never shown any interest in making new human friends. Instead, she preferred to stick to her hiding places and her feline roommates. But that all changed this year when her Sanctuary living area was being renovated and she went to stay with Cathy Bosley and her husband, Randy.
What started as a temporary foster situation quickly turned into an adoption. "After 12 days, I knew she wasn't going anywhere," Cathy says. "Since then, Tudie has made herself quite at home … In addition to romping and stomping at our house, she helps Randy make lunches in the mornings, waiting for any morsel that he wants to give her. The adoring look she gives him is priceless."
Tudie has a new lease on life and she knows she's not going anywhere.
4. Senior dog slims down, finds bliss in her golden years
A senior dog with allergies who was prone to skin and ear infections, Sheena had trouble walking and couldn't go far before needing to be loaded up into a wagon. No, she wasn't in the best shape when she arrived at Best Friends. Now 11 years old and her fur already gray, Sheena is starting to feel better than she has in along time. Her road to recovery started at Best Friends in New York and continued at the Sanctuary. At first, her fur was sparse, she was overweight and she couldn't walk more than three blocks before stopping and refusing to move. But with physical therapy, laser therapy and hydrotherapy, she started losing weight and gaining muscle in her back legs.
Taking Sheena on a walk used to be a two person job ― one to hold her leash and another to push the buggy needed for the return trip. Now the buggy is just for fun and recently Sheena was spotted running slowly along the fence and playing with one of her neighbor dogs.
Read Sheena's full story here.
5. Easygoing 33-year-old horse
Living with the same family for most of his life, Billy Bob was well-loved and well taken care of. But a big move separated him from his family and Billy Bob was brought to the Sanctuary to start the next chapter of his life. At 33 years old, he's still in great spirits and loves spending time with his pasture mates and his human friends. He's an easygoing guy who gets along with just about everyone and he's still so very handsome.
A model of aging well, Billy Bob can stay at Best Friends for the rest of his days; but if he's lucky, we'll find him a wonderful new home for his golden years.
6. 12-year-old corgi is ready for adventure
You're never too old to enjoy a good adventure, and Barley will happily tell you so. This 12-year-old corgi can keep up with the best of them, despite his short legs and a little bit of arthritis. And he'll have a smile on his graying face the entire time. There's nothing he likes more than spending quality time with his favorite people in the great outdoors.
As a refined gentleman, he prefers proper introductions, but once those are out of the way he makes new human friends quickly and will happily play endless games of fetch, broken up by a few good belly rubs and maybe some treats. Barley knows how to work his charms. He has certainly charmed us.
Adopt a senior pet
Give older pets a chance and they'll fill your home with love.
Read more:
Senior dog coasts into his golden years with a smile
How a sweet senior cat found his way to treats, sunshine and a new home
Once overlooked and out of time, senior pit bull terrier is now happy at home
Photos by Molly Wald, Gray Mitchell, Robert Stoetzel and Kurt Budde