7 reasons to be thankful for pets
From making us smile to helping us put things in perspective, we all have countless reasons to be thankful for pets this year and every year.
By Nicole Hamilton
If 2020 has taught us anything, it's that life is better with pets alongside us. This year, they've been our couch companions on the days we had to stay at home, and our walking buddies when we needed to step out into the world for a little fresh air. Hugging them makes us feel better, but then, so does just knowing they're nearby as we work or attend school from home.
There's a reason so many people stepped up to foster or adopt cats or dogs this year when the pandemic changed our lives: They simply make everything better. There are countless reasons to be thankful for pets in 2020 and every year. Here are seven of them that we're especially thankful for right now.
1. Pets keep us company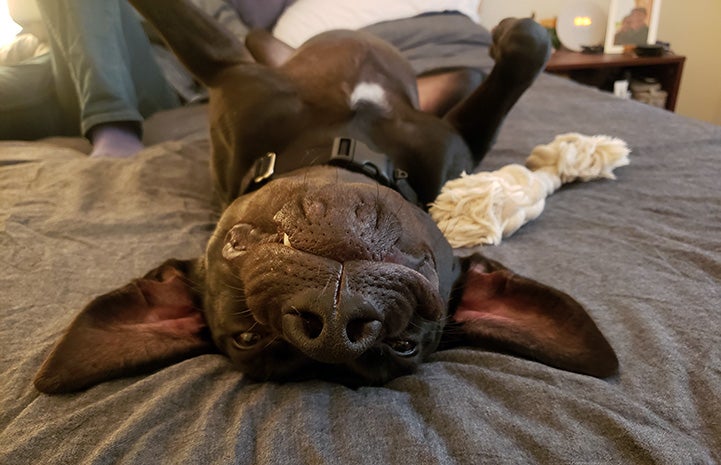 Back in early April when the news came out that New York City would temporarily shutter to curb the coronavirus, Melissa Ruiz and David Hanson knew they needed to kick into high gear their plans to adopt Gus, a young dog with Best Friends in New York City.
Prior to the COVID-19 pandemic, they attended two relationship building sessions with Gus that were guided by Best Friends staff, and the young dog was such an excellent student that they decided to bring him home a little early. Quarantining would be much better with a dog, they figured.
It was a brilliant idea. For the next few weeks, Melissa and David took advantage of the quiet Harlem streets to help Gus with his leash skills. And Gus helped them, as well. "We stuck with the regimen he had at Best Friends," says David. "And that's been good for our physical and mental health, too."
2. Pets bring out the best in us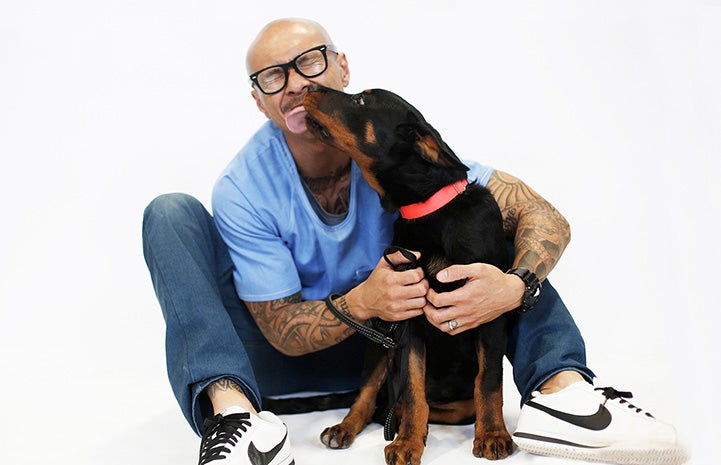 Jensen Ramos first learned about the Paws for Life K9 Rescue prison program when he was serving a life sentence at the California State Prison in Lancaster, California. Dogs have always been a big part of his life. As a child, he sometimes felt isolated, but at home there was always dog there to make him feel more connected.
Jensen decided to apply to Paws for Life's PTSD Service Dog Program. Once accepted, he was paired with a dog named Aspen, who was his shadow for several weeks. During the day, they attended training sessions together as Jensen helped Aspen learned the skills needed to become a service dog.
Now Aspen is helping her adopter, a veteran with PTSD. And Jensen, who is no longer incarcerated, serves as a program leader and PTSD trainer for Paws for Life. "I've got the best seat in the house," he says. "Now I get to watch dogs and humans create something beautiful."
Read the full Paws for Life story here
3. Pets give us something to look forward to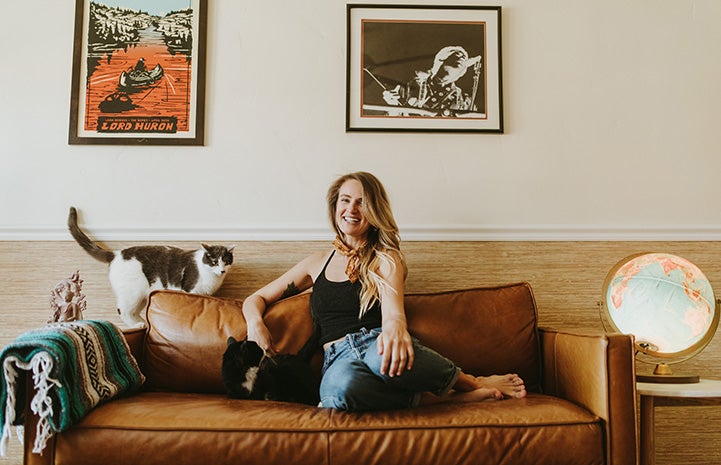 There's no telling what Rexie Roo will be up to next, but judging from his past accomplishments, whatever it is, it'll be impressive. Talk about tenacity. Rexie Roo had to have his front legs amputated after being injured in an accident before coming to Best Friends in Utah. Now he gets around by hopping like a kangaroo, hence his name. But none of this seems to bother Rexie Roo, who despite not having front legs, still knows how to put one foot in front of the other and keep going.
Read Rexie Roo's full story here
4. Pets make virtual meetings fun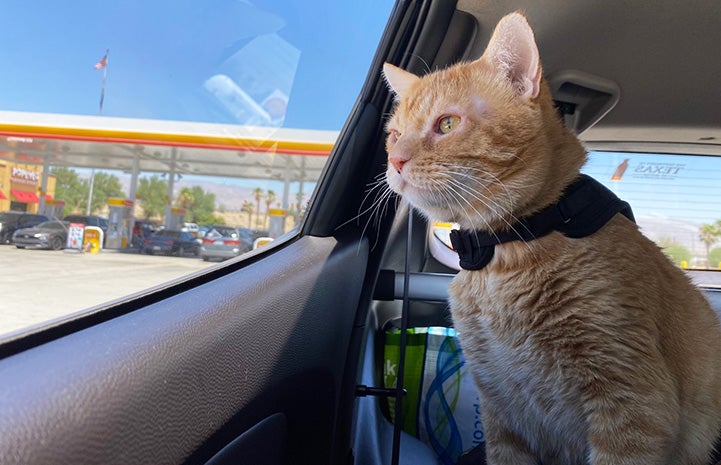 This year, more people than ever met and adopted pets with the help of Zoom. And more people than ever witnessed how effortlessly a pet can take a virtual meeting and make it a whole lot more fun (or at least more interesting). For example, consider Diane Barber and her cat, Steak, who was with Best Friends in Los Angeles. After Diane started fostering him, he began crashing her Zoom happy hours with friends.
Steak was such a big hit that her friends started requesting his presence. In fact, her friend Doug enjoyed learning what Steak was up to so much that he decided to adopt him. There was just one little hiccup: Doug lives in Houston. So, after the stay-at-home order was lifted in Los Angeles, Diane drove Steak to Texas. Today the Zoom star is living large in the Lone Star State.
5. Pets make us smile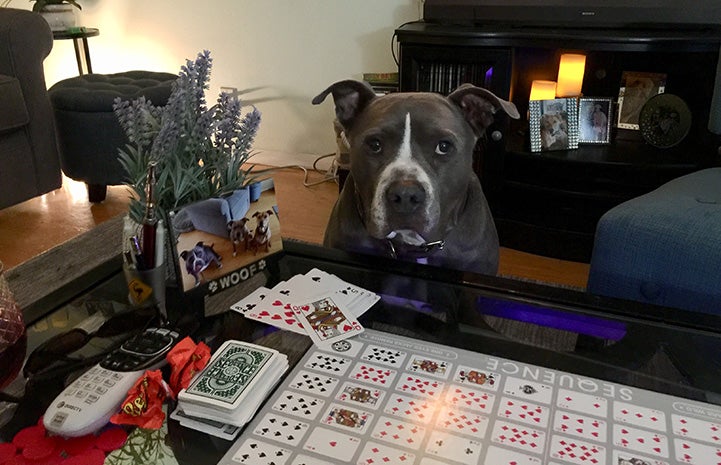 When Gary was with Best Friends in Los Angeles, the senior pittie amassed quite a following. Not only was he the subject of fan art and countless testimonials, but his cute mug (featuring him as a chef) was featured on mugs made by a Best Friends staffer.
Maybe one of the reasons people love Gary so much is because they know how much he had to overcome in order to land in his current home with adopters Dianne Lawson and Donny Kuhn. You see, Gary once had a pretty big list of habits that made it difficult for him to find a home ― habits that included tearing up couch cushions and planting his feet on ground, refusing to move while out on walks.
Today, taking a walk with Gary is much easier, but he still prefers taking it slow. Gary's not in a hurry to go anywhere, but that's just part of his charm.
6. Pets get us moving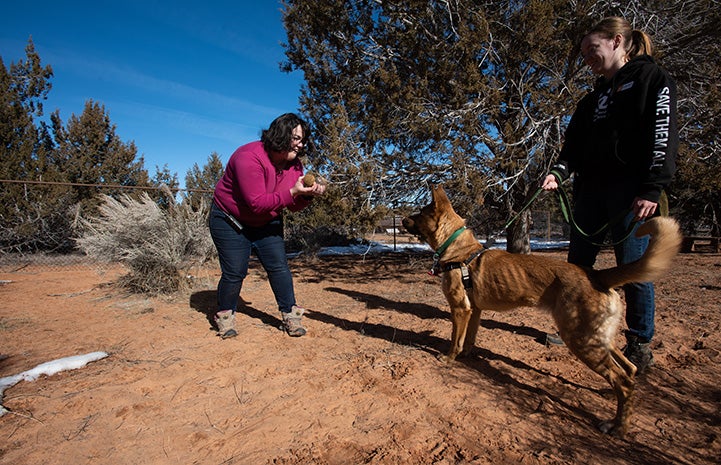 How about a game of hide-and-seek with your dog? At Best Friends Animal Sanctuary, dogs can take part in the classic game that helps them with everything from building confidence to gaining agility. Also called search and rescue training, it's a whole lot of fun for the dogs and the people who play it with them.
The team at Dogtown is always coming up with ways to get dogs out and about to learn new skills while having little fun in the southern Utah sun. During hide-and-seek and on outings, staffers hide treats in runs and at dog parks.
Read about hide-and-seek at the Sanctuary here
7. Pets help people put things in perspective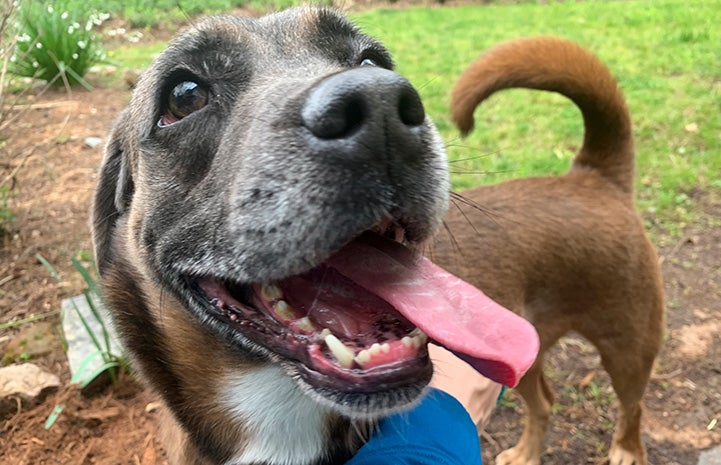 Every pet ending up at a shelter has a unique story. Frank's began about two years ago, when firefighters found him and nearly 90 other dogs in a house that was on fire. Some of the dogs were taken to a municipal shelter while others, including Frank, were brought to Best Friends in Atlanta.
At first, Frank was extremely shy and scared, but with help from the staff and volunteers, he was able to let go of his fear and trust people again.
Today Frank is thriving in his new home with Shelby Taylor and her husband, Matt. Shelby says that on the days when the world seems a little scary, all she has to do is think of Frank and his journey, and she knows everything will be OK.
Give them thanks while helping Save Them All
Support homeless cats and dogs and say thank you to the pets in your life by becoming a Best Friends member.
Read more
Blind cat sees a world of good in everyone and everything
At 13 years young senior pittie finds his perfect person
Adopter speaks deaf dog's language
Photos courtesy of Melissa Ruiz, Paws for Life, Cairist Flatley, Diane Barber, Dianne Larson, Molly Wald and Shelby Taylor