9 photos of dogs having the time of their lives at Best Friends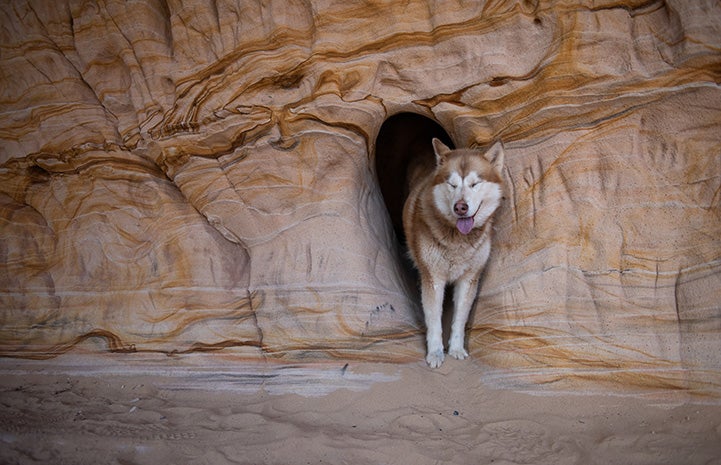 Pandemic schmandemic: Dogs are living it up at the Sanctuary, as well as splashing, spelunking and exploring around southern Utah.
By Sarah Thornton
It has been a quieter-than-usual spring at Best Friends Animal Sanctuary without the usual daily visitor traffic and with few local volunteers. Another change is the switching of caregiver schedules to four 10-hour days, which allows caregivers to complete essential tasks (such as cleaning and feeding) and still have plenty of time for fun.
Both dogs and caregivers are enjoying the chance to get out, stretch their legs, take in the scenery and maybe get their feet (or entire bodies) wet. There's nothing quite like exploring the great outdoors with your best friend. Here are nine examples of what they're up to these days.
Bombay isn't afraid to get dirty
A trip to the creek was exactly what Bombay needed. Young and full of energy, he didn't waste a single moment on anything boring, from playing in the water to absolutely covering himself in dirt and mud
Abba the explorer
One of Abba's recent trips brought her spelunking through an old silica mine that has become a popular subject for Instagram photos. It's an adventure in itself just to get there, but exploring the old tunnels and rooms left over from a previous era is the real fun. And there are plenty of cave entrances scattered through for picture posing.
Delta finds 'perfect' fetching stick
On her outing, Delta gathered a collection of sticks, though not all of them were great candidates for fetch. Smart and playful, Delta loves adventures and is always ready to learn anything and everything (except for limitations on throwing strength).
Trinity cheeses it up at the creek
Though Trinity can be a little shy with new people, she's all smiles once she gets comfortable. And going on a hike with one of her human friends is definitely a great way to get that tail wagging.
Fearless Manuel's cave-exploring adventures
Completely undaunted and just happy to be spending time with some of his favorite people, Manuel has checked out a few caves on his adventures, And now that he's been adopted and is home, we're sure he'll be enjoying even more adventures with his new family.
Rusty takes a rest to enjoy the sights
What's better than taking a break from hiking to enjoy the scenery? Rusty might put on a tough act, but even when he's got a bird's-eye view of the canyon, he's sure to check up on his adventure buddy to make sure everyone's having a good time.
Outdoor class time with Watts and Trudy
Friends Watts and Trudy took their training outside. They ran and splashed through the water to their hearts' content, and then when the treats came out it was time to get down to business for a little while — at least until was time to get back in the water.
Relaxed wading with Ghostrider
Ghostrider had a lazy day at the creek, preferring to spend the time looking for attention and begging to be picked up like the giant puppy he is. He might be more of a couch potato, but he's happy to be where the people are — even if it's in the water.
Curious Lucci
Curious boy Lucci was very interested in figuring out the mechanics of falling water. Where is it going? Why does it taste so good? Why won't it stop? We're not sure if he found answers, but he definitely had fun trying to figure it out.
Though scheduling changes have created the unexpected side effect of additional time for play and exploration, it's certainly a pleasant one. With so much to explore, we know the dogs won't be getting tired of it anytime soon.
Find a canine adventure companion near you
Photos by Molly Wald, Jeff Jabs and Brittany Nataro