9,000 pieces of pet apparel from dressbarn
Image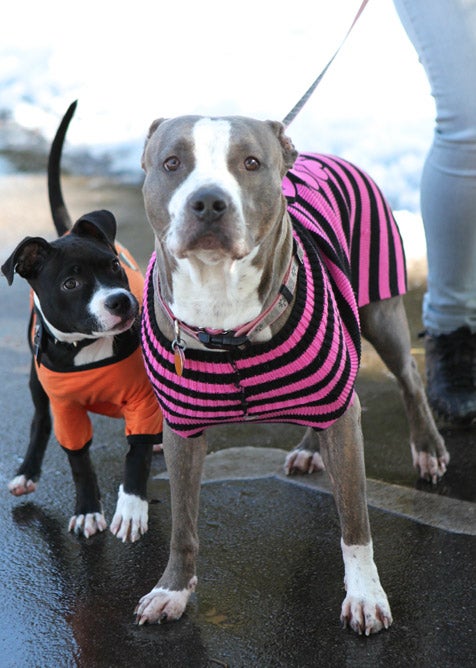 Corporate partner Dressbarn donates 9,000 pieces of clothing to Best Friends Animal Society and the animals.
By Denise LeBeau
Helping pets in need look their best
Their merchandise fulfills their mission of "inspiring women to look and feel beautiful," but dressbarn does so much more. With over 830 stores in 48 states, they clearly understand customers as much as they understand fashion. And their customers want more than a great-looking outfit at a good price; they want to give back.
Dressbarn, an organization with a passion
Relay For Life, the American Cancer Society, and Dress for Success are among the charitable organizations dressbarn supports. A few years ago, dressbarn added helping pets in need to their philanthropic endeavors and made Best Friends one of the main recipients of their generosity.
Since dressbarn recognized their clientele to be passionate dog lovers, they decided to carry some dog sweaters and coats in their stores to see how the lines would be received. While the inventory flew off the shelves, still some pieces remained at the end of the season. And so, at a time when most stores transition unsold items to bargain outlets, dressbarn looked not to make additional profits but instead to donate to homeless animals.
A perfect partnership between Best Friends and dressbarn
High-quality outerwear for pets
Scott MacDonald, dressbarn's vice president of store operations, reached out to Best Friends to see if we had any interest in receiving over 9,000 pieces of dog apparel. Lisa Salvatore, development officer for in-kind partnerships at Best Friends, jumped at the chance to get high-quality outerwear to benefit the animals of the Sanctuary and some of our No More Homeless Pets Network partners.
"Giving to Best Friends is a wonderful partnership," shares Scott. "We love the great work that Best Friends does, and dressbarn really wanted to support that lifesaving work."
Many items were shipped to the Sanctuary animals, and additional packages were sent across the country to help the animals our No More Homeless Pets Network partners care for. Giving back — it's an important part of dressbarn's overall mission.
See a list of Best Friends' corporate partners