Abused dog with a fighting spirit bounces back
Pregnant dog was severely abused, shot in the head and left to fend for herself. She was rescued and came to Best Friends for treatment and care.
By David Dickson
It would be hard to imagine a more pitiful set of circumstances than those in which Liberty the dog was found not long ago. In the heat of the desert, wandering alone, Liberty was skin and bones, dehydrated, pregnant and shot in the head. Poor thing! The person who found Liberty brought her to a local rescue group known as Ivins No-Kill Animal Supporters (INKAS).
Helping a dog in extreme need
The folks from INKAS rushed Liberty to the shelter in Ivins, Utah, where a vet discovered the bullet had traveled through her head and lodged behind her jaw. The vet decided not to try and extract the bullet, as it wasn't doing further harm or causing pain, and trying to remove it could have caused additional complications and damage.
As a result of her injuries, Liberty is now deaf and walks with a slight head tilt. In a way, however, she could be considered fortunate. The damage could easily have been much worse.
Dog with a fighting spirit
One thing about Liberty, she has an iron will. Considering her condition when she was found, it's amazing she was still alive. "She's a survivor," says Connie Butterfield of INKAS. Staffers at the shelter took one look at Liberty's belly and thought she'd recently had puppies because she was producing milk. Yet they never suspected she might still be pregnant. She was that skinny!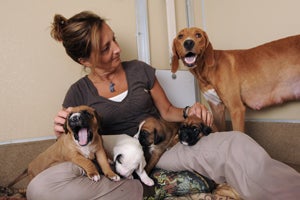 Liberty and her pups
In short order, Liberty began gaining weight and ended up having five adorable, healthy puppies. She stayed for a brief time in foster care before coming to Best Friends, along with her pups, to get a brand new start.
Despite abuse and cruelty, dog holds no grudges
It's obvious cruelty from humans has played a heavy role in her past. Despite that, Liberty doesn't carry grudges. "She loves people," explains Best Friends puppy caregiver Analia Gutierrez. These days, when she's not with her puppies, Liberty spends a lot of her spare time hanging out with caregivers in the kitchen. There, she soaks up pets and scratches while trying to coax as many tasty snacks out of them as possible!
On that count, she doesn't have to try very hard to earn a treat. She's still so skinny her ribs are showing, so the caregivers hope to help her gain weight any way they can. "She loves peanut butter!" says Best Friends puppy caregiver Keith Cliver. All the extra goodies have paid off. Liberty has already gained 2 pounds in one week. While not normally something most people would be excited about, in Liberty's case it's great news.
A great mama dog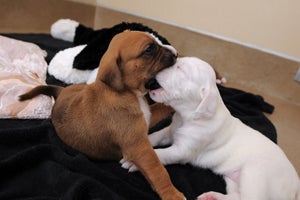 At just 4 weeks old, the pups are social and smart.
Even with all she's been through, Liberty pays very close attention to her puppies. "She's a really good mom," says Keith. Her five adorable puppies, Lionell, Link, Loki, Lacy and Leia, keep Liberty plenty busy, and she's a great sport with them. The irresistibly cute pups, at 4 weeks old, still have a little ways before they'll be ready to attend puppy socialization class. Once they do, however, expect hearts to melt on sight!
Adoptable dog
The vets at Best Friends have examined Liberty top to bottom and feel she needs no surgical attention, nor any special medical care beyond the norm. This trooper is in good health, and has a good quality of life. Likely less than 2 years old, Liberty has plenty of time ahead of her to make up for the rough start she's had.
With such a playful personality and big heart, it shouldn't take long for Liberty to find that happy ending she so deserves. No doubt about it, she found herself in a tough spot a little while back. But Liberty hung in there for all she was worth, and now things are looking up from here on out. "She's a lucky girl," adds Keith.
Photographs by Molly Wald