Actor Lauren Ash stars as spokesperson for 2020 Best Friends Strut Your Mutt
After five years of strutting with Best Friends to save lives, actor Lauren Ash is the 2020 Strut Your Mutt spokesperson.
By Samantha Bell
When it came time for Best Friends to choose a national spokesperson for Strut Your Mutt 2020, it was a no-brainer. Actor Lauren Ash has been a fundraising rock star for several past Best Friends Strut Your Mutt events and a two-time top individual fundraiser in Los Angeles.
You may know Lauren as the hilarious Dina Fox on NBC's hit comedy sitcom Superstore or from her podcast about oversharing, Giving it Up for Less and the recently launched True Crime and Cocktails. But she's also a superstar to homeless pets. Devoted to her adopted pets, she uses her platform to promote animal rescue and pet adoption wherever she can.
So, it was a natural fit for her to be the celebrity spokesperson for Strut Your Mutt. This year, alongside her three pets (Fox, Sharky and Peaches) and with her Strut Your Mutt team (The Ash Pack), she not only raised funds but she also helped promote the event across her social media channels and in interviews.
Says Lauren: "I am so honored to be the spokesperson for Strut Your Mutt this year because I am so passionate about the work Best Friends does. I deeply believe that together we can and must make America no-kill by 2025, and I am excited that I can play a part in helping make that happen."
[The sweet no-hair-don't-care attitude of a Sphinx cat]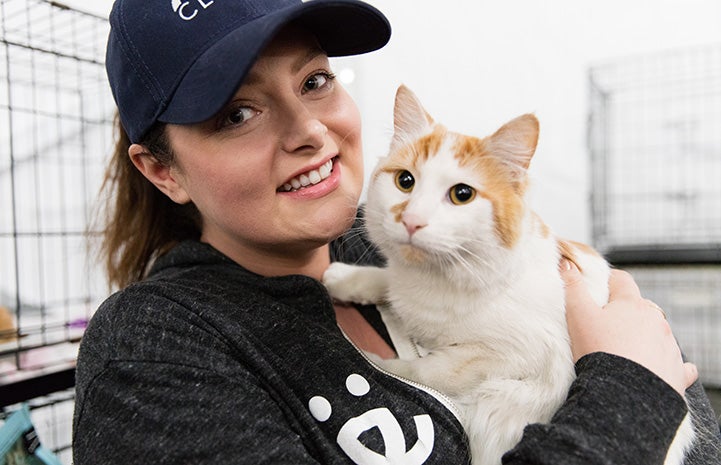 Senior pets deserve a chance
Lauren's handsome senior tabby cat (Sharky) and her two adorable senior Chihuahuas, (Fox and Peaches) are the apples of her eye. Fox was adopted from a Best Friends Super Adoption event, and senior citizen Peaches, described as "the most loving, hilarious, sweet being who makes every day brighter for me," has become an advocate for adopting senior pets.
"Adult and senior dogs have just as much love to give as younger ones, and I encourage everyone to give an older dog a chance," says Lauren. "I promise it will change your life in the best possible way. These beautiful, adoptable souls deserve a shot to find a home."
[72 kittens adopted at drive-through event]
A new way to strut
Strut Your Mutt 2020, like so many events throughout the country, will look a little different than previous years. Due to the COVID-19 pandemic, instead of hosting live Strut Your Mutt events on different days that include walks, exhibitors, entertainment and food trucks, this year they all will take place on October 24.
Lauren wasn't fazed by the move to virtual. "This this is a really cool opportunity for people all across the world to connect and have this shared journey to raise money saving animals," she says.
We couldn't agree more.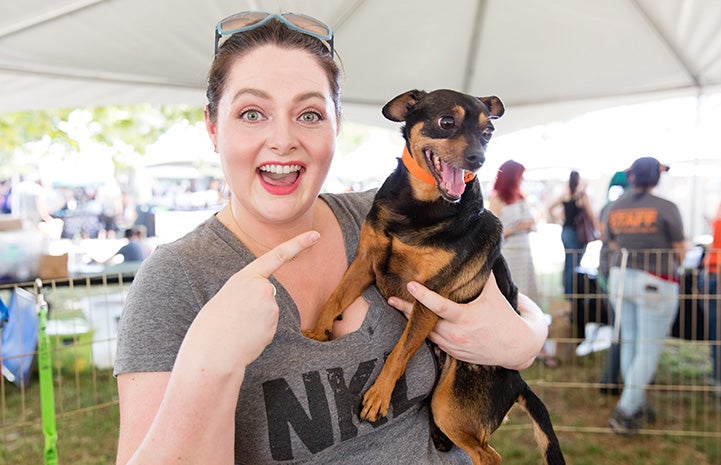 Walking to support people helping homeless pets
Lauren admits that she sometimes feels powerless hearing stories about pets in shelters across the country whose lives are taken simply because they have no place to call home. By raising funds through Strut Your Mutt, she feels empowered knowing that she's helping people save the lives of homeless pets.
Strut Your Mutt is not just a way to guarantee that pet lovers and their dogs get some exercise. It's also the primary fundraising platform for thousands of local rescue groups and shelters around the country.
Here's how it works: Best Friends produces the event and invites its network partner organizations around the country to take part and utilize it as a major fundraiser. Best Friends provides the web platform, organizes volunteers and promotes opportunities, leaving just one task for local participating groups — lining up supporters to drum up pledges of support.
Participating organizations can designate where they want funds directed — either to Best Friends Animal Society or a participating local animal welfare group. It's all part of Best Friends' efforts to take the entire country no-kill by 2025, and one of the ways Best Friends supports shelters and rescue groups in their year-round lifesaving work.
Last year with Lauren's help, Strut Your Mutt helped raise $2.7 million for homeless animals nationwide, $2.2 million of which went to partner organizations that are part of the Best Friends Network. Strut Your Mutt helps established organizations keep programs going and helps new groups get a great start on their lifesaving work.
This year Lauren is hoping even more money will be raised, but regardless, Strut Your Mutt is always a phenomenally fun event and a fantastic way to come together as a pet-loving community to support shelters across the country.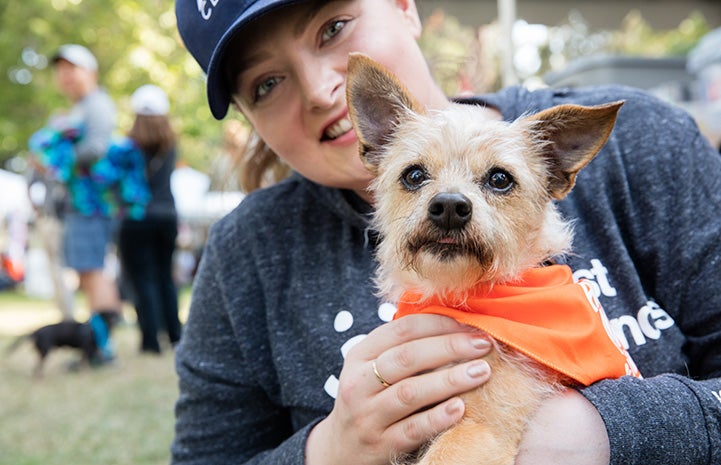 You can strut to save lives
It's not too late to join Lauren, Peaches, Fox and Sharky to walk or donate to save the lives of homeless pets.
Read more
High fives all around for Virginia's at-risk pets
Wee little kitten helps Scottish adopter adjust to life in the Lone Star state.
Chocolate lab is doting foster mom to tiny kittens.
Photos by Erica Danger and Lori Fusaro