Actress Linda Hunt supports the animals and Best Friends
Academy Award winning actress Linda Hunt supports pets and Best Friends. She and her spouse, Karen Klein, have adopted three dogs from Best Friends.
By Sandy Miller
Actress Linda Hunt became acquainted with Best Friends Animal Society back in the mid-1990s when she met Francis and Silva Battista, two of the organization's founders, in Los Angeles.
She's been a Best Friends member and supporter ever since. "Best Friends seemed to be a cut above the rest in what they were trying to do," Linda says.
Actress Linda Hunt helping the animals
So when we asked Linda if she'd help promote our "Give the Gift and Pass It On" campaign, she was happy to oblige. The campaign is part of Best Friends' efforts to increase membership and to help celebrate our 25th anniversary next year.
For just $25, Best Friends members can give the gift of a Best Friends membership, which includes a subscription to Best Friends' bimonthly "good news" magazine. When they finish reading the magazine, they are asked to "pass it on" by leaving it at their doctor's office, local senior center, veterinarian's office or other gathering place where others can enjoy it.
Those who "Give the Gift and Pass It On" can feel good knowing that their money is helping Best Friends to reach out to animals in need.
Linda plans to leave each issue of the magazine in a different place – at her doctor's office, in her hair stylist's lobby and at the gym where she works out.
A lifelong animal lover
Probably best known for her Academy-Award-winning performance as photographer Billy Kwan in 1982's The Year of Living Dangerously, Linda has always been an animal lover.
She and her spouse, Karen Klein, have loved and nurtured many animals in their Los Angeles home over the years.
Rescuing a litter of English setter puppies
About eight years ago, they heard about a litter of English setter puppies who needed rescuing. That's when Maggie came into their lives. What they didn't know then was that Maggie had neurological problems, most likely caused by improper breeding.
Three weeks after they brought her home, Maggie had her first seizure. A couple nights later, she had another one. That started a seemingly unending series of middle-of-the-night trips to an emergency veterinarian to treat Maggie for her seizures and related complications like aspiration pneumonia. But Linda and Karen didn't give up on Maggie just because she had special needs. They helped her live a good life until she crossed the Rainbow Bridge a few years later.
"She was a great girl," Karen says. "She had wonderful spirit."
Three dogs adopted from Best Friends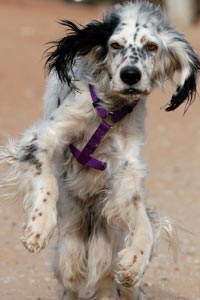 For the past three years, their family has included three dogs – Willa, Sophie and Stella, who they adopted from Best Friends.
Stella, Maggie's sister, came to Best Friends when her people could no longer take care of her. Linda and Karen adopted her during one of their trips to Best Friends. Like Maggie, Stella also has special needs, though her problems aren't as serious as Maggie's were. She lives well and gives Linda and Karen much joy.
Linda has some good advice for others who take special-needs animals into their homes: "You love them and take them into your life and give them the richest life you possibly can. You accept them for who they are and you become their medical advocate. Then you just let it be."
Photo of Linda and Huck by Molly Wald
Inset photo of Stella by Troy Snow