Adopter honors his late mom and her cats by adopting two of his own
Jack and Rosie lost their home when their person moved to an assisted living facility, but today they are thriving together with a new family.
By Nicole Hamilton
When Bill Levine's mom passed away in February of 2020, she left behind her two cats. Since Bill and his wife, Cari Bogulski, were caring for their own medically challenged senior cat, it just wasn't the right time for them to welcome two new cats into their home.
Instead, Bill worked hard to find great homes for his mom's cats and succeeded with flying colors. Today, they're thriving with their new families and the whole experience has left an impression on Bill. Even though he knew at the time that he was making the best decision for his mom's cats (and their cat, too), he wished that he could have taken them in.
Then last year when Bill and Cari's cat passed away, the house felt empty and they soon realized they were ready to open their home to another cat. When they learned about Jack and Rosie, two cats at Best Friends in Northwest Arkansas who were surrendered to another rescue organization when their person moved to an assisted living facility, they decided to meet them. If all went well, adoption would be a wonderful way to honor Bill's mom.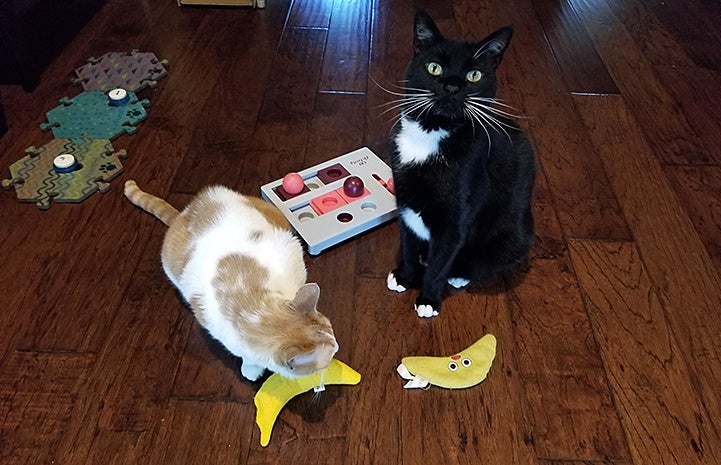 A day with a dynamic (and bickering) cat duo
Since Rosie and Jack had already lived together for many years, it stood to reason that they'd be a perfect fit for most folks looking to adopt a pair of cats. That being said, these two aren't exactly like the star-crossed lovers from the movie Titanic. In fact, they aren't opposed to bickering every now and again.
As for their personalities, they're yin and yang. Jack, who weighs in at 15 pounds, is big and shy. Kathleen Lehman, Best Friends lifesaving and cat care specialist, says Jack always gravitated toward the kittens in the adoption room, while Rosie had no problem making her opinion known.
Cari and Bill caught on right away and found them endearing. "Rosie immediately jumped into Bill's lap," says Cari. "They spent the entire time going back and forth between us, interested only in attention and affection."
When they left the room, to reinforce her desire to go home with them Rosie jumped onto the windowsill (which offers a view of the front lobby) and stared and meowed at them through the glass.
[Rescued cat comforts adopter during his panic attacks]
Cari and Bill heard her wish loud and clear, but they had a weekend trip lined up and weren't prepared to adopt them on the spot. Cari figured that if Jack and Rosie were still at Best Friends when they returned home to Bentonville, it was meant to be and they'd adopt them.
It turned out that they couldn't wait. On the car ride back home, Cari checked to make sure they were still available and Best Friends confirmed that they were. "They came to live with us the next day," says Cari.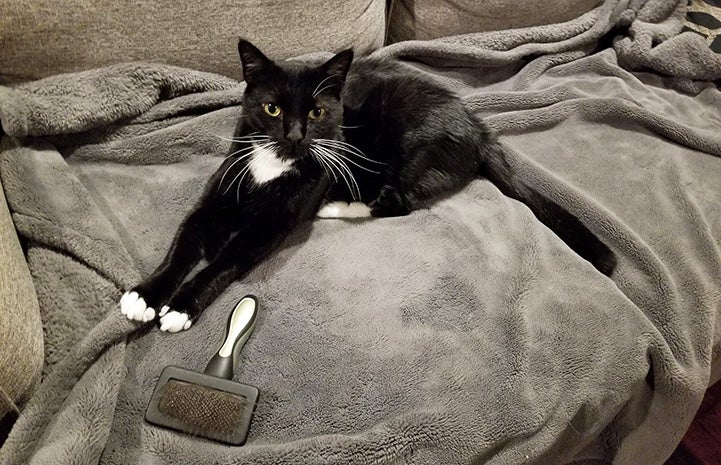 Two happy cats pay tribute to mom
Today nothing gets in the way of Rosie's adventurous spirit. "She's an explorer at heart," says Cari. "She wants to be in the same room with us all of the time and follows us around while we do things like make dinner. Her newest habit that absolutely melts me is wanting to sit on my lap under a blanket while I watch TV."
As for Jack, it took him a little more time to warm up to Cari and Bill. All the new smells and sounds were a bit much for him at first, but Cari is thrilled to report that he's been doing more cuddling and less hiding. "He's still very easily startled, but he seems happiest lounging near us," she says. Sometimes, Cari or Bill will pick Jack up and just and carry him around the house, which he enjoys very much. And he's a champion puzzle solver, says Cari.
These days, Bill looks at Jack and Rosie and feels good that he and Cari were able to honor his mom and her cats by adopting them. As for the two felines, while they still squabble on the regular (some things never change), they're proving every day that life is a lot better when you've got a friend by your side.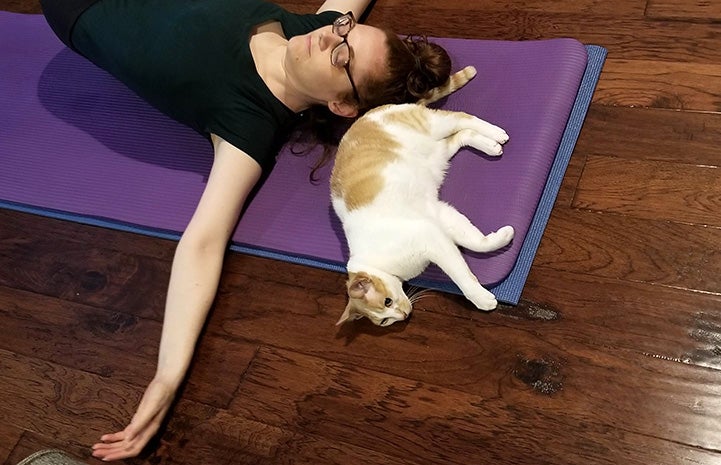 It's easy to make a difference
Whether you foster, volunteer or adopt, you can make a huge difference in the life of a pet from your local shelter.
Read more
Seven tips from a social media pro on promoting your foster pet
Puppies on the run at Best Friends Roadhouse
Inspired by Best Friends lifesaving dashboard, California shelter creates its own
Photos courtesy of Cari Bogulski