Adoption event spotlights awesomeness of black pets
Image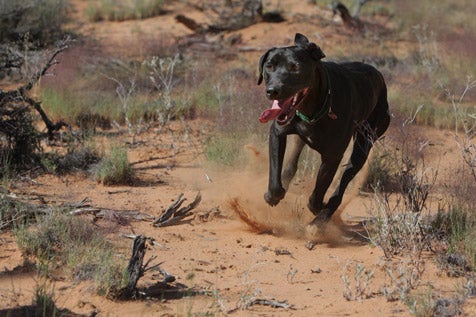 Sadly, black dogs and cats have a tougher time getting adopted because of bias against them. Adoption event highlights their wonderful qualities.
By Ted Brewer
It's sad but true: Having black fur can be a major impediment to adoption for both dogs and cats. The impediment is often a product of superstition and irrationality. Sometimes black dogs and cats just get overlooked since there can be so many of them at shelters.
Adoption event celebrates black pets
But as we all know, black dogs and black cats are as awesome and unique as any other pets. That's why Best Friends has decided to run a campaign that turns bias on its head and shows that the color black is something good, something positive, something chic. We're calling the campaign, which runs August 15 through September 17, Back in Black.
Midnight is looking for a home.
As part of the campaign, dozens of shelters and rescues participating in our No More Homeless Pets Network program are offering 50 percent off the adoption fee for all black cats and black dogs. For those black cats and dogs in Best Friends' Champion of Love program, in which volunteers are invited to help dogs and cats at our Sanctuary find homes, there is no adoption fee. Best Friends is offering 50 percent off the adoption fee for all other black dogs and cats at our Sanctuary.
"There have been other campaigns to get black cats and dogs adopted, but this is the first time it's had a national scope," says Best Friends marketing specialist Lori Bernath.
Goliath the big black cat from Abandoned and Feral CatFriends
One of the No More Homeless Pets Network partners participating in Back in Black is Abandoned and Feral CatFriends on Oahu in Hawaii. Throughout the Back in Black period, CatFriends will be featuring black cats exclusively at its weekly Sunday adoption event at the Kapolei PETCO (from 11 a.m. to 3 p.m.).
Jager is looking for a home.
Goliath is one of the cats the group will be featuring at its adoption event on August 21. Aptly named, Goliath weighs in at a whopping 18 pounds. "He's 18 pounds of kitty love," says Jean Fortin, secretary on the group's board of directors. "He's on your lap the moment you sit down."
Goliath was surrendered by his previous owner, but that hasn't stopped him from thinking any less of people. "He absolutely loves people and other cats," Jean confirms.
Kennedy the black lap dog from Livingston County Humane Society
Another No More Homeless Pets Network partner participating in Back in Black is the Livingston County Humane Society in Pontiac, Illinois. The group will be all about black dogs and cats throughout the month, with several adoption events already on deck, including one on Saturday, August 20, at the group's shelter (21179 North 1358 East Road) and another the next day at the PETCO in Normal, Illinois. Since the shelter does not do same-day adoptions, you'll find one fantastic black dog at both events, a black dachshund mix named Kennedy.
Kennedy is the consummate lap dog, which, sadly enough became the reason her former owners, a young couple, decided to give her up. Even though the couple had a newborn, Kennedy insisted on her usual lap time, even when the lap was occupied by the baby.
Black Jack says, "Adopt me!"
"The family wanted Kennedy to be in a home where she would get the attention she needed," says Karen Gregory, co-founder of Livingston County Humane.
Black cats available from Best Friends Animal Society
One of the black dogs up for adoption at Best Friends through the Champion of Love program is Mercy.
Mercy is someone who understands just how awesome it is to have black fur. In fact, the only other dogs she likes are black (and male). Mercy is around 10 years old, and has been at Best Friends since 2008, when she came from another sanctuary in California. One of her caregivers, Allison Martin, says Mercy will "tap dance for treat." Allison explains, "She can't sit still when she waits for treats. It's pretty cute."
One of the black cats in the Champion of Love program is Higgins. He has been at Best Friends since 2003 when he was brought from a shelter in Idaho as a kitten. Why he's been here so long is a mystery, given that he gets along gregariously well with other cats, loves to go out for walks, and is an all-around gentleman.