Adorable couple in their 80s spend all their free time saving animals, and the photos say it all
Image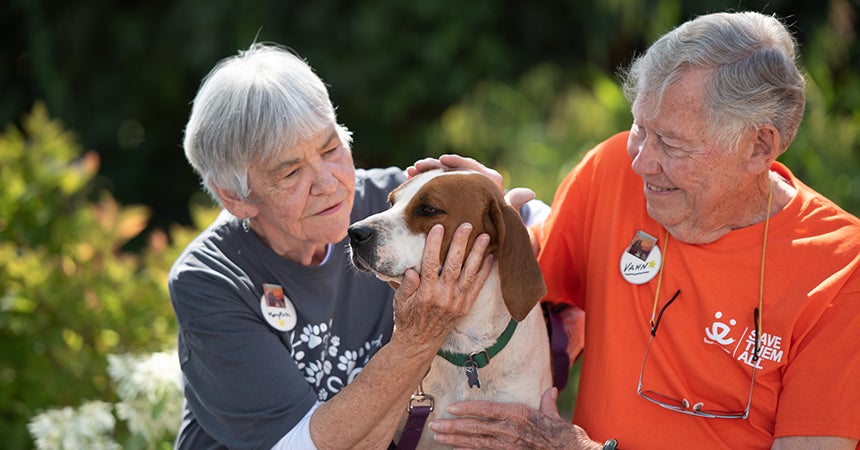 Senior volunteer couple in their 80s help pets in need at Best Friends Animal Sanctuary, Simply Cats Animal Center, and West Valley Humane Society.
By Christelle L. Del Prete
Mary Rose Hollie is 80 and her husband, Vann, is 85. But that doesn't stop the long-time Best Friends Animal Society volunteers and donors from traveling every fall from their Idaho home to the Sanctuary to volunteer. And they plan to keep coming out and volunteering for as long as they can.
Volunteer opportunities for retired people
The couple started helping animals in their local community as soon as they retired. First, they started volunteering in Boise at Simply Cats Animal Center, where they helped with socializing cats, cleaning cat rooms and folding laundry. They also began volunteering at their local shelter, West Valley Humane Society, where they worked with cats and dogs, and also volunteered as adoption counselors.
Their first visit to the Sanctuary happened by chance 12 years ago after they saw the Best Friends sign while driving by in their motor home. Mary Rose had read about Best Friends, so after they checked in and got set up at an RV park, they booked a Sanctuary tour. The rest, as they say, is history.
"We were impressed with the whole Sanctuary and the staff," says Mary Rose, "and we started making plans to come back right away." Vann adds: "Everyone goes out of their way and everyone is always so friendly and willing to help. That hasn't changed over the years, and it's even more true today."
The Hollies have volunteered in almost every animal area at the Sanctuary, but they have spent most of their time at Dogtown and Cat World. During this trip, Mary Rose did a lot of dishes at Cat World and helped take inventory at the Sanctuary store. Vann took cats for stroller rides, did a volunteer shift at Dogtown's puppy preschool and folded lots of laundry. "We'll do whatever you need us to do," he said.
What was their favorite volunteer task this time? It was taking a little terrier on an outing to the Best Friends Visitor Center in nearby Kanab and then to Angels Landing, a natural amphitheater at the Sanctuary.

A special visit and cat adoption
Some extra-special magic was sprinkled into their most recent trip. The Hollies have four grandchildren and two of them — a 21-year-old grandson (a college senior) and a 25-year-old granddaughter (a teacher) — flew out from Seattle to see them.
"They were so excited to see the Sanctuary and they loved it," Mary Rose says. "They got to take a tour and do a lot of volunteering. Our grandson also took a dog on a sleepover."
The Hollies were also looking to make a special love connection and adopt a small dog or a cat while they were at the Sanctuary. They met lots of adoptable pets, but lightning struck when they saw Narnia. The flame point Siamese bears a striking resemblance to a beloved cat they lost. Although Mary Rose doesn't believe in reincarnation, the resemblance and the coincidence of Narnia's birthday being in July (the month their cat passed away) was too strong to ignore. When they returned to Idaho, Narnia went with them.
That calming feeling
Before they drove off into the sunset with their new family member, the Hollies tried to explain what it is that they love so much about the Sanctuary and why they'll be back again. For Vann, it's the way the caregivers take care of the animals, while Mary Rose says, "It's the calming feeling you get when you come here. I just can't describe it."
Plan your trip to the Sanctuary
Photos by Molly Wald