Adventure cat discovers the world on hiking trails
When they explore the great outdoors, Rafa's adopters take him along for the ride
By Tracy Blowers
Rafa may be a little black cat, but he's really found his stride hiking with his 70-pound dog brother, Guru. These two have become fast friends. In fact, you could say they have each other's back ― literally. You see, at home Rafa loves to ride around on Guru's back. And on the trails ― much to the surprise and delight of fellow hikers ― they trek alongside each other in matching bandanas.  
Rafa came to Best Friends in Utah from a local shelter, but eventually went on to a foster home with Gillian Freed. A lifesaving and care specialist at the Best Friends Lifesaving Center in Salt Lake City, Gillian noticed his adventurous spirit right away.
Rafa wasted no time fearlessly exploring Gillian's home. He even remained unfazed when her dog sniffed and followed him around excitedly. "He was also the first one to try and visit my personal cats," says Gillian. "They would touch noses, and even if they hissed at him, he went about his business like nothing happened."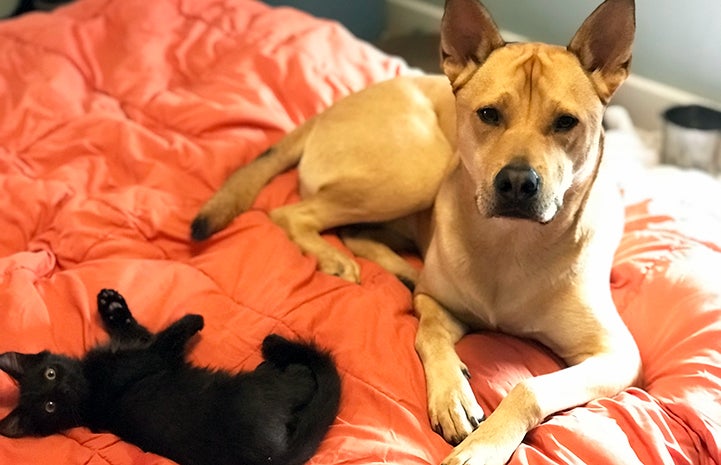 It's Rafa's fearless attitude that caught the eye of Best Friends volunteer Rubina Shahbazian and her partner, Tess.
Rubina and Tess were interested in adopting Rafa, thinking that he might like to don a harness and go outside from time to time. So, they brought a cat harness over to Gillian's place to test the waters. At first, he seemed a little frustrated in the harness, but then he went right back to scouting the house with it on. From there, he quickly adapted to it.
Knowing that they had an adventure cat on their hands, they adopted Rafa, figuring he'd fit right in with the family. And this is where his new adventure really begins.
[2020: A record-breaking year for Best Friends in Utah]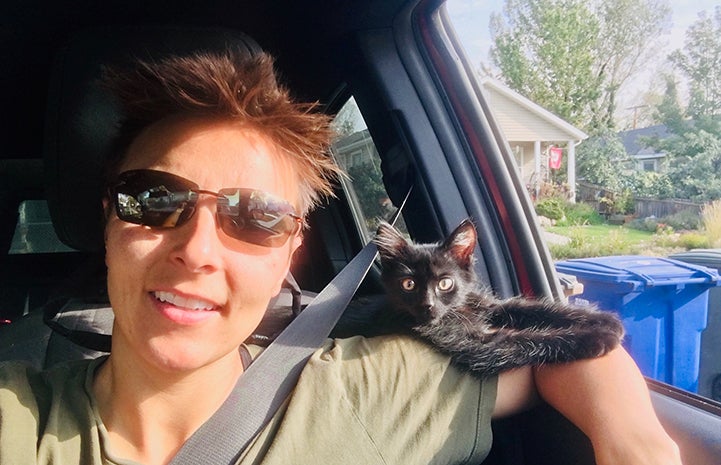 Outdoorsy family meets its match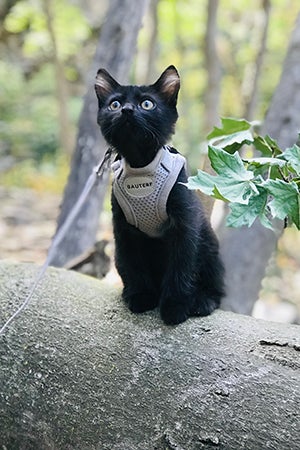 Rubina and Tess travel a lot with Guru and couldn't bear the idea of leaving Rafa behind while they went on adventures. Since Rafa didn't mind the harness one bit, they decided to train him so he could join them; but first, they needed to help Rafa and Guru get comfortable with one another.
As a dog trainer specializing in dog aggression and reactivity, Rubina knew it was incredibly important to introduce and integrate Guru and Rafa slowly and comfortably. They wanted to create a calm, safe and stress-free environment for everyone in the family.
After a few "sniff sessions," Guru and Rafa hit it off. Rubina says that within a few weeks the two were napping together on the couch, following each other around and even playing and wrestling. That's when she started teaching them some fun tricks like helping Rafa ride on Guru's back.
"Rafa is learning how to hold his balance on a boney, unstable surface and not use his claws for stability," Rubina says. "Guru is learning to like it when Rafa is on his back because it means good treats are on their way."
Rubina is having a lot of fun working with Rafa. And because she's learned that he's incredibly food-motivated and has a short window of engagement, she keeps training sessions short and sweet.
Rafa appears to be having a lot of fun, too ― especially when he puts on little shows by demonstrating the tricks they've been working on. For example, he'll stare at Rubina while climbing on Guru, looking for a treat; or he'll sit "pretty" with his front paws off the ground when he wants a treat. "It's really quite entertaining," she says.
[Stories from the road: A dog and cat's adventure]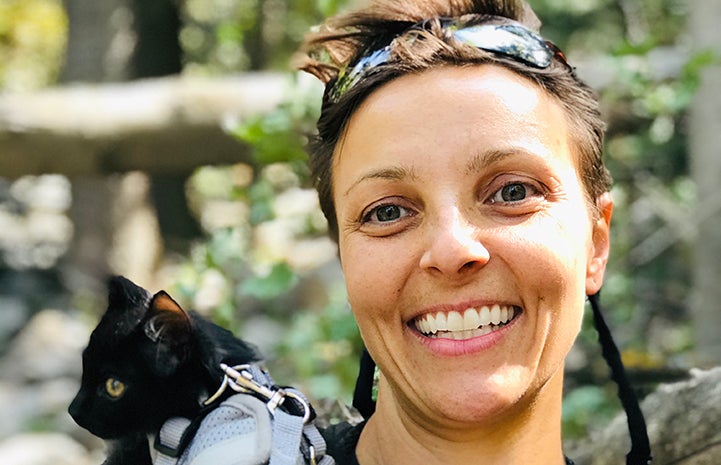 Getting a cat adventure-ready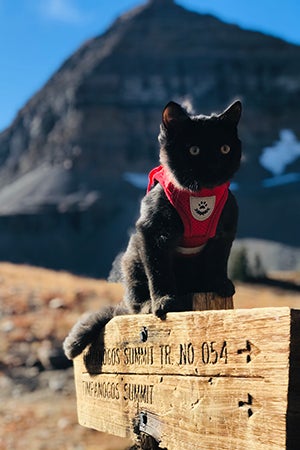 Once Rafa passed his training (with flying colors, we should add), he was ready for his first outdoor excursion. Now he lights up and is excited to explore whenever he sees the harness come out. In fact, Rafa loves every part of his outings ― from the car rides, to the exercise, to all the outdoor smells, to climbing and scratching. When he's tired, he rides in his mom's backpack and takes in all the nature views.
Rubina continues to work with both Rafa and Guru on fun tricks, while also being mindful of their safety. And while she's teaching Rafa to ride on Guru's back, she doesn't let him travel that way on hikes. It's simply not safe.
"Tess and I constantly work as a team to keep them safe, including watching for wild animals like coyotes and birds of prey," says Rubina. They also watch for off-leash dogs who might approach too quickly or try chasing Rafa.
"We advocate for Rafa constantly on the trails," says Rubina. "So far, he loves our outings. He gets excited to go on car rides. He relaxes when we put him in our backpack and ultimately he trusts we will keep him safe."
Today, Rafa is living an enriched life with his new adventure family. He is never too far from his big brother and he even snuggles with him every night. He's also managed to do something else that's pretty incredible. "I have admittedly always thought of myself as a dog person until now," says Rubina. "Rafa has changed that entirely."
You can follow Rafa and Guru's adventures on Instagram. Oh, and if you see them on the trails, be sure to say hello!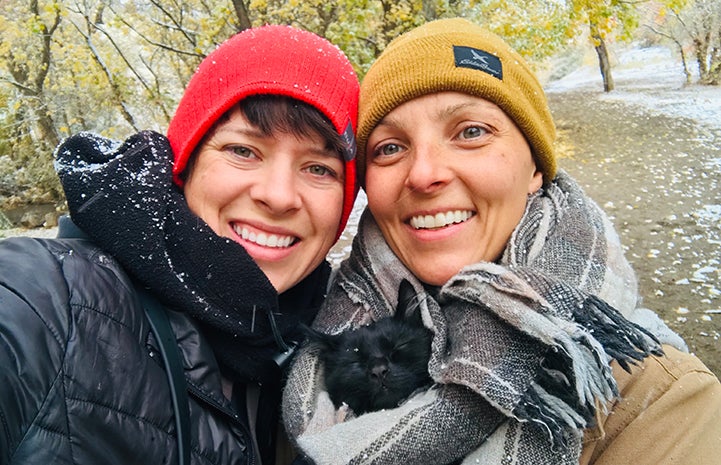 Ready for little adventure and a lot of love?
Whether you're looking for a hiking buddy, a couch companion or a pet who's a little bit of both, you'll find them all at your local shelter.
Read more
5 fantastic stories from Best Friends Network partners
Solving a kitten's mystery illness
Photos courtesy of Tess Collett