Affie the cat expands his friend circle to include people
Image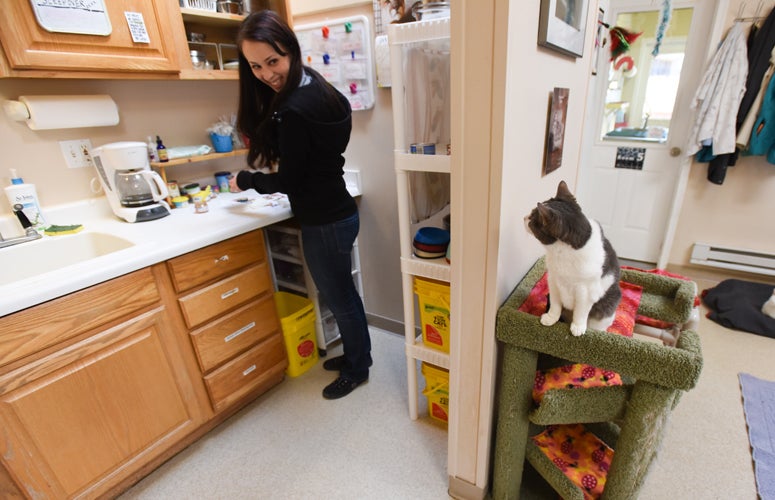 After a decade of love and patience, once shy cat rescued from a hoarding situation in Nevada now sees friends everywhere he turns.
By Christelle L. Del Prete
Alfie the cat's newfound friendship with people was years in the making. He came to the Sanctuary in 2007 after being rescued from a terrible hoarding situation in Pahrump, Nevada. A heroic effort led by Best Friends became known as the Great Kitty Rescue and saved more than 800 cats from malnutrition, lack of medical treatment and poor socialization. Some of them, like Alfie, also were truly terrified of people.
Giving Alfie good care and getting him physically healthy was the top priority when he arrived at Cat World. Alfie needed time to settle in and realize that people are good and that he was safe. Although his caregivers wanted to befriend him and offered him plenty of opportunities for interaction, they didn't rush him.
Cat begins to allow human friendship
For years, Alfie declined their friendship — and not always politely. He loved other cats, but he would run away or swat at people if they got too close to him. But when Cat World caregiver Felicia Fullerton noticed that Alfie had begun to mellow out a bit with age, she was determined to see if the now 10-year-old cat was ready to expand his circle and accept people. She decided to employ some tricks used successfully with many other Sanctuary cats.
Felicia established a routine of approaching Alfie slowly, holding her hand out in front of her, and gradually closing the gap between herself and the shy cat. If Alfie did not run away or swat at her, she would reward him with tasty treats.
Once Alfie got good at this game, Felicia and the other caregivers began putting baby food on their fingers and letting Alfie lick it off. Alfie likes baby food so much that he let volunteers feed it to him on a spoon. He was learning that letting people get close to him was a good thing, whereas in the past, he had never been brave enough to give it a try. Still, the only way he would let anyone touch him was if they sneaked in a pet while he was cuddling with other cats who liked to be petted.
Alfie the cat's breakthrough moment
Then, one day, Alfie made the leap. When Felicia walked into the building in the morning, he followed close behind her to get her attention. "I reached down, and he let me pet him for about a minute that first time," Felicia says.
That was Alfie's breakthrough moment. Now, when Felicia sits on the floor, he'll come over and put his front feet on her lap. "Eventually, I think he'll be a lap cat," she says. "He knows how to cuddle with other cats. He just needs to figure out how it works with humans."
Alfie hasn't yet mustered the courage to put all four feet on Felicia's lap, and he's still a bit discriminating about who can pet him, but his new friendship has brought out a playful, fun side of his personality.
Patience and love
While Alfie would never play in front of his caregivers before, he now bounces across the room when Felicia flashes a laser light. And he leaps up onto the cat tree just outside the kitchen, peering around the corner while Felicia prepares his meals. "He's talkative now, too," Felicia says. "He never really said anything before."
Although Alfie still spends the majority of his time in the company of other cats, his recent acceptance of human friendship is a true testament to what time, patience and love can do. Alfie may have needed more time than most cats to open up and share his unique personality with the people in his world. But, now that he's decided to expand his circle, he has friends everywhere he turns.
Be a part of the good news by becoming a Best Friends member.
Photos by Molly Wald