After getting a second chance at life, this paralyzed athlete decided to give the same to a homeless dog
Cougar Clifford, a Paralympic swimmer and triathlete who is paralyzed, adopts a homeless dog who will become a certified service dog.
By Nicole Hamilton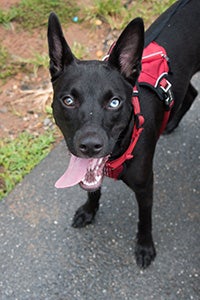 When Colleen Clifford first met Bagel, a young, smart, energetic dog at the Best Friends Lifesaving Center in Atlanta, he reminded her of someone else. And as she spent time with him, she started to think that he might be capable of doing extraordinary things — just like her son, Cougar.
Cougar, 19, is a competitive swimmer who's also completed eight triathlons — no easy feat. But then, Cougar isn't one to let things stand in the way of his goals. Even a major accident that left him paralyzed couldn't break his determination to live every day to the fullest.
While Cougar's been doing all this for the past three years, he's now doing it with a four-legged friend who approaches life with the same brand of enthusiasm. Here's how they met in Atlanta and how, today, they're tackling big plans together.
After adversity, triumph
Cougar and his family lived in Missouri where, about three years ago, he was playing with friends in the snow when he jumped into a snowbank and landed headfirst, breaking his neck. After 10 hours of surgery at St. Louis Children's Hospital, he woke up in a hospital bed, unable to use his arms or legs.
For Cougar and his family, the news that he was quadriplegic was devastating. (Up until then, he competed on the national motocross racing circuit.) But instead of seeing the odds as insurmountable, Cougar soon saw them as a chance to get stronger. He wouldn't just survive, he decided. As long as he kept making progress, he'd thrive.
His road to recovery would be a long and sometimes painful one. At first, he couldn't hold his head up. Breathing was hard at first, too. But slowly, through hours of daily therapy, he got stronger.
Eventually, Cougar and his family moved to Atlanta so he could continue his recovery at one of the country's top therapy hospitals. That therapy, coupled with countless personal training sessions, opened up a whole new world for Cougar, who began taking part in 10K and half-marathon races.
The only thing missing for Cougar was a running buddy. He started to think about a dog who could race with him, as well as be with him for the next chapter in life — going to college, living on his own and, of course, competing in more races.
In search of one amazing dog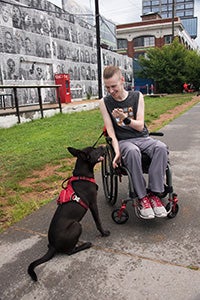 Cougar accompanied his mom to the center that day and was hanging out with the cats when she came back to tell him about Bagel, who was also starting a new chapter in his life.
Before coming to Best Friends, Bagel was at a large municipal shelter that was so crowded with other homeless dogs that it would have been difficult for anyone to notice his personality and eagerness to learn new things. Once he met Bagel, Cougar noticed them right away.
"When he was playing, (I noticed) he had a good pull instinct, which is important for any service dog to have," says Cougar, anticipating how important that instinct would be for pushing or pulling Cougar through hill sections of races.
Convinced that Bagel could be a great addition to the family, Cougar and Colleen went home to think things over, and a few days later returned to bring Bagel home.
Megan Matchett, a center adoption specialist, was excited for Bagel, calling it a great match. "He's just a sweet, happy puppy. Some dogs get scared when they see a wheelchair, especially when they see the wheels move, but not Bagel. He wasn't afraid at all."
A dog gets a chance to be a puppy again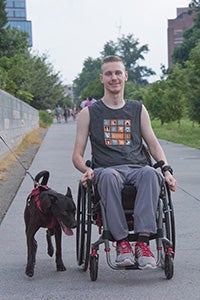 Bagel will soon begin training to become a certified service dog, but for now, Cougar is making sure the puppy has plenty of time to get settled in his new home and have lots of fun.
Before starting training, Bagel is trying to master something equally challenging — making friends with the two family cats. It's been a lesson in patience for Bagel, who must wait until the two cats are ready. Until then, he's spending time in Cougar's room or out in the yard cooling off in the kiddie pool, his new favorite thing.
Having Bagel around has also helped Colleen become more active, which is something Cougar loves to see. "My mom works really hard, " he says. "She's a full-time caregiver and the head of the household. She takes care of everyone, and now that we have Bagel, she can get out more."
A dog and his adopter: On to new adventures together
Cougar has been researching Atlanta service dog training programs and found one for dogs from shelters. The trainers can also give Bagel the tools he needs to accompany Cougar in races.
This is groundbreaking stuff. Once Bagel is a certified service dog and starts accompanying Cougar (who rides a bike specially designed for him that will also feature a place for Bagel to sit), he will be a one of a very small group of dogs nationwide who are trained to take part in competitive races (in particular, endurance events such as triathlons) alongside athletes with special needs.
Service dog training is extensive and it can also be expensive, so Cougar is raising funds to cover the costs. Once he reaches his monetary goal, Bagel will be on the road to becoming a certified service dog, and Cougar will have a friend beside him while he attends college, lives on his own and competes in races.
Now with Bagel by his side, Cougar gets to share his amazing ride through life with a friend. Together, they are proving that patience and determination often cause obstacles to give way to amazing opportunities.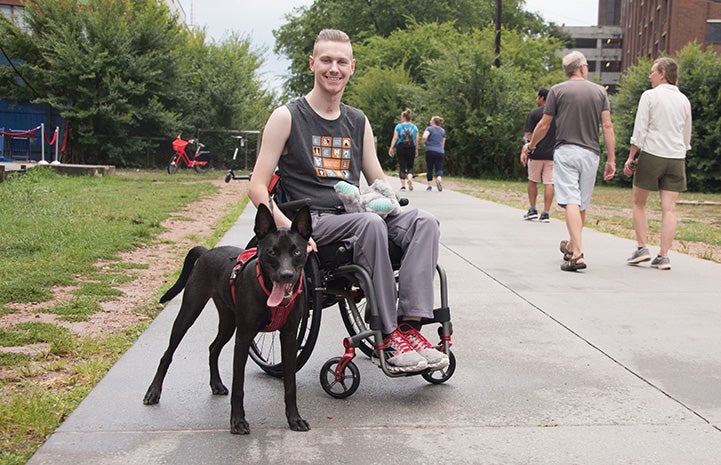 Life is good with a dog by your side. Adopt one near you.
Best Friends in Atlanta works collaboratively with area shelters, animal welfare organizations and individuals to save the lives of pets in shelters in the region. The Best Friends Lifesaving Center is a hub for animals and a base for local programming and coalition-building to help the metro-Atlanta area in its final push to achieve no-kill, while strengthening the movement in the Southeast. Together, we will Save Them All.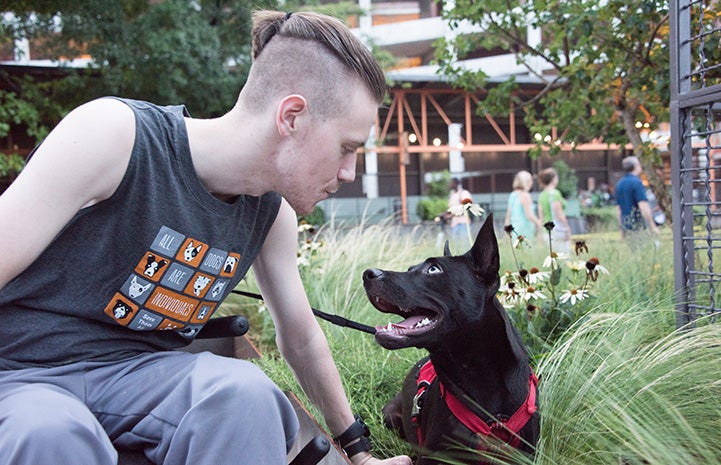 Photos by Christina Lynn