After a mom dog's eight puppies were safe and adopted, it was her time to shine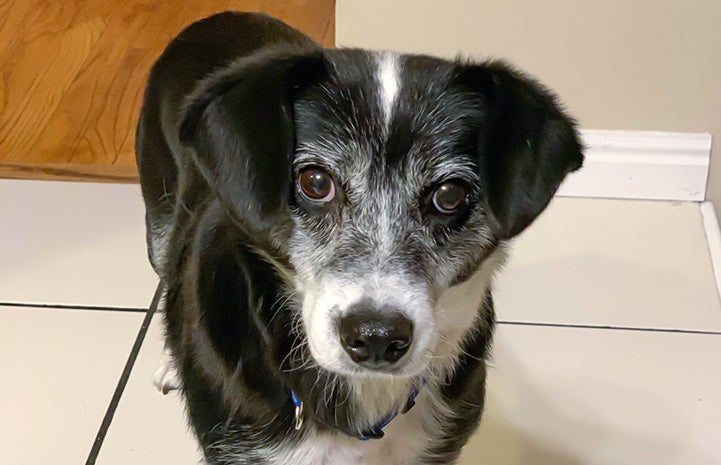 Sweet mama dog from the Navajo Nation finds a home where she's getting all the love and affection she once gave her puppies.
By Tracy Blowers
When an expressive black dog with a frosty white face and floppy ears arrived at Best Friends in Utah, she appeared to be a little withdrawn and tired. but that's understandable when you consider that she was nursing a litter of eight puppies. Simply put, this mama dog, who appeared to be about 10 years old, had her hands (or should we say paws) full.
Still, that didn't stop her from being attentive to her band of tiny pups on the five-hour drive from Turquoise Paw Rescue in Shiprock, New Mexico, to Salt Lake City. Turquoise Paw Rescue helps pets from the Navajo Nation, a 17.5-million-acre American Indian territory spread over parts of northeastern Arizona, southwestern Utah and northwestern New Mexico.
The team got to work finding a foster home as soon as mama and puppies arrived at Best Friends. Then, they gave her a name perfect for her bright future: Glitter.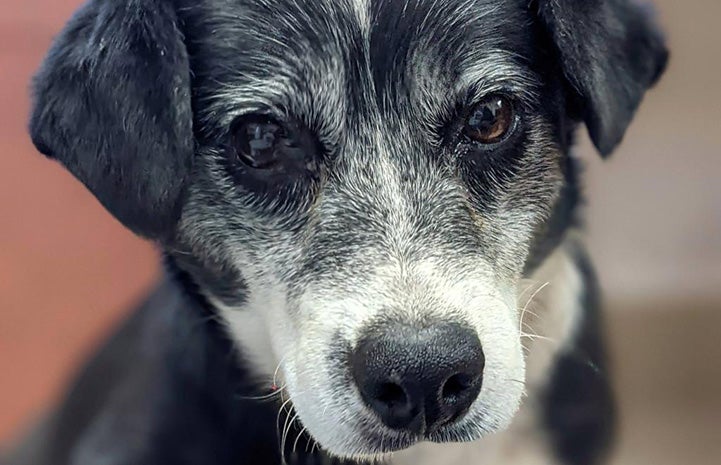 Senior dog shines in her foster home
Soon Glitter and her puppies were settling in at their awesome foster home. There, Glitter not only proved to be an excellent mother, but a top-notch cuddler who wasn't afraid to snuggle up with people, other dogs and even cats.
[Once paralyzed puppy ditches his wheels]
It wasn't long before all of Glitter's puppies were big enough to be adopted into homes. That's when she really started coming out of her shell, proving to be an easygoing girl who loves comfy places to hang out and relax, as well as spending time outside. Her bright personality shined with the help of her foster family, and that helped her get adopted in no time. "Her gentle demeanor and the fact that she is good with other dogs and cats are probably what got her adopted so quickly," says Danielle Barnhart, Best Friends lifesavings outcome coordinator in Salt Lake City.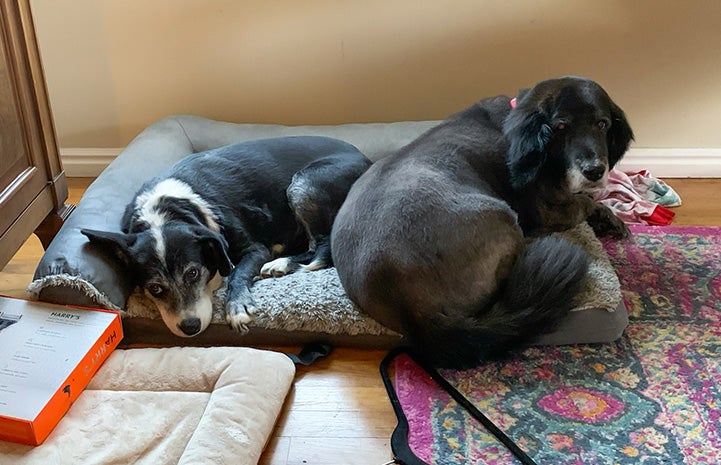 Two 10-year-olds, one home
When a family with a daughter who is also 10 years old met Glitter, the two became fast friends, and the decision was made to move forward with adoption. "Our first meeting with Glitter was great," says adopter Brent Landes. "She seemed to really take to my daughter right away."
These days, however, Glitter is also drawn to Brent and tends to seek him out when he's home. In fact, one of her favorite things to do is take long naps on Brent's bed. "She sleeps in her own bed at night, but during the day when my bed is unoccupied, she takes up residency and naps for hours," he says.
Glitter also enjoys rolling around in the fresh grass in her new yard, and her family loves how expressive she is, too. "She moves her eyes a lot and her ears move a ton," says Brent. "She's a sweetheart and has fit into our home wonderfully."
Recently, the team at Best Friends got a chance to see Glitter, and they were thrilled at how happy she is. "Her tail was wagging and she was walking confidently. It was so great to see her so happy," says Danielle. "She is really enjoying life."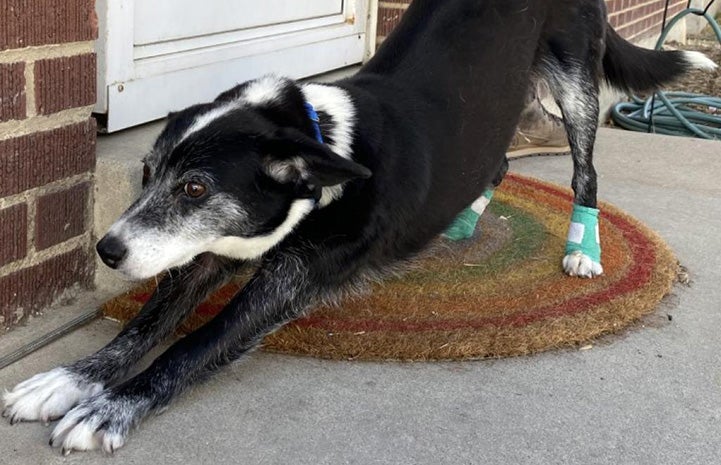 Be a light for pets
Foster or adopt a pet from your local shelter and make the next chapter of a life the best one yet.
Read more
Florida sheriff steps up as professional 'cat wrangler'
Group effort saves injured pelican
New digs, new diet help a cat manage chronic tummy troubles
Photos courtesy of Brent Landes and Best Friends staff