After wandering streets of Los Angeles, sweet senior dog finds the good life
No more tough living for this sprightly 15-year-old pup, who now looks forward to home- cooked meals served with love.
By Ana Merkulova
Minx appreciates a home-cooked meal. A bit of ground beef, an egg, some ketchup, a veggie or two and a whole lotta love make up his favorite meatloaf recipe. "It's a pleasure to watch him enjoy food," says Lorraine Hamblin, who last July adopted the senior dog.
Ever since they became a family, Minx and Lorraine have been inseparable. They do everything together ― from visiting the park, to saying hello to neighbors, to cuddling on the couch. And yes, they cook delectable homemade meals to enjoy together, too.
At 15 years young, Minx still loves a good jog on the grass, shamelessly flirts with his neighbor, Betsy, and otherwise refuses to act his age. He's the perfect example of an older dog who shows us that age is just a number.
[Senior dog finds a home for her "100th" birthday]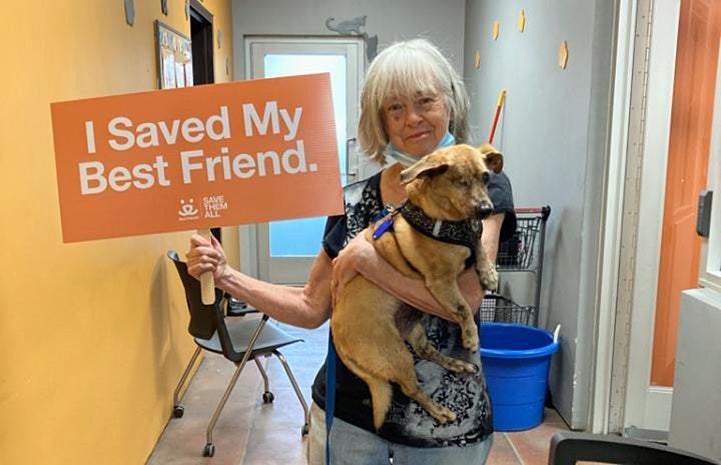 Dog with medical issues has no care in the world
Sure, if you only read his medical history (which includes hypothyroidism, a collapsing trachea, heart murmur, dental disease and one eye gone to glaucoma), the last thing you'd imagine would be a happy dog running around the park.
Minx takes three different medications twice a day and needs to be monitored closely for signs of a seizure. But does he care? Nah, not really. He chows down his medications at mealtimes and keeps on trucking. "They're survivors," says Courtney Bean, lifesaving and care specialist with Best Friends in Los Angeles.
Minx first came to Best Friends in Los Angeles from a Los Angeles city shelter after being picked up as a stray. Skinny, hungry and covered in mange, his rough looks matched his tough spirit; but inside was a sweet and patient little old gentleman.
The medical team came up with a plan to help Minx, and before too long he was looking and feeling much better.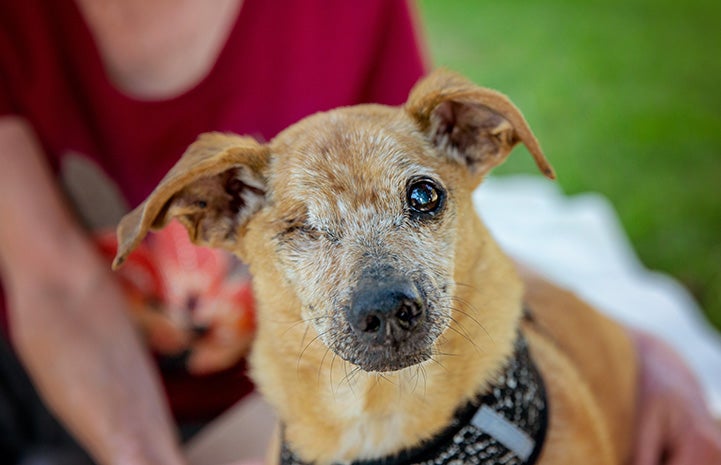 Lynne Bean, (Courtney's mom) knew right away that he was the perfect dog for her to foster. She loves taking on dogs requiring a little extra care and Minx definitely needed all the love he could get.
When he first got to Lynne's, Minx wasn't sure how to act. (He used to call the streets home, after all.) Unable to settle down, he kept running around trying to find a place to feel safe. That place ended up being Lynne's lap.
"I sat on the floor until he finally stopped running, and then I picked him up and held him close," says Lynne. "He fell asleep in my lap and that was the beginning of his trust for me." Once he knew he was safe, Minx never looked back. He spent 14 months in Lynne's care and proved that he can get along with everyone. (He even took a walk with a neighborhood cat.)
[At 13 years young, senior pittie finds his perfect person]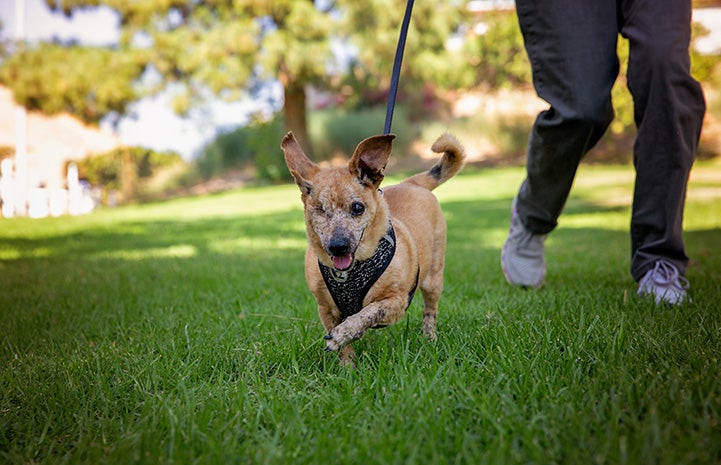 A perfect home for a special dog
Lorraine didn't know any of this when she first saw Minx on the Best Friends website, but she fell in love almost instantly. Pulling into the parking lot for their meet-and-greet, she saw a woman and a dog walk into the center and thought, "I hope that's my dog."
Her hope came true. As soon as she walked in, Minx came up to her wagging his tail, and when Lynne picked him up and set him on Lorraine's lap, he settled right in. They went home together that same day.
Though she loves him to bits, Lorraine sees adopting Minx as a philosophical decision rather than an emotional one. She wants to help him. For her providing safety and security for a pet who's had a rough time makes everything worth it. To put it simply: "He needs somebody now, and I need him now," she says. And that's all that matters.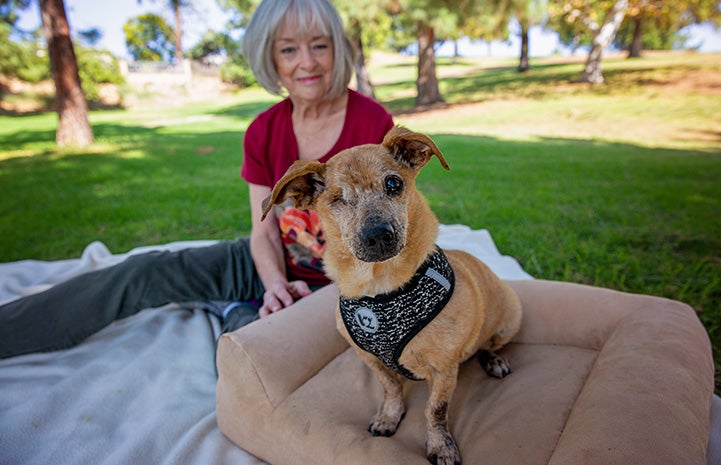 Senior pets are a gift
Love is for all ages. Could there be a sweet senior pet waiting for you?
Read more
New hardware helps puppy with broken legs play again
Foster family takes a chance on a dog in need
Senior cat comforts adopter during cancer treatment
Photos by Lori Fusaro and Best Friends staff