American bulldog gets moving to overcome obesity
Image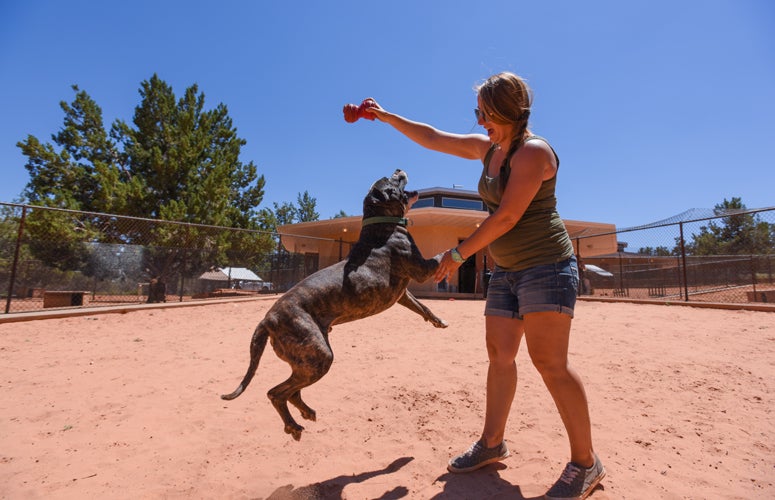 Overweight American bulldog receives medication for his thyroid condition and loses 30 pounds. He's now feeling a lot better.
By Christelle L. Del Prete
Sherman the dog could easily have been called "Tank" when he came to the Sanctuary from a local shelter. The eight-year-old American bulldog mix weighed nearly 100 pounds. He was so overweight that his back legs bowed under the strain, and he had trouble doing the least little thing.
A half-mile loop on a trail in Dogtown might as well have been a half marathon for poor Sherman. There was no way he could do it. He wanted to walk and play like a normal dog so badly, but the extra weight kept him nearly immobile. His feet were so swollen and inflamed that each step hurt him, and whenever he sat down, it was hard for him to get back up again.
Instead of going to Dogtown when he arrived at the Sanctuary, he lived in the Best Friends Animal Clinic, where the veterinary team could run tests to see if an underlying health issue was causing his weight gain and his skin problems. His fur was so patchy it was hard to tell that it was a handsome brindle color. And, because of his condition, Sherman's happiness had suffered too. "He was very Eeyore-ish and moped around," says vet tech Betsy Kidder.
Bringing out the "happy" in an American bulldog
No one doubted, though, that there was a sweet, happy dog inside of Sherman's shell. "He had a sweet demeanor," Betsy says, and the veterinary team worked hard to bring out that happy, loving dog. They discovered he had a thyroid condition that was causing him to put on the extra weight, so he started getting medication to help with that, along with special baths twice a week to soothe and heal his skin. As soon as his feet were feeling better, he started doing two-minute walks around the clinic, just to get moving again.
Once Sherman was well enough, he graduated to living in Dogtown. There, a spacious yard, other dogs, and regular walks with caregivers and volunteers on the winding, sandy trails helped him get the exercise he needed, and he could have fun doing it. Finally, Sherman was getting to enjoy being a dog.
Dog weight loss
Although Sherman may never be the fastest kid on the block, that's perfectly OK. Because, in just six months, he's made an amazing transformation and has regained most of his mobility. Since he arrived at Best Friends in January, Sherman has shed almost 30 pounds.
"He walks the mile loop all the time now," says Dogtown caregiver Kayla Sedbrook, "and he could do much more if he wanted to."
Sherman's size isn't the only thing that has changed. The once sad and overlooked shelter dog is in much better spirits these days. He greets visitors happily, inviting them to stroke his now-smooth, beautiful brindle fur.
Bring hope and healing to more animals like Sherman.
Learn more about Dogtown at Best Friends.
Photos by Kurt Budde and Ann Hepworth