American bulldog mix adopted by perfect family
Image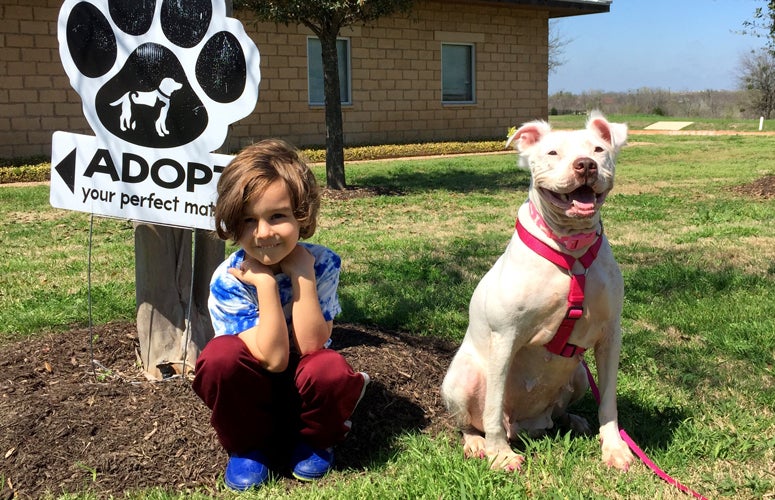 "Pick your price" pet adoption promotion helps a white American bulldog mix find the perfect home, with a little boy who loves her dearly.
By Denise LeBeau
Daisy looked in rough shape when she was picked up as a stray in Georgetown, Texas, but her luck was about to change for the better when she arrived at Williamson County Animal Shelter. The sweet American bulldog mix has adorable scruffy wisps of hair on her ears, which make her look like a bunny, and she impressed everyone with her friendly nature. Shelter staff believed that she deserved a shot at a great home.
After being treated for a skin condition, Daisy was ready to go home. She only had to wait until someone picked her. She waited a month — then another and another. There was nothing wrong with her, but the dog's size might have been the obstacle between Daisy and a new home. Misty Valenta, community programs coordinator at the shelter, says, "We adopt out small dogs much faster than those 40 pounds and up." Finding homes for large dogs can be an uphill battle in shelters everywhere, including Williamson County Animal Shelter. Small dogs just fit easier into more adopters' lives. But Best Friends is there to help big dogs living in shelters and with rescue groups. Daisy's wait for a home hinged on that help.
"Pick your price" pet adoption promotion
Williamson County Animal Shelter is part of Best Friends' No More Homeless Pets Network, a group of rescue organizations and municipal shelters across the country working to end the killing of animals in our nation's shelters. That means that each month, the shelter is eligible to participate in adoption promotions created by Best Friends.
And a recent promotion with the theme "Love Comes in All Sizes" was just what the shelter needed to give larger dogs like Daisy a better chance to find homes. A total of 71 shelters and rescue groups signed up to participate in the promotion.
Participating shelters receive marketing help from Best Friends and are required to lower adoption fees. Everyone loves a good deal (including pet adopters) and sometimes a rock-bottom adoption fee can mean the difference between a pet sitting in a shelter and going home. Williamson County Animal Shelter used a "pick your size, pick your price" adoption fee plan, which meant that animals could be adopted for whatever fee their new families chose. When the community heard about that, they showed up to adopt.
Adopting an American bulldog mix
Hopie and her son Ethan originally had other ideas about what kind of dog they wanted, but the promotion got Hopie to take a second look at Daisy. "This dog would not have been on my radar," she says. "I was looking for a puppy in a specific breed and, let's face it, Daisy has been through the ringer and some of her story shows outwardly." But she was hooked, and finally, Daisy was going home.
The plan worked for pets with other shelters and rescue groups, too. By the end of the promotion, more than 2,700 pets like Daisy found homes.
Before he adopted Daisy, Ethan had been a bit nervous around big dogs, but Daisy's friendly nature diminished his fears. Hopie says, "Daisy doesn't jump or bark and this has helped Ethan grow accustomed to being around her." Ethan loves taking her on walks, and even gave her his prized stuffed toy to sleep with.
Today, Hopie feels the same way as shelter staff did when they first got to know the sweet dog with bunny-like ears. "Daisy is a very good dog who just wants to be part of the family," she says.
Get involved to help pets
Be a part of the good news by giving a gift to Best Friends. You'll be helping our No More Homeless Pets Network partners, too.
Learn more about Best Friends adoption specials.
Photos courtesy of Williamson County Animal Shelter