Animal shelter contest and Best Friends
Image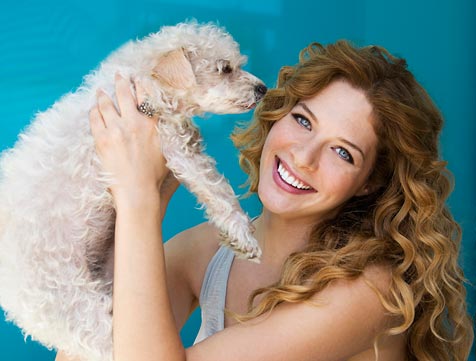 Best Friends is in the running for top spot in America's Favorite Animal Shelter contest. "Twilight's" Rachelle Lefevre offers her support for us.
By Amy Abern
Just about a month ago, Care 2, the largest the largest online community of people passionate about making a difference in the world and Adopt-a-Pet.com, one of the country's largest pet adoption charities joined forces to launch the third America's Favorite Animal Shelter contest. It began on Nov. 5 and will end on Dec. 16.
Contest for animal shelters
The animal shelter that receives the most online votes will win a grand prize of $10,000. Best Friends really hopes to win because that $10,000 will guarantee a very happy holiday for the approximately 1,600 animals living at the sanctuary.
"Twilight's" Rachelle Lefevre backs Best Friends
We started out in the race on the "slow" end. But about two weeks ago Best Friend's spokeswoman, "Twilight's" Rachelle Lefevre, happened to read about the contest online. Afterwards, she followed one of the suggestions on the Care2 site to help spread the word about America's Favorite Animal Shelter contest by tweeting on Twitter.
Within an hour of Lefevre's posting, Best Friends moved from third place to first place. She really "sunk her teeth" into this contest on our behalf.
Best Friends still in the running
But last week, we slipped into second place. Now, that's not such a bad thing, because this means Best Friends and thousands of animal welfare organizations around the U.S. and parts of Canada have entered this very spirited competition for animal shelters and will, at the very least benefit through the publicity, name recognition and education. It also means thousands of people are taking time to vote for their favorite shelter and help spread the word about the contest. (Check the "help your animal shelter win" tab at the top of the voting site's homepage to learn how to promote your shelter. And by the way, the top 20 recruiters will receive a $50 gift card.)
Still, Best Friends would like to win the grand prize to feed, shelter and pamper our animal residents. So to all of you who are reading this now and have already voted (you can only vote once in this contest) thank you so much! And if you want to help us move into first place, please tell your friends, family, grocery store cashier, pet store retail expert — everyone you know (and don't) to visit Care2.com and spend less than a minute to vote for us.
And this just in: We have good news to report. As of this past Monday, we rapidly began gaining ground and closing the gap between us and the first place shelter. We're pretty sure Ms. Lefevre had something to do with the enthusiastic surge in voting.
More Twitter support from Rachelle Lefevre
Lefevre tweeted a second time over this past weekend, encouraging her friends and fans to participate in the contest on behalf of Best Friends. As a result, we received more than 1,200 votes in one day. Lefevre may play a vampire on screen, but in her off-screen life, she's a bona fide angel. And Best Friends couldn't be more grateful to have this angel looking over our shoulder.
In a recent e-mail, Lefevre explains, "Best Friends is an amazing organization truly doing the most selfless work possible. Not only are they non-profit but they are living what they preach. At the sanctuary in Utah, they take in animals who would otherwise face certain death and give their time, money, resources and love to heal them and find them homes. They need all the help they can get and $10,000 would mean the saving of even more animals and contribute to the care of the ones they already have who are in so much need. I wanted to help in anyway I could and Twitter proved to be, as always, a great way to get the word out."
There's only two weeks left to vote for Best Friends in America's Favorite Animal Shelter contest. Participation is easy: Simply log on to the site and search for your favorite rescue or shelter by zip code (for Best Friends, it's 84741) or city and state (again, for Best Friends, it's Kanab, Utah) and cast your one-time-only vote. That's it!
We hope you'll take a minute out of your day to vote for Best Friends so we can give all the animals at the sanctuary the very best holiday ever!
Photo by Robert Todd Williamson
As part of Best Friends' 25th anniversary in 2009, our goal is to double our membership, so we can double our efforts to bring about a time when all companion animals have a forever home. What can you do to help? Give the gift of a Best Friends membership to family and friends.