An animal volunteer and dog advocate
Image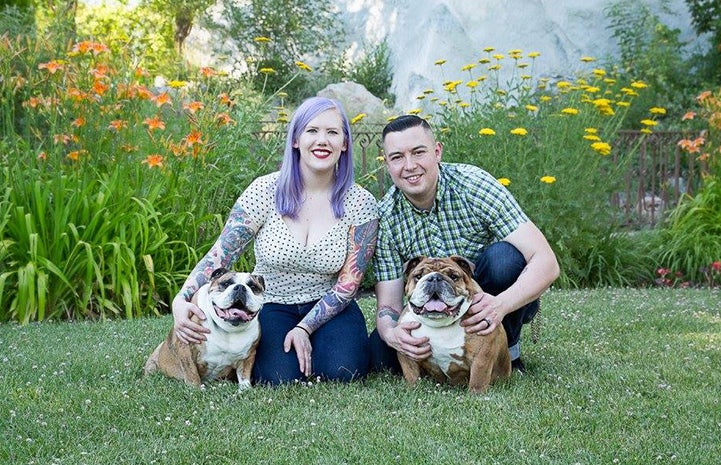 Rachael Prenkert volunteers with pets at Best Friends-Utah and NKUT coalition partners, Salt Lake County Animal Services and Rescue Rovers.
By Nicole Hamilton
"She's a rock star."
This is how Jennifer Taggart, Best Friends national volunteer specialist, describes Rachael Prenkert, who has been volunteering with Best Friends–Utah for the past three years. She does it all, from walking dogs to assisting with adoptions to being involved with six super adoptions and two Strut Your Mutt events. Rachel also is an invaluable liaison between Best Friends and one of our closest No-Kill Utah (NKUT) coalition partners, Salt Lake County Animal Services (SLCAS), where she is also a top level volunteer.
Through her involvement with SLCAS, Rachael has firsthand knowledge of the dogs brought each week to the Best Friends Pet Adoption Center in Salt Lake City, Utah. She shares this important knowledge with potential adopters to help them choose the best dog for their lifestyle.
And if that's not enough, Rachael also fosters animals for Rescue Rovers, another NKUT coalition member. Jennifer says, "Rachael's tireless work with all three organizations, combined with spreading information through social media about compassionate animal care and promoting adoptable animals, has no doubt saved countless lives."
In this Q&A, Rachel tells us about what inspires her in her lifesaving volunteer work.
Why did you decide to volunteer with Best Friends and what makes you want to continue working with us?
I have always loved animals. Through social media, I became more aware of the state of animal welfare across the U.S. and wanted to get more involved to help make life better for the animals currently in the shelter environment. The pet adoption center had recently opened in their current location, which is very convenient for me so I signed up to start volunteering.
What inspires you most in your volunteer work?
I love seeing the progress that has been made in the shelters in Utah and across the nation. It is great to see a dog, who has been at the shelter for a long time find a forever family. Recently, Salt Lake County Animal Services had a pup finally find his forever home after almost 300 days in the shelter. When an animal is in the care of a shelter for so long, it is great to see the behavioral progress that can be made.
Since becoming a Best Friends volunteer, what have you learned and do you see things differently than when you started?
I have learned a ton and gained a lot more knowledge of training and modifying dog behaviors. I realized how much I could improve with my personal dogs and how much I had been doing well. I had a very leash-and-dog-reactive pup and was managing that better than I thought at the time.
I have also gained a new perspective on people. I used to be very critical of people who would dump their animals at a shelter. But I've seen that this is often seen by the former family as being in the best interest of the animal. I have also realized that just because an animal is not cared for as I care for my pups (who are spoiled), it does not mean that they are not happy.
Find Best Friends volunteer opportunities where you live
In terms of your volunteer work for Best Friends, what are you most proud of?
I am most proud of all the progress that Utah has made toward becoming a no-kill state. I love seeing that some of our less-engaged shelters have started working toward being no-kill because of the involvement of their citizens.
Tell us about your favorite volunteer moment.
I have so many moments that are amazing. I have seen so many people meet dogs that will join their family. When I'm taking a dog for a walk, people stop to talk to me about the dog I am walking.
One of my favorite volunteering moments is finding out about the adoption of one of my all-time favorite pups. Gracie is a doll of a pup, but for a long time she was not good with other dogs. She had been at the shelter for over six months, was adopted once and returned and had escaped being euthanized twice. I had been taking her to a local dog trainer to improve her confidence, which was the cause of her issues with other dogs.
I got a call from the shelter's volunteer coordinator right before the shelter closed for the night, and she told me that Gracie was being adopted by a wonderful family. She was the last dog adopted in 2014 for that shelter. Luckily, I am in touch with her adoptive family and get to see her regularly. She now lives with another pup and they get along great.
Join us in saving lives. Become a member of Best Friends.
What are you doing when you're not volunteering with animals?
I am usually at home with my pups. I work at home which is rad. I enjoy weight lifting, cooking, reading, traveling and going to concerts.
Please tell us about your pets.
I do have pups who are spoiled and have a ton of nicknames. I have a six-year-old English bulldog named Alfred from a local bulldog rescue. He is a tank. Earlier this year, we lost our girl English bulldog, Matilda, who was about nine and came from Salt Lake County Animal Services. We had a foster/hospice cane corso named Hippo, who also passed. After Maddy (Matilda) passed, we adopted Big Al Capone, who is a six-year-old pit bull terrier. He came to us through the dedication of a local animal care officer, who was helping his owner keep him out of the shelter by trying to find him a new home.
I am hoping to find another girl pup to join our pack.
Do you have a super power?
I don't think I have any super powers. I am able to work with more difficult dogs because I have a lot of experience and practice.
What would you tell others who are thinking of volunteering at Best Friends?
Go for it! Sign up and start volunteering.
Find Best Friends volunteer opportunities where you live
Photos by Elaina Stanley of Elaina ReNae photography, Rachael Prenkert and Melissa Jones