Arizona attorneys visit Best Friends
Image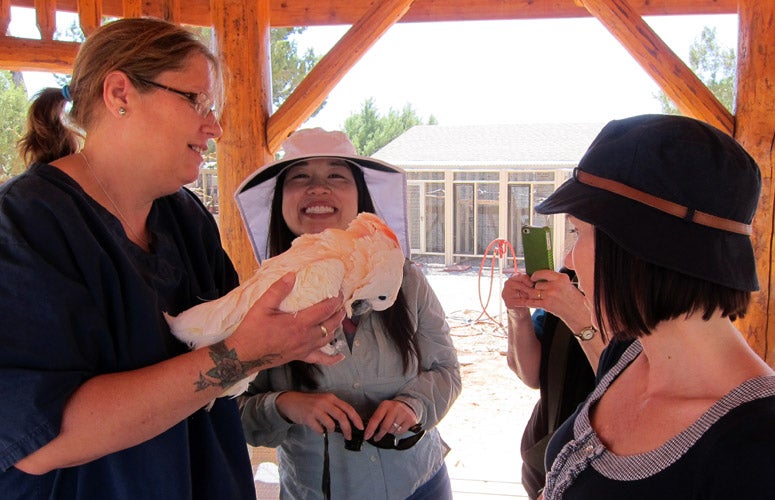 Lawyers with an interest in animal law make a trip to the Sanctuary.
By Christelle L. Del Prete
For Amanda Chua, a personal injury attorney, and 21 other Arizona attorneys and their families, a trip to Best Friends took a whole year to plan. The diverse group included real estate attorneys, personal injury lawyers, family law practitioners and civil litigators. Despite their array of specialties, all of the attorneys are members of the State Bar of Arizona, and belong to a special group called the Animal Law Section, which has over 90 members.
A group excursion
It was during a membership meeting that the idea of a trip to Best Friends came up. Many of the attorneys in the group serve on the boards of, and/or volunteer with, local rescue organizations or environmental groups. And many of them knew about the Michael Vick dog-fighting case, so they were familiar with the work that Best Friends does. But a few people in that meeting mentioned that they had never visited the Sanctuary. So Amanda, who was the past chair of the Animal Law Section, proposed that they form a committee to plan a group excursion to Kanab, Utah.
Amanda became the main organizer for the trip, and she worked closely with Joan Bundy, Mary Irene Kinsley, Tracy M. Krall, Janet Margrave, Cindy Mahon and Jane Alfano Rasor. Each is a supporter and/or volunteer for a rescue or humane organization (Valley Humane Society, Samoyed Club of Central Arizona Rescue, Arizona Humane Society, Lost Our Home Pet Foundation, Arizona Basset Hound Rescue, and the Arizona Animal Welfare League respectively). Amanda herself volunteers for Maricopa County Animal Care and Control, the nation's third largest animal shelter.
Visiting the Sanctuary
Animal Law Section members, many of whom brought family members and significant others, had different reasons for coming to the Sanctuary. One brought a dog who had been adopted from Best Friends; one wanted to learn more about fundraising for her own rescue, and how best to allocate her resources; yet another lost a pet and had made prior arrangements for a burial at Angels Rest; and a few wanted to volunteer in the animal areas. Sara Sloma-Huelsbergen, sister of member Melinda Sloma, who started Froggie's Pond, a Michigan nonprofit sanctuary for cats positive for feline leukemia and the feline immunodeficiency virus, even met with Michelle Warfle, manager of Cat World, to discuss the care of special-needs cats.
Highlights of the trip
Group members also enjoyed a pit bull legislation webinar with legislative lawyer and program and policy analyst attorney Lola Handzel, who works with Best Friends senior legislative attorney Ledy VanKavage. Another highlight of the visit was a lunch with one of the Best Friends founders, Faith Maloney. The attorneys were particularly inspired by the story of the Sanctuary's humble beginnings, and they were delighted to learn that Faith herself had once called Arizona home. Amanda recommends that people who are interested in rescue visit the Sanctuary in person and meet with the founders and staff. It is difficult for many rescues, in Arizona and elsewhere, to succeed, and Best Friends is one model of how a rescue can be successful.
Overall, the group's experiences were exceedingly positive. "Everyone thought it was a life-changing moment," Amanda says, and many group members expressed an interest in returning to the Sanctuary one day. She herself would like to come back to take the How to Start an Animal Sanctuary workshop. But, for 22 hardworking attorneys and their families, the visit wasn't all business. "For adults like us, it was Disneyland," Amanda says.
Learn more about visiting at the Sanctuary.
Photos courtesy of Amanda Chua