Author of 'A Dog's Purpose' finds new purpose in animal welfare
When longtime animal rescuer Georgia Cameron brought a rescued puppy named Tucker to her dad, novelist W. Bruce Cameron, the little pup had a profound impact on his work.
By Jen Reeder
A decade ago, a squirmy puppy named Tucker almost didn't get the chance to realize his promise. When he was only a few days old, someone dumped the mixed-breed dog and his littermates in the drop box at a municipal animal shelter in Denver. An employee discovered the puppies on her way into work at the shelter. Knowing the puppies would likely be killed because the shelter didn't have the resources to care for them, she faked a migraine and drove away with the dogs. Then she called her friend, Georgia Cameron, a patrol officer at the Denver Police Department with a longtime passion for animal rescue and founder of Life is Better Rescue. Georgia was more than happy to help.
"She was sobbing," Georgia recalls. "The rescue group I was working with at the time had a German shepherd whose litter of puppies had just weaned. I said, 'You know, I think this German shepherd still has milk. Why don't we give it a go?'"
They rubbed the German shepherd's blanket on Tucker and the three other puppies so they'd smell a little bit like her, and offered them to the surrogate mama. She seemed to know the tiny yellow pups weren't hers, but with a sigh, she let the babies nurse. "Six or seven weeks later, we had healthy, happy, adoptable puppies," Georgia says.
When Tucker was nine weeks old, Georgia found a special home for him — with her father, acclaimed novelist W. Bruce Cameron. In 2010, when Bruce adopted Tucker, his bestselling novel, A Dog's Purpose (told from the perspective of a dog named Bailey who is reincarnated numerous times), had already established him as one of America's most beloved authors of dog books.
[Books about animals to lift us up]
When Bruce met Tucker, it was love at first sight. "Georgia has a unique talent: She's like a matchmaker. She can find you the right dog," Bruce says of his daughter's history of finding forever homes for the pets in her care. "Tucker is my 24-pound love dog. He doesn't have very many jobs, but I'd say comfort animal would be right at the top. He loves to snuggle."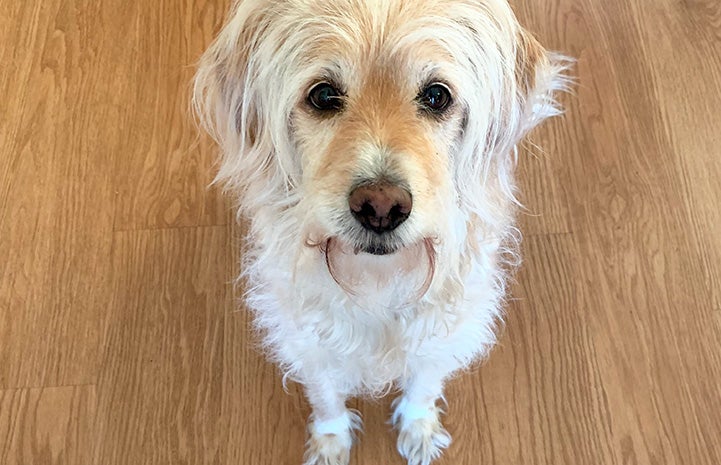 Bruce had never had a rescued dog before. "Georgia introduced me to the notion that a rescued dog can be just a marvelous thing," he says. And it's no coincidence that in one of Bruce's subsequent books, The Dogs of Christmas, a dog nurses another's abandoned puppies, who then profoundly affect a man's life. Bruce dedicated the book to "people all over the world who have opened their hearts and homes to orphaned animals."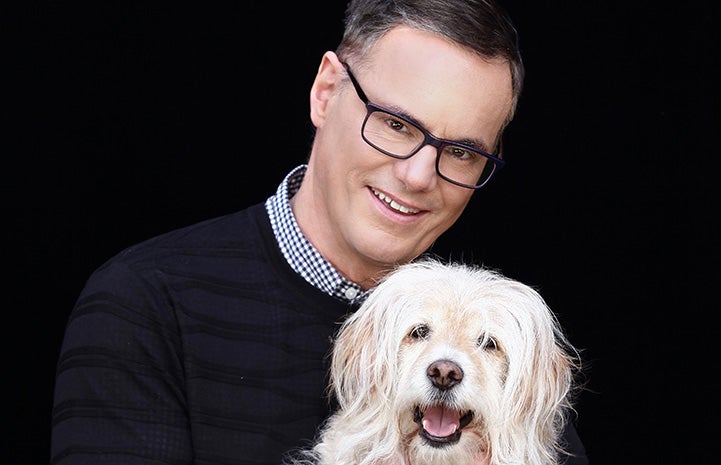 Life Is Better Rescue: Saving and improving lives
Georgia was 21 when she developed a passion for animal rescue. After working with a number of rescue organizations, Georgia's commitment to saving animals led her to create the nonprofit Life Is Better Rescue (a Best Friends Network partner). Since its inception in December 2010, the foster-based organization has found homes for more than 7,000 animals, including dogs, cats, pigs, mini horses, goats, mice, hamsters, fish, chinchillas, parakeets, lizards, snakes, rabbits and chickens. "If I have the ability to save a life, I'm going to try," Georgia says. All of the dogs she rescues come from situations where they are in danger of being killed because of space, time, medical or behavioral constraints.
She's quick to note that the goal of the organization isn't simply to save lives, but to improve them. "It's not just about more life, it's about better life," she explains. "The best part, for me, is to get to see the animals on that first step of the rest of their lives, to see that they get to be in their forever homes with their forever people."
[Rescued cat helps homeless dogs get adopted]
Georgia's passion for rescue has had a deep impact not just on her community, but on her dad and his work. Bruce serves on the board of directors of Life Is Better Rescue, and he has increasingly promoted and celebrated animal rescue in his novels. "Georgia not only is an amazing source of anecdotes and inside knowledge, but she opened me up to this idea of the rescue community," he says. "I didn't really understand that when I wrote my first book, A Dog's Purpose, which turned me into 'the dog-book guy.' But nearly all the dogs I write about now are mixed breed and rescue."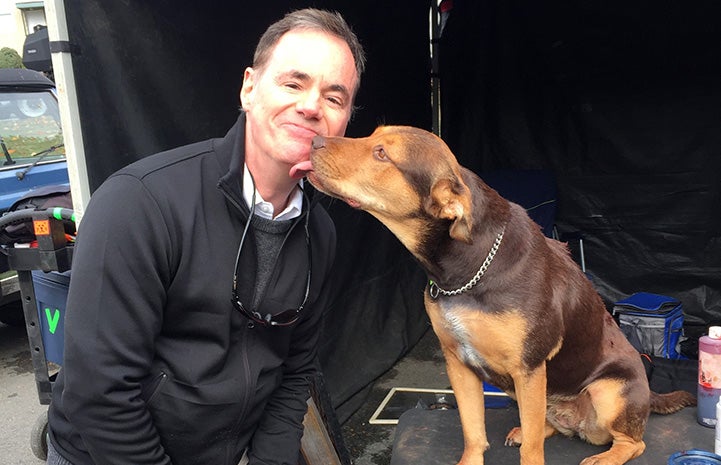 Shining a spotlight on animal welfare
With his awareness of the needs of homeless pets, Bruce has tackled other animal welfare issues in his novels. Fans of the Vicktory dogs (the 22 dogs who came to Best Friends after being rescued from NFL player Michael Vick's Bad Newz Kennels) will undoubtedly appreciate A Dog's Promise, the final book in the trilogy that includes A Dog's Purpose and A Dog's Journey. In the book, some dogfighting victims are discovered during a police raid, and many people in the community want them destroyed. But the novel highlights that former fighting dogs just need to be rehabilitated and rehomed.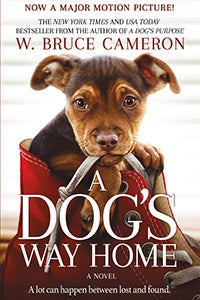 "What I want to say is we can save them all. That doesn't mean just plucking them from the machinery of death. It also means giving animals an opportunity to find their way to loving relationships and a peaceful existence," Bruce says.
Bruce wrote about Denver's pit bull ban in his novel A Dog's Way Home and he co-wrote the screenplay for the movie. In the story, a family must relocate their rescued pit bull mix outside of Denver while they look for housing in a city without breed-discriminatory legislation. The dog, Bella, embarks on a long journey involving many challenges and adventures as she tries to get back to her family. Of all the characters he has created, Bella is Bruce's favorite, and he's currently writing the book's sequel. "I think the reason why she's my favorite is that she's absolutely indomitable in terms of her determination and in her cheerful acceptance of her fate," he says.
[Pit bull terrier facts and myths]
Inspiring the next generation of animal rescuers
When parents and teachers told Bruce that some of the themes in his books could be too intense for children, he began adapting stories from A Dog's Purpose into novels for middle schoolers, starting with Ellie's Story in 2015.
Now, when he visits schools for book readings, teachers and librarians share that even kids who are reluctant readers enjoy his books, since they're told from a dog's point of view. "The thing I'm trying to get across to the younger generation is that dogs are thinking, feeling, sentient, even spiritual animals who need our help to make their way through the world," Bruce says. His latest project, a book series called Lily to the Rescue, features a rescued dog who saves other animals, such as a crow, two little pigs and a goose.
Georgia has a seven-year-old daughter and four-year-old twin boys, and she has seen firsthand the impact her dad's books make on young readers. In fact, one family who saw Bruce speak at a bookstore in Denver started volunteering to foster dogs for Life Is Better Rescue because the 10-year-old daughter is such a fan of Bruce's stories.
"Through her love of the books and the movies, she really pressured her family to start fostering, and the whole family's been on board," Georgia says. "I love to see in this little girl such a passion for something she didn't even know existed prior to (reading) these books. Through her efforts directly, she's already saved three dogs. Even at 10, you have the ability to change lives. To see that happen is mind-blowing and so satisfying."
That little girl's desire to help animals shows the tremendous impact that one person can have when it comes to saving lives. After all, when Georgia introduced Tucker ― the 24-pound "love dog" ― to her dad, he decided to adopt not just a furry companion, but a whole new message in his work. And that simple act alone has had a ripple effect, touching many lives and most likely saving many more.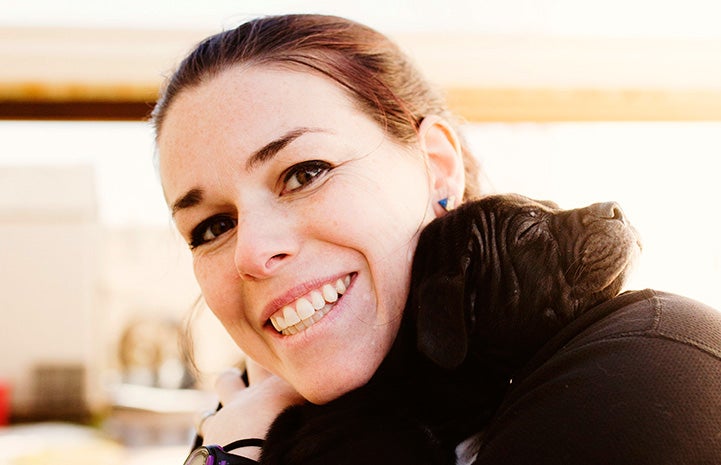 Subscribe to Best Friends magazine
This article originally appeared in Best Friends magazine, the official publication of Best Friends Animal Society.
Sign up to become a Best Friends member
Read more
How one of the least adoptable dogs finally found her people
Also from Best Friends magazine: Agents of Change
L.A. foster dad has helped 54 kittens, and counting
Photos courtesy of author, Ute Ville, Catherine Jeter and W. Bruce Cameron