Baby bunny who survived fire is adopted
Image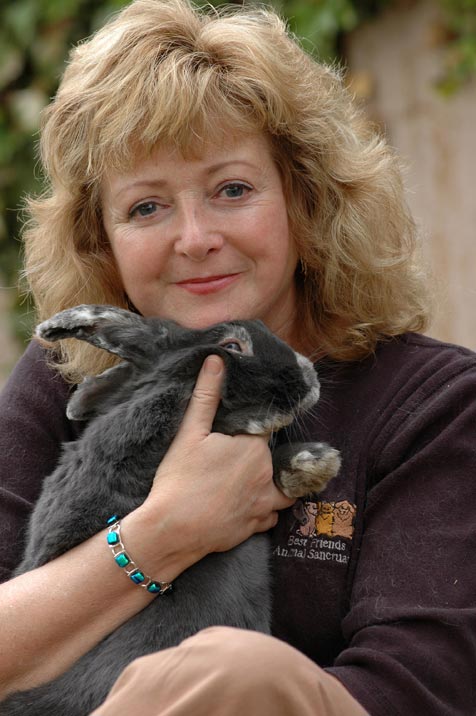 Domestic bunny who survived a fire (he had been under a wood pile that was set ablaze) receives intensive medical treatment and is now being adopted.
By David Dickson
Everybody loves birthdays. (Or at least, everybody should! No matter how many candles are on the cake.) What's not to like? Parties, treats, presents. And they're even better when there's something to celebrate.
Baby rabbit who survived fire
Meet Buttons. Or maybe you remember him from a previous story? Buttons the domestic rabbit came to Best Friends two years ago, and he was in bad shape. As a baby bunny, he had been under a wood pile that was set on fire. Some women noticed him running away from the flames and brought him to Best Friends. His fur was singed and he had burns on his feet and ears, around his eyes, and near his tail. His eyes were swollen shut from scabbing. Buttons had suffered smoke inhalation, too, which the vets feared more than anything.
Intensive medical care
Buttons needed round-the-clock attention, so he went into foster care with Bunny House manager Debby Widolf. His medical regime included oxygen treatments twice a day, pain medications, fluids, bottle feeding, antibiotics, salves for the burns, eye meds, and lots of TLC. Eventually, Buttons started to get stronger and stronger until he recovered almost completely. He even ended up with quite the stylish hairdo. He's a gray rabbit, but everywhere he was burned, the hair grew back white. The effect is rather dashing, don't you think? And now he's had his second birthday -- something people feared he would never reach.
Dwarf rabbit girlfriend
The past two years have been good for Buttons. He has a girlfriend now, a little dwarf rabbit named Oreo. Buttons is pretty chubby and is living the good life. There's a slight rattle left in his lungs, but that's all that remains of his trauma. And the greatest surprise of all? His birthday present. After two years of dedicated foster care, Debby has decided to adopt this charmer once and for all.
Learn about bunnies as pets.
Photos by Molly Wald