Bela the dog rescue story and video
Image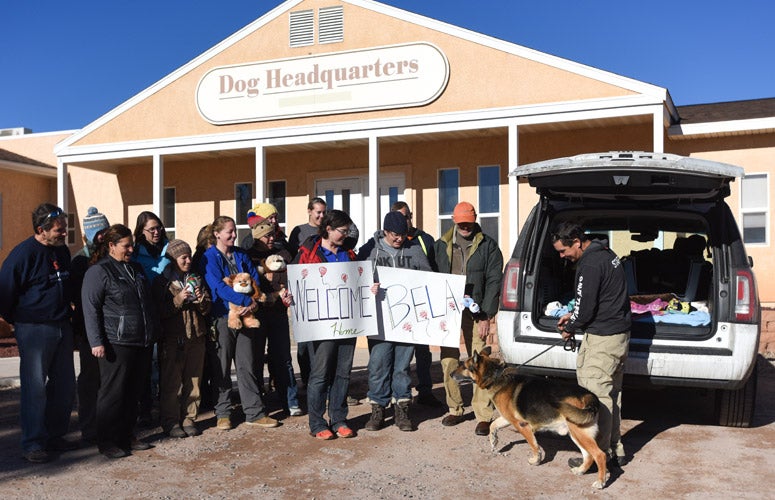 Rescue story and video of Bela the dog, whose person died, leaving a will that said Bela should come to Best Friends or be euthanized.
By Best Friends staff
January 8, 2015 update on Bela the dog:
Bela is settling in very well and making friends with his caregivers. Everyone who meets him says that he is a gentle giant, and as it turns out, he's meeting new people very well. Bela has a pretty big fan club among the staff!
Watch a video of Bela's arrival and see just how he's doing now.

Original story from 12/29/14:
By Christelle L. Del Prete
As the truck rolled into the parking lot at Dogtown, a crowd of eager Best Friends staff rallied to welcome Bela home at last. Despite being a bit anxious and travel-weary, the handsome German shepherd leapt confidently out of the truck. After a few warm greetings, it was time to head inside and get settled.
Bela truly earned the title of road warrior. The journey, from P.A.W.S. of Dearborn County Humane Center in Indiana to the Sanctuary in Kanab, Utah (approximately 1,700 miles), was prolonged by winter weather. Bela was due for some downtime. He'd had it pretty rough over the past month — first losing the person he loved, and then becoming the center of widespread controversy and concern.
For weeks, Bela's life hung in the balance while his person's lawyer and the executor of her estate debated his fate. There were only two options for him in his person's will: come to Best Friends Animal Sanctuary or be euthanized.
"A really spectacular moment" for Bela the German shepherd
Emergency response manager John Garcia and Dogtown caregiver Meghann Burke were soon on their way to Indiana to meet Bela and bring him to safety. It turned out to be an amazing Christmas present for all, because Bela is truly an amazing dog. "The initial meeting was a really spectacular moment," says John. "It was incredible to see how many people cared about him, and the relationships he had built with them."
The ride to the Sanctuary was long, even treacherous in spots, but Bela kept everyone's spirits high. "The first time he saw snow," John says, "he jumped right in and made doggy snow angels." And he adjusted immediately to life on the road. "He's been awesome people-wise," Meghann says, "and he learned to do doors and elevators in hotels."
Step by step dog training
Because Bela has in the past shown intermittent aggression, he'll be carefully evaluated by Dogtown trainers, who will take things step by step in determining his needs. As they do with each and every dog, "Our trainers and specialists will give him special attention, and our caregivers will work to make sure he has a comfortable life, a wonderful life," explains Best Friends CEO Gregory Castle. "While the health and welfare of Bela is our first priority, we need to ensure that we are observing the provisions of Bela's owner's will as a priority as well. We will see what his future holds, but all indications so far are that he is a beautiful and wonderful dog."
Dogtown manager Chris Vergallito agrees. "Bela is a stunning dog. It was love at first sight for many of us, including myself. I'm confident that we have the staff and experience to make his life fulfilling. As we get to know him, our trainers will assess him and identify a program that will fit his needs. Rest assured, he's in good hands."
A new life for Bela
At the Sanctuary, people are truly excited about meeting Bela's current and future needs (whatever they may be) and making him happy. That's how John describes his hope for Bela's future: "That he's happy and healthy." Gregory says, "It's wonderful to be able to welcome Bela here. (It speaks to) our principle of valuing all animal life. In this case, there was potential for something terrible to happen, but we are set up to give him a great life. We are working to Save Them All, and Bela is one example (of that)."
Bela's epic adventure has come to an end, but his new life has just begun. And he's greeting it with grace and enthusiasm. Holding his favorite toy (a large plush camel) in his mouth, Bela trotted past staff holding "Welcome home" and "Bela" signs, and into Dogtown headquarters, where he was welcomed by an even bigger crowd.
Be a part of the good news by becoming a Best Friends member.
Read more about Bela's story on the Best Friends blog.
Photos by Molly Wald and courtesy of Best Friends staff