Best dog friends forever
Image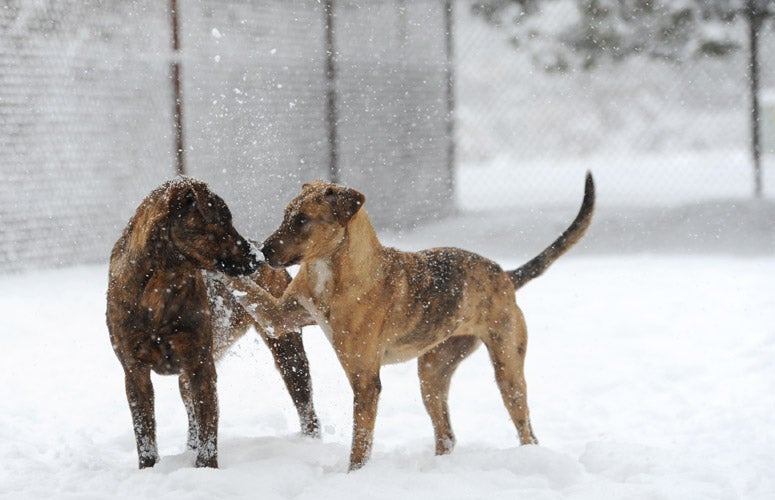 Two hound mixes, a stray and a shelter dog, form a strong friendship at the Sanctuary. Their bond is enduring and special.
By  Christelle L. Del Prete
For the first year or so of their lives, Brie and Joyce were best friends waiting to happen. The two young dogs are only a few months apart in age, and they came to Best Friends from similar circumstances. Personality-wise, they're a bit like yin and yang – balancing each other out perfectly. Perhaps that's why they hit it off immediately during their very first introduction, forming an instant bond that, in Dogtown caregiver Shauna Saling's experience, is rare.
The shelter dog and the stray
Brie was found roaming the streets with several other dogs in nearby Fredonia, Arizona. She came to Best Friends with them through Fredonia Animal Control. Joyce was at a shelter in New Mexico, where she had run out of time. She, too, came to Best Friends with several other dogs who were in the same predicament.
Both dogs are pretty hound mixes; Joyce is a Plott hound mix with dark, brindle-colored fur, and Brie is a hound/terrier cross with unusual blue-and-brown eyes and a dapple pattern in her tawny fur. As the more outgoing member of the pair, Joyce instantly took on the protector or "big sister" role around the mellow, reserved Brie. Though the first thing they did together was play, they now do pretty much everything as a pair; they go for walks together with volunteers and romp in the Best Friends dog park.
Sweetest, perhaps, is the way that they snuggle together on cold winter days. They'll often curl up together in a sunny spot in their outdoor run and nuzzle each other. In that pose, under the bright desert sun, the two friends couldn't possibly look any more peaceful or content.
Dog friendship is infectious
Their solid, easy friendship is infectious, and has even had a positive impact on other dogs living at the Fairway, the building in Dogtown Heights that Brie and Joyce call home. For a brief time, they had a runmate named Red Bone, another hound mix. When he first arrived in Dogtown, he was very shy and withdrawn. But watching Brie and Joyce interact with each other and with staff and volunteers really helped the reserved older gentleman come out of his shell. He recently found his forever home.
Brie and Joyce are still patiently waiting for their forever family, or families. Only time will tell whether or not they'll end up going to the same home, but one thing is for sure: They will remain best friends forever.
Photos by Molly Wald and Ann Hepworth