Best Friends and Urban Outfitters team up for cat adoption event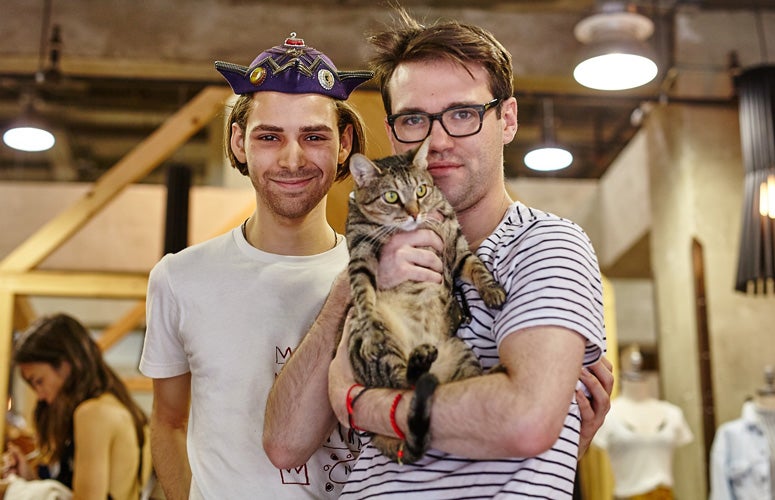 Best Friends and Urban Outfitters help kittens and cats find homes during special one-day adoption event at eight stores in and around New York City.
By Best Friends staff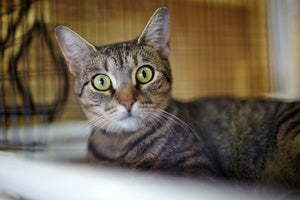 Margot the cat must have wondered what was going on. Clearly this was a big day. Her foster family had dropped her off and wished her well, and Best Friends–New York staff and volunteers seemed extra excited as they got her settled into a comfortable enclosure next to other cats and kittens. This was no animal shelter, and it wasn't a home. Racks of clothes, books, toys and other interesting things surrounded Margot. Everyone was smiling and excited, and Margot had never felt so popular in her two years of life. Whatever was happening, it had to be something good.
Margot was one of more than 60 Best Friends–New York cats featured by Urban Outfitters for a special one-day adoption event at eight stores in and around New York City. Even though all the cats and kittens had lost their homes, causing them to end up at Animal Care & Control of New York City (where all Best Friends–New York pets come from), it was clear there were plenty of New Yorkers excited to give them a second chance.
An offer adopters couldn't refuse
Within a span of just a few hours, approximately 1,500 people stopped by to meet the cats, donate and learn about Best Friends. Amy Davila, marketing manager for Best Friends–New York says, "We really appreciate Urban Outfitters' support. Not only did we have a beautiful environment to help our adoptable cats find homes, but the event helped us spread the word about Best Friends' work."
While support and awareness are incredibly important, the main goal of the day was to find homes for as many cats and kittens as possible. To help make that happen, Urban Outfitters paid for all adoption fees during the event. And since the only thing people love as much as cats and kittens is a hefty discount, New Yorkers responded in a big way.
Lining up for felines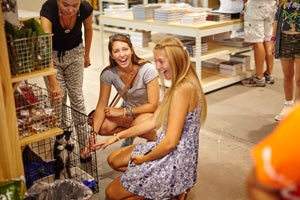 By the time the Urban Outfitters store in East Village opened its doors, people eager to see the cats had already formed a line outside. For the next few hours, Margot watched as all the kittens around her went home with new people. At two years old, Margot was an elder at the event, but she had nothing to worry about.
When Simeon Kline and Doug DeSouza walked into the store, they were drawn to Margot right away. When they saw that other adopters had passed over Margot in favor of younger kittens, their hearts went out to her. "Margot was the underdog, and we love underdogs," says Simeon, who had recently lost his longtime cat companion. After spending some time with the sweet sable tabby cat, Simeon and Doug filled out the adoption paperwork, and soon Margot was in a carrier and on her way home.
After a week together, it's as if Margot has always been part of their family. "Margot is very well behaved and playful," says Doug. "She loves running after the jingle ball, very much like a dog." Simeon says, "I love it when she comes to the door to greet us when we get home."
By the end of the special event, Margot and more than five dozen other cats and kittens (in one hot New York minute) had found homes.
Get involved
To help more animals like Margot go from homeless to home, support Best Friends.
Learn more about Best Friends–New York, including the exciting news about Best Friend's new adoption facility in the SoHo neighborhood of Manhattan, opening in 2016.
Photos by Marshall Boprey