Best Friends lessons applied in Singapore to help animals
Image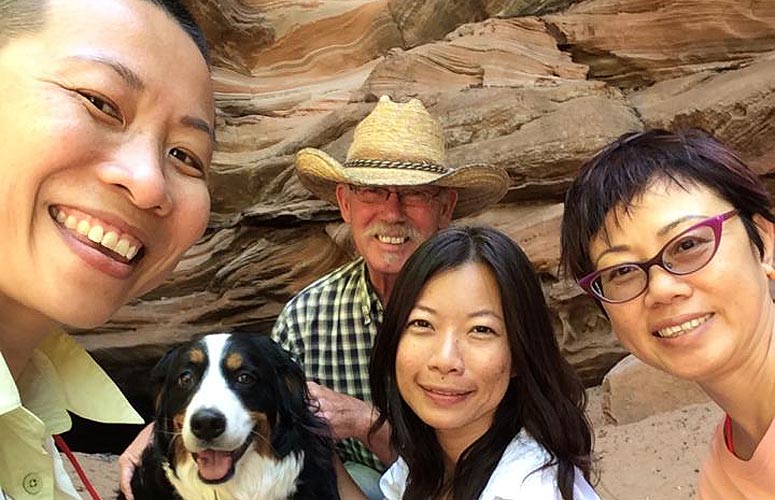 Three volunteers from Singapore volunteer at the Sanctuary. Their experience inspires them to found the HAPi Project.
By Jennifer Hayes
Believe it or not, one small tri-fold Best Friends brochure holds the power to help animals around the world. From a Salt Lake City hotel rack into the hands of Jacq Ong, it became the first step in a journey to help Sanctuary animals as well as those back home in Singapore.
Serendipitous discovery for couple from Singapore
In June 2013, Jacq and her partner Gennet Song traveled from Singapore to attend a conference in Salt Lake City. During some downtime, Jacq noticed a Best Friends brochure featuring celebrity ambassador Maggie Q in the hotel lobby. One look and she needed to know more.
Following the conference, Jacq and Gennet were scheduled to stay in a Utah resort only 90 miles away from the Sanctuary. They drove to the Sanctuary and took a tour, after which they drove five hours back to Salt Lake City to catch their flight home to Singapore. By then the seed was planted.
"The spiritual connection, the unspoken words — it was just a calling," says Jacq. "We had to come back." So they planned a return trip along with a friend, Jaclyn Liew.
Learning experience
A year later the trio was at the Sanctuary and, during a break from volunteer duties at Dogtown and Horse Haven, they had lunch at Angel Village, the café at the Sanctuary, where one day they met Best Friends co-founder Faith Maloney. That meeting led to encounters with three other co-founders: Silva Battista, Sharon St. Joan, and Charity Rennie. They absorbed many lessons from their meetings, including those concerning the joy of giving, respect, commitment, prioritization, collaboration and choosing your battles.
However, the animals had lessons to teach as well. Jacq and Gennet were introduced to the sleepover program and took Keystone for two overnight trips. That's where they learned that big dogs enjoy sharing the bed. However, they got a little more than they bargained for when Jacq discovered that Keystone had presented her with a gift, leaving a small towel from his overnight bag in her suitcase.
But Bentley taught the most important lesson of all. After surviving distemper as a puppy, his balance is slightly off. So they all learned to slow down to enjoy the moment, and that it's OK to lean on your friends.
"We went, we were open to the universe, and we listened," says Jacq.
Helping at home in Singapore
Their experience at Best Friends awakened a passion. Shortly after their return home, Jacq woke from a deep sleep inspired to take action for local animals. The trio reunited to establish the HAPi Project, named after three beloved dogs, Hope, Avante, and Pico. Still in the initial stages, the first few phases will be holistic wellness (for both humans and animals), education for Singapore residents on pet care and the joy pets bring to our lives, and collaboration with other like-minded individuals. However, they're still open to even more ways to help animals.
"We don't have it carved in stone. We recognize that it's very much going to be guided by the divine," says Gennet. "We're taking each step at a time, trusting that the divine will open up and make a step for us."
Jacq wants to return to the source of her inspiration and is already planning her next trip to Best Friends, this time a longer stay so she can learn more from a workshop and, hopefully, also do an internship.
"Going to Best Friends is not just about visiting and volunteering," says Jacq. "It is taking that first step and allowing the whole magic of the land, animals, and people to take me on the journey of wonder and healing."
Inspired? Learn how you can visit and volunteer at Best Friends.
Photos courtesy of Jacq Ong