Best Friends Network spotlight: Bastrop Animal Rescue
Image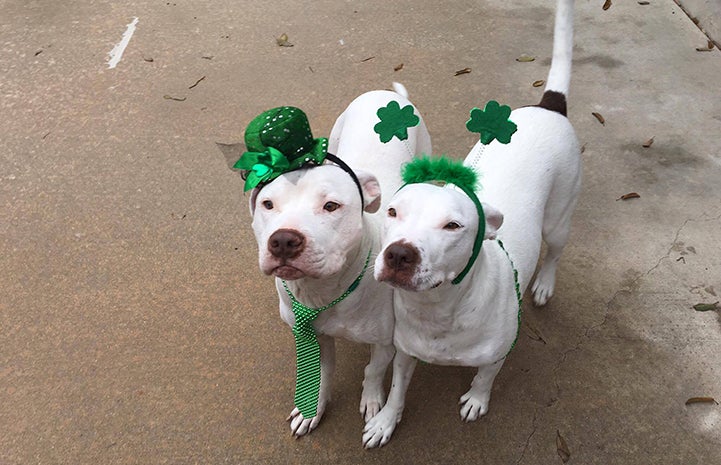 Dog love story of two rescued dogs who are very fond of one another who are being fostered by the Bastrop Animal Rescue community outreach director.
By Arin Greenwood
Being part of the Best Friends Network gives animal welfare groups across the country the tools they need to save more lives, and work together to Save Them All.
Best Friends has network partners that are saving lives daily in every single state. We never get tired of hearing their stories, and that's why we want to share them with you, too. So today, we're proud to present one from Bastrop Animal Rescue in Bastrop, Texas.
Princess and Nate have the sort of relationship we all long for. They walk together, sleep together, play together and "canoodle on the couch together," says Anne Ford, community outreach director for Bastrop Animal Rescue and the dogs' foster mom. "They have their routines, like an old married couple. They are always curled up together."
These two deserve all the sweetness and love this world has to offer.
Nate was abandoned and in rough shape when he was first rescued. "A good Samaritan saw him on the side of the road, picked him up and took him home," Anne says. "After getting him home, they quickly realized he needed more help than they could provide."
Nate had infected skin, punctures under his jaw, ear infections, broken teeth and a painfully inflamed eye. He was so skinny you could count all his ribs. As soon as he arrived at Bastrop Animal Rescue, he was immediately taken to the emergency room, where he received treatment before going into a foster home. While his life was already better, it was about to go from good to great because he was about to meet his canine soul mate.
Princess and Nate enjoy the good life in a foster home
Princess, who is deaf, was brought to a Texas shelter after having been hit by a car. Though she was underweight and severely injured, she was described in the shelter notes as being "very friendly," but she also needed immediate surgery. From these rough beginnings, both dogs made their way to Anne's home in Austin, Texas. There, they've learned what the really good life is like. Their personalities have bloomed, along with their devotion to one another.
"Nate is charismatic and has a ton of personality and cute quirks," says Anne. "He is a mellow guy who loves the cushy things in life. He loves to lay on super soft blankets, with his head on a pillow."
Anne also describes Nate's penchant for dancing on two legs when he's excited about food, and how he "gets on his back in the grass and wriggles."
Princess is a darling with a mischievous streak. She is affectionate and loves meeting new people, as well as going for car rides. "She has a sense of adventure," says Anne.
Dogs in love
Most of all, Princess and Nate love each other. Every day begins with a nice long smooch session. They go for walks together. They love to sunbathe side by side out on the patio. Nate loves to play with toys and Princess loves to steal them from him.
Anne separates the sweethearts during the day while she's at work, but that's only because "Princess would pester him nonstop for attention so he this way he gets his alone time," she says.
"When I get home, we go for a walk and then they play in the house until dinnertime," she adds. "They will snuggle on the couch or rug until bed time where they curl up next to each other with me."
An unfinished love story
It is so rewarding to see these two dogs thrive, after suffering so much. But as Anne puts it, their love story is unfinished. It's time for Princess and Nate to be adopted and make some lucky family as delighted and fulfilled as they've made each other.
"Nate came from horrific circumstances and is such a happy, loving dog," says Anne. "Princess is an outgoing girl who loves everything, and her deafness doesn't stop her from being a normal, wonderful dog. They deserve a family that will love them as much as they will love their family. They will fill someone's life with joy and laughter."
Anne is hopeful, and she has good reason to be. Against the odds, Princess and Nate came from different circumstances, but survived and ended up together. True love finds a way.
More about Best Friends Network Partners
Photos courtesy of Bastrop Animal Rescue