Best Friends' pet super adoption at the Utah State Fairpark
Best Friends' pet super adoption at the Utah State Fairpark in Salt Lake City spotlights shelter pets and helps many wonderful animals find homes.
By Denise LeBeau
Thanks to over a dozen animal organizations, adopters, volunteers, and the generosity of the event's sponsors — Natural Balance, Petfinder.com, PetSmart, PetSmart Charities, Banfield Pet Hospital, BarkBox, and Mammoth Pet Toys — the Best Friends pet super adoption in Salt Lake City helped hundreds of animals. There were 508 animals who found forever homes, and 20 cats and 10 dogs were transferred from kill shelters to rescues with resources to lend a helping hand.
This year, we extended the hours and moved the event to the Utah State Fairpark, two key factors that played a big part in creating this record-breaking event, which took place May 17 – 19.
Raising public's awareness about animal shelters and adoptable pets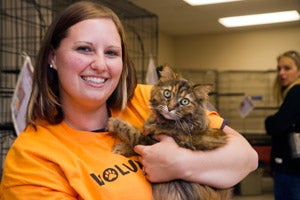 "It's so important to get these animals out of the shelter, and into the public's view," says Tami Simon, Best Friends events supervisor.
April Harris, director of Salt Lake County Animal Services (SLCoAS), echoes the sentiment: "This type of event allows adopters to see the animals interact with other animals and people, and it brings a level of awareness to the public about shelters, so the next time they're going to adopt, they'll go to their local shelter."
In the spirit of finding every special animal a home, Salt Lake County Animal Services featured a "Seniors for Seniors" promotion. Adoption fees for older pets were waived for senior citizens. A sweet dog named Pee Wee benefitted greatly from their creativity when the first adoption during the second day of the event was made by a mature couple who had seen animals up for adoption at the event on the morning news. The Gonzalez family was brought to a pen containing about a dozen small dogs, and they picked little Pee Wee out immediately.
In addition to Best Friends' marketing, another perk to being part of an event of this scale is the media coverage that also helps advertise the wonderful animals available for adoption from local shelters and rescues.
Supporting the no-kill mission
In addition to the volume of animals finding proper placement, there's another bonus to the pet super adoption. "We often find homes for our special-needs animals or animals who have been in our program for a very long time," shares Janita Coombs of Community Animal Welfare Society (CAWS). "There are a lot of people that come to these events, and they tend to find that perfect match that they've been waiting for a very long time."
Micah, a beautiful ebony cat from CAWS, couldn't agree more. He had waited patiently for his forever home, and there were cheers all around when he went home on the last day. "I almost cried when the lady came back to Super for him," exclaims Dede Rask Minardi, CAWS supporter.
The event not only brings awareness to adopting rescue animals; it's also responsible for helping realize the no-kill goals of Utah.
"One of the reasons we love the pet super adoption is that it's a great place to see all the groups working together to increase not only their adoptions, but to also help each other increase the save rate across the board," says Anna Gonce, executive director of Best Friends Animal Society–Utah.
Over 530 animals couldn't agree more with Anna. The pet super adoption is a dynamo for lifesaving.
Adopt a pet
There are amazing animals available for adoption every day in Utah. See who's available right now.
Photos by Sarah Ause-Kichas