Best Friends Spay and Neuter Clinic reopens in Orem, Utah
Image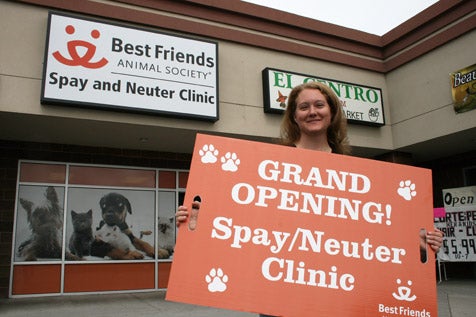 Spay and neuter clinic in Orem, Utah, helps families with low incomes get their dog or cat fixed.
By Denise LeBeau
On March 24, 2012, the Best Friends Spay and Neuter Clinic in Orem, Utah, reopened under a new name. With new promotions to make spay and neuter accessible to everyone, the clinic is an important factor in reducing the number of dogs and cats entering the area's shelter system.
In addition to economical spay/neuter surgeries, the clinic also offers low-cost vaccinations and microchipping. In fact, folks lined up outside the clinic on opening day, hoping to receive a free spay and neuter voucher, which were given to the first 100 visitors.
Lofty goals for spay and neuter clinic
Last year, the clinic exceeded its goal of 10,000 spays and neuters. This year, its goal has been increased to 11,500.
"What we are offering the public is high-quality spaying and neutering surgeries at a low cost, so it can be affordable to everyone," says Kalinda Solbes, spay and neuter manager for No More Homeless Pets in Utah. "We also realize that not everyone can afford to go to the veterinarian, so we offer low-cost vaccines and microchips every week from Tuesday through Saturday — this way if someone loses their pet and he winds up in the shelter, the animal is at a lower risk for getting sick and he will be reunited quickly with his guardian. The clinic is looking at addressing the whole cycle of keeping pets out of shelters and keeping them with their families."
Special promotions for dogs and cats
The Best Friends Spay and Neuter Clinic has devised targeted marketing campaigns to get the maximum number of animals spayed/neutered.
The clinic offers a free fix program for qualifying families to get all the cats and dogs in the household spayed and neutered.
There is another special offer, available to everyone, called the "feline family plan" that fixes a momma cat and all her kittens for $35. Vouchers are redeemable at the Best Friends Spay and Neuter Clinic in Orem and at participating private practice veterinarians.
The clinic has an ongoing $10 spay/neuter special for indoor cats, while community cats (aka feral cats) are fixed for free.
Volunteers make it happen
Another way the clinic is doing more for the community is by maximizing the use of volunteers. Kalinda says, "Most people don't realize that the clinic needs all kinds of volunteers. You don't need to be an animal medical professional to help us do more. We have something for everyone here: helping with office work, data entry, door greeters that help our clients fill out the paperwork properly, in addition to veterinary technician volunteer opportunities. Any volunteer will help us spay and neuter more animals and help us keep the costs down to the public. The more people who are involved, the more lives we can save."
More info about the clinic and volunteer opportunities
Need to spay and neuter your pets? Get additional information about the Best Friends Spay and Neuter Clinic in Utah.
You can volunteer with Best Friends in Northern Utah or in your community. Find out about volunteer opportunities that can help the homeless pets of your area.